One does not simply describe Booking in Kaohsiung as a bookstore.
Yes, it maintains a literary air with shelves packed top to bottom, wall to wall with books and magazines, but the boundaries are blurred when you see the food and drinks menu, where a bowl of Cup Ramen is highlighted as its signature item.
And any notion that Booking is "just a bookstore" is thrown out of the window when you see the giant tortoises crawling in the backyard.
That's right, Booking is in fact part bookstore, part restaurant and part…zoo, for want of a better word. 
It specialises in manga rental, so lovers of the Japanese art-form can rejoice at this little diamond in the rough on the west side of Kaohsiung city.
Booking's Beginnings
Booking's manager John Lee describes manga bookstores of old as cramped, dirty and poorly lit.
Visitors would chow down on instant noodles during their read-a-thons, and taken together, these factors gave the bookstores a negative image.
The rise of digital media paved the way for readers to pursue their favorite works online. Not surprisingly, bookstores as a whole fell into decline as a result, and those with manga lining their shelves only found more dust as company.
Mr. Lee wanted to change the impression that manga bookstores were unhygienic, obscure places.
The brainchild of his dreams was Booking.
In his vision, the space would offer book lovers a cozy place to read manga while enjoying a healthy bowl of Cup Ramen.
But like many modern-day bookstores, Booking had to grapple with economic hardship. The bookstore was lacking, in a sense, even with the giant tortoises which had been its original residents.
A breakthrough was promised when Booking underwent renovation in October 2019, with reputed names recruited for its transformation.
Space designer Chih Kang Chu came up with a chic storefront and interiors.
Meanwhile, local-born acclaimed chef Thomas Chien (who studied under Michelin-star chef Alain Passard) brainstormed with Mr. Lee to conjure up a menu that stays true to the roots of manga bookstores.
Booking reopened in April 2020, with a sparkling new look and a fresh menu.
Fast forward a few months, and it has already established itself as a roaring success, with over 60,000 likes on Facebook and daily bookings back-to-back.
Looking At Booking
A colourful fictional character seems to pop out from the magazine he is featured on, as he greets visitors at the storefront with hands splayed dramatically.
Inside, the bookshelves slide away at a diagonal slant, with a cozy seat in the middle of each shelf.
Lightbulbs dangle overhead, emanating warmth.
Manga, the black-and-white comics that originated in Japan, dominate the shelves.
The art-form which combines the saying that "a picture is worth a thousand words" with, well, words number in the thousands in the shop, and most of them are clearly displayed in numerical order.
The Taiwanese affection for manga is more pronounced in younger generations.
Many grew up with characters that have become as familiar to them as Mickey Mouse or SpongeBob SquarePants.
The collection of literature also includes novels and magazines. Magazine titles such as Vogue, ViVi and Ray adorn several walls, one of which has a gap in it – which is actually the kitchen counter.
There are few English works in Booking, but English speakers could still take in the atmosphere, the food, and of course the tortoises which we will shortly get to.
Booking's Bread & Butter
The signature item on Booking's menu is their Cup Ramen. At NT$ 350, the bowl of instant noodles does not come cheap.
However, the noodles do come with a specially-prepared savory broth, mushrooms, beef, and onsen tamago (a half-boiled egg).
Each bowl is covered, with instructions telling you to let the noodles soak in the soup for three minutes before tucking in.
The taste of what should be a redundant staple of convenience stores would most likely convince customers that their money is well spent.
Simply put, Cup Ramen does not get any fancier — or more healthy — than this.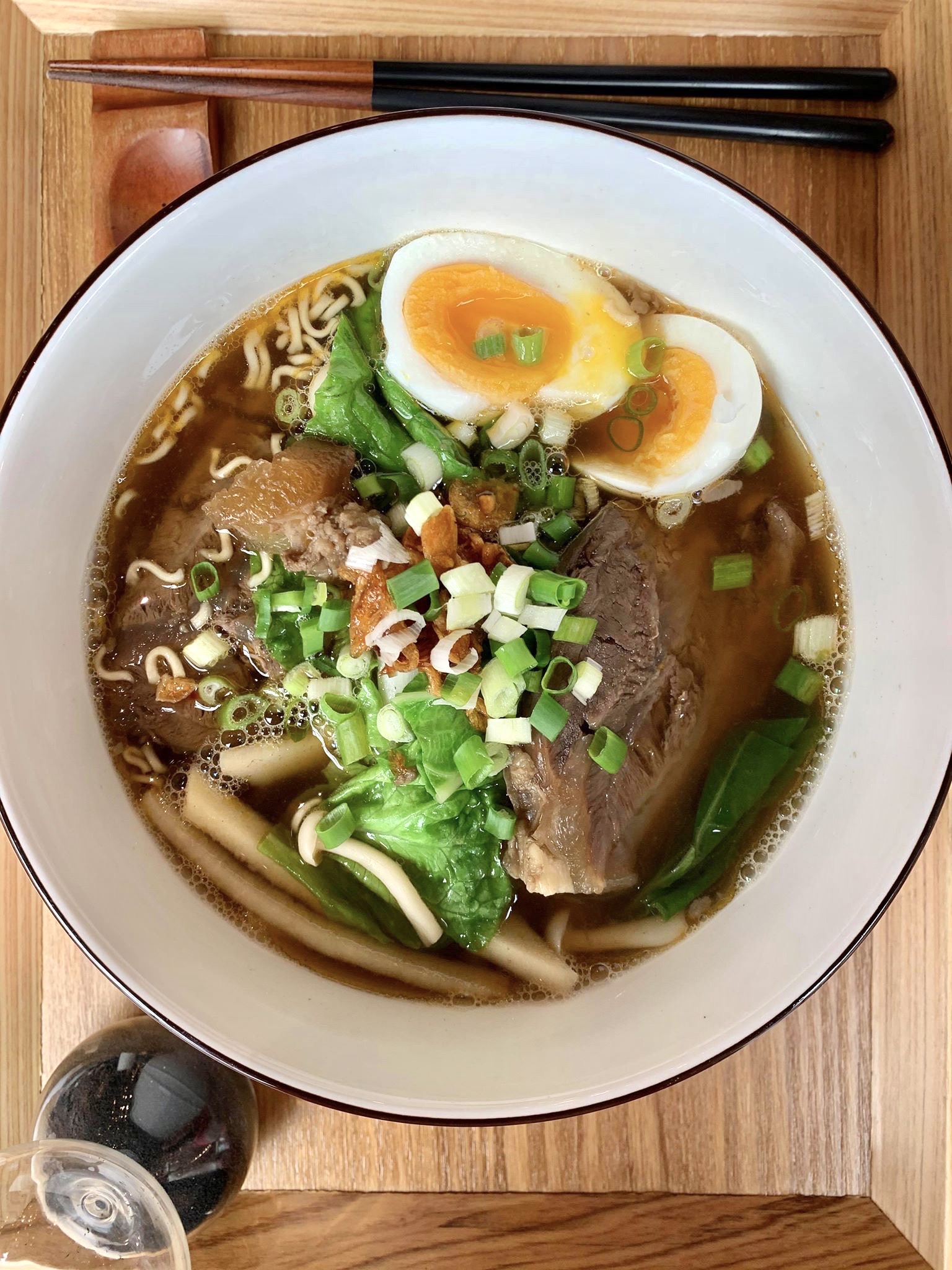 A final word on the food: the Cup Ramen is also available as a takeaway option!
Similarly-priced items on the menu include standard Italian fare such as spaghetti, seafood macaroni, and truffle risotto.
The beverages deserve their own mention. The chocolate café au lait is especially photogenic with its beautiful latte art, and the taste is perfectly balanced on the cocoa and milk.
The selection of coffee and tea including Americano, cappuccino, latte and Earl Grey — they'd go down well with what you read.
Take your pick and take some pics.
Booking also makes a business of selling face masks, quirky though it is.
The Timeless Truth Masks, of which Mr. Lee is the CEO, has edged its way into the fiercely competitive European beauty market, which is no small feat for a Taiwanese brand.
Its success is also indicative of its quality, which Mr. Lee has been keen to promote.
Book A Time For Tortoises
You've now read to your heart's content and your smartphone (or its camera) has eaten its fill of the food.
The time has come to venture out into the backyard for a meet-and-greet with the tortoises, assuming you've made a booking in advance at the counter.
Aldabra giant tortoises (Aldabrachelys gigantea) are the second-largest tortoises in the world, after their more famous Galapagos cousins.
The gentle reptiles are licensed to Mr. Lee, and called Booking their home long before its post-renovation glory days.
There are four of the chubby chelonians.
From their size in descending order, they are Ah Da, Ah Mei, and Ah Le. The newcomer with the pointier carapace is called Ah Fei.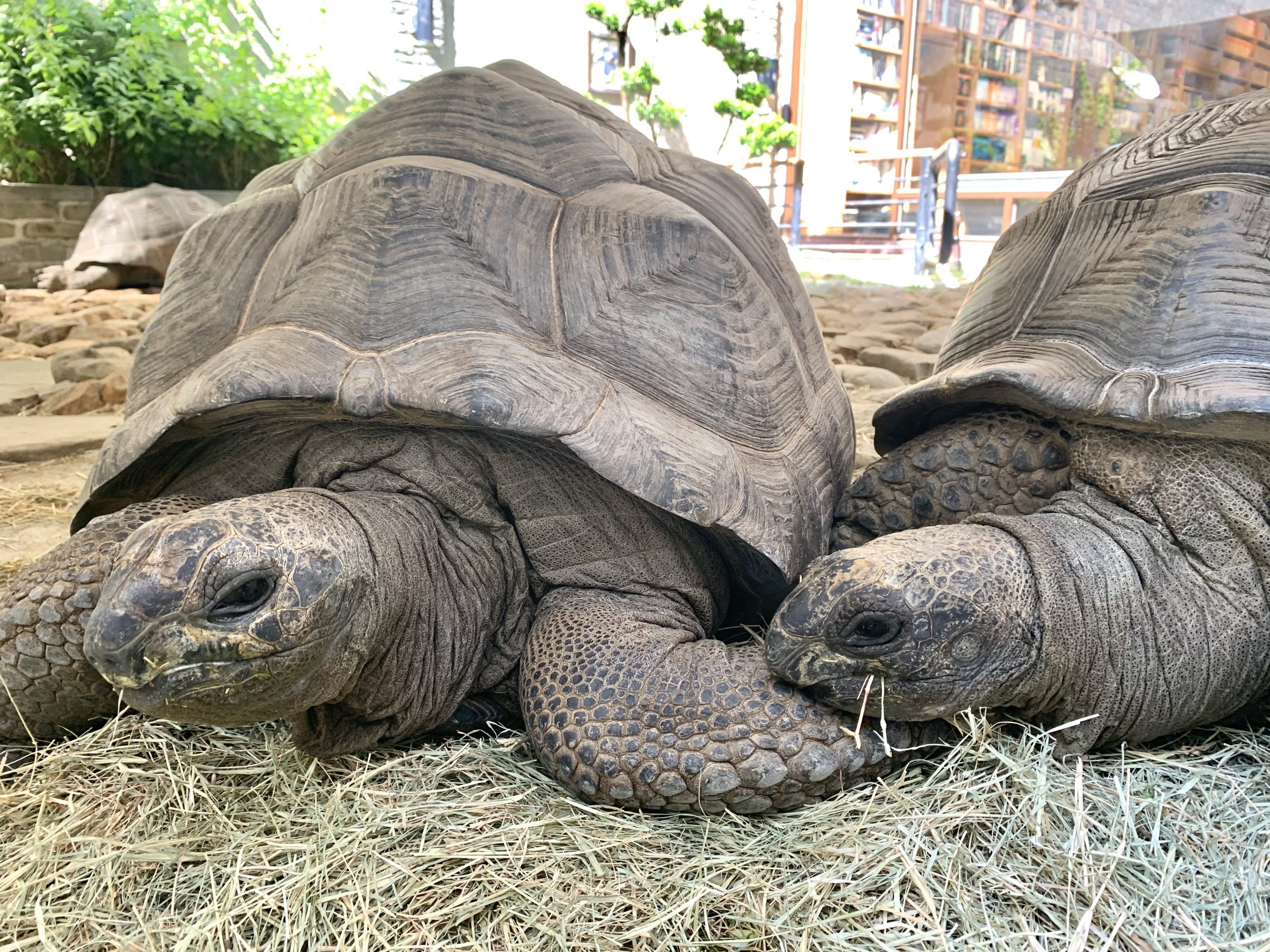 Feel free to stroke their shells, but keep your hands away from their heads. To them, your fingers are no different from the grass they munch.
These giants could weigh in at over 250 kg. Medium-sized individuals like the ones in Booking would probably tilt the balance at 100 kg apiece.
In addition to your hands, keep your feet well away from their stumps too – unless you fancy yours squashed.
Visitors are allowed to spend up to thirty minutes to frolic with the tortoises (or simply admire them, as tortoises are placid animals.)
A New Chapter For Bookstores
As a final word — times change, and bookstores must reinvent themselves to capture the eyes and hearts of readers when smartphones have become the norm.
Booking stands to this day as a model example of this ability to reinvent itself.
With constant innovation and renovation, spliced together with a good amount of luck, its books and Cup Ramen will hopefully last as long as their giant tortoises (technically speaking, well into the next century.)
'How To' Booking
This bookstore cafe is tricky to find online for those who cannot type in Chinese.
The keywords "Booking, Kaohsiung" predictably yield results of the best hotels and accommodation options in the city instead of the bookstore.
It is best to reach their official Facebook page using the same keywords.
To get there, leave the Yanchengpu Metro Station via exit 2 or 3. Take Dayong Road and turn left at Daren Road, then take a right at Lainan Street.
The seven letters in Booking are emblazoned in capitals for all to see from this point.
The flamboyant manga characters displayed at the storefront are also a dead giveaway.
Reservations on seating can be made in advance via telephone. Visitors are limited to a two-hour stay on weekends due to popular demand.
Address: No. 177, Lainan Street, Yancheng District, Kaohsiung City, Taiwan 803
Phone: +886 7 561 2220
Opening hours: 1130 — 1900. Closed on Wednesdays.
Facebook: https://www.facebook.com/bookingbookstore/
Recommended for: Bookworms, especially manga / anime lovers, fashion fanatics, animal aficionados, foodies, instagrammers