'Chinese' Valentine's Day is just around the corner.
So, if you are still struggling with finding your Mr. or Miss Right, it might be a good idea to visit one of the Top Five Cupid Temples in Taiwan.
'Chinese' Valentine's Day, also known as the Magpie Festival, is on the 7th of July on the lunar calendar. Couples celebrate their love, and singles show their love to their beaus.
However, the story of this Valentine's Day is not as happy as it is might at first seem.
A mortal man named "Niu Lang" and a woman named "Zhi Nu", who was the granddaughter of the Queen Mother of Heaven once fell in love with each other.
The Queen Mother of Heaven was so angry after learning that her granddaughter was in love with a mortal, that in order to separate them from seeing each other, she scratched a river in the sky, forming the Milky Way between the stars Altair, where Niu Lang lived, and Vega – the place Zhi Nu stayed.
The lovers cried for such a long time, that feeling pitiful, the magpies built a bridge between two of the stars every year to let them see each other; the day they meet now celebrated as 'Chinese' Valentine's Day, although similar observances are seen in Japan and across Asia.
As we all know, in western cultures, Cupid is the god of love, and is symbolised by his bow and arrow.
The Taiwanese also have a god deemed to be in charge of people's marriage and love.
The official name of this Chinese Cupid is "Yue Xia Lao Ren", and people usually call him "Yue Lao".
"Yue Xia Lao Ren" originated in Chinese folklore, with its literal meaning "the old man under the moon" and he has the power to let people know who their lovers are destined to be through "red lines", also known as marriage lines.
Although the idea of "love and marriage as determined by destiny" is rarely believed by people today, the religious observance aspect of "Yue Lao" still exists.
This is why so many people still visit Cupid temples to pray for happiness. Sometimes people even have to line up to get into the temples!
But don't worry! Patience pays off in the end
Tips for finding your ideal partner
Be specific:

According to many successful couples, they said that it is very important to be specific when you are describing your ideal partner. Being too 'general' may confuse the Chinese Cupid, and might hinder him from finding your love. For example, instead of saying "I want a tall boyfriend.", it is better to say "I want a boyfriend who is xxx cm."
Be honest with yourself:

People are recommended to be honest with their past experiences, and share them with the Yue Lao. There is no need to feel embarrassed.

 
Things to do before you visit
Make a list

: The list should include the age, appearance, family background, and expected advantages of the person you are looking for. The key here is to be as specific as possible.
Prepare sweets

: Yue Lao is a big fan of sweets. Chocolates and candy are two of the most common sweets that people prepare. There are also some traditional Chinese offerings, such as red dates, fresh flowers, longan, and wolfberries, which are auspicious in their homonyms.

For example, "red date" has the auspicious homonym of "find your lover as soon as possible" and "fresh flower" has the homonym of "blossom". As even numbers are more favorable than odd numbers in Taiwan, it is better to prepare an even number of sweets.
The Top Five
Mengjia Longshan Temple – ­Taipei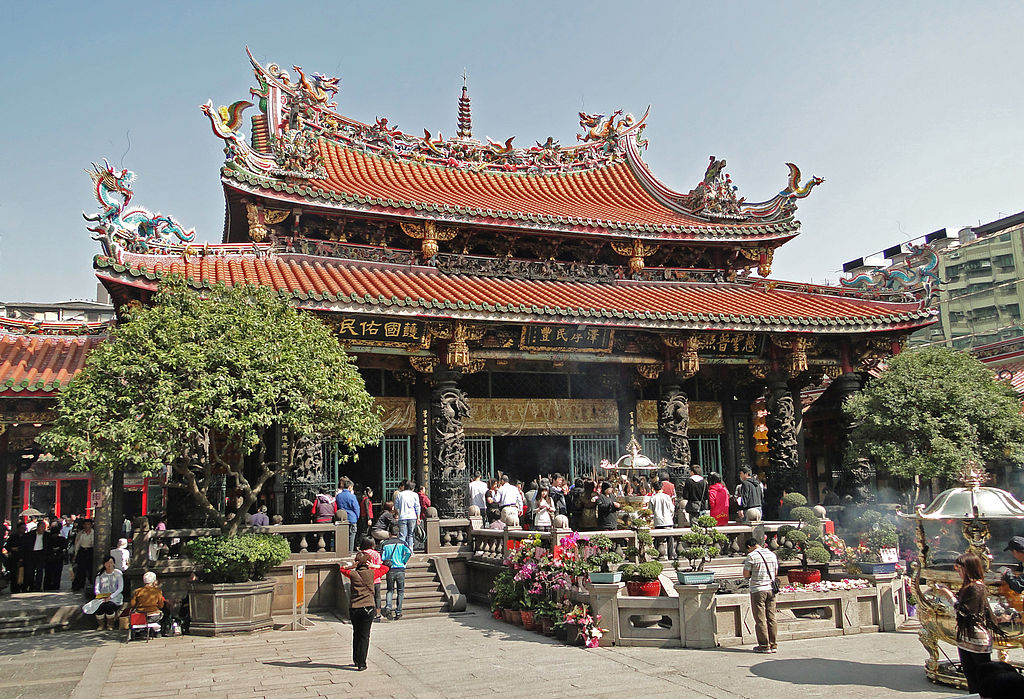 Mengjia Longshan Temple is arguably the most efficacious Yue Lao temple in Taiwan. 
Located in the bustling Wanhua district in Taipei, with its strong historical background, Longshan Temple is regarded as a national monument in Taiwan.
It is said that the original statue of Yue Lao was stolen 30 years ago, and the one people now pray at is a replica.
However, this does not affect the efficacy of the Mengjia Longshan Temple; people from all over the world still visit the temple and pray to find love.
The process of praying at Yue Lao here is quite different from other Yue Lao temples.
At the Mengjia Longshan Temple, people have to first tell the main god, a bodhisattva, their reasons for visiting.
Then, they need to pay their respects to other gods from right to left.
Yue Lao is at the left hand corner of Longshan Temple.
People can ask for red lines here. However, three "yeses" are required from Yue Lao to obtain the line.
The answer is determined by casting the divination blocks, which is similar to coin tossing in western countries.
However, instead of casting one block, Taiwanese people throw two. Two "front" sides mean "maybe", two "back" sides mean "no", and one "front" and one "back" means "yes".
People can continue casting until they get three yeses from Yue Lao.
Address: No. 211, Guangzhou St., Wanhua Dist., Taipei City, Taiwan.
Opening hours: 06:00 – 22:00 (every day)
Xia-Hai City God Temple – Taipei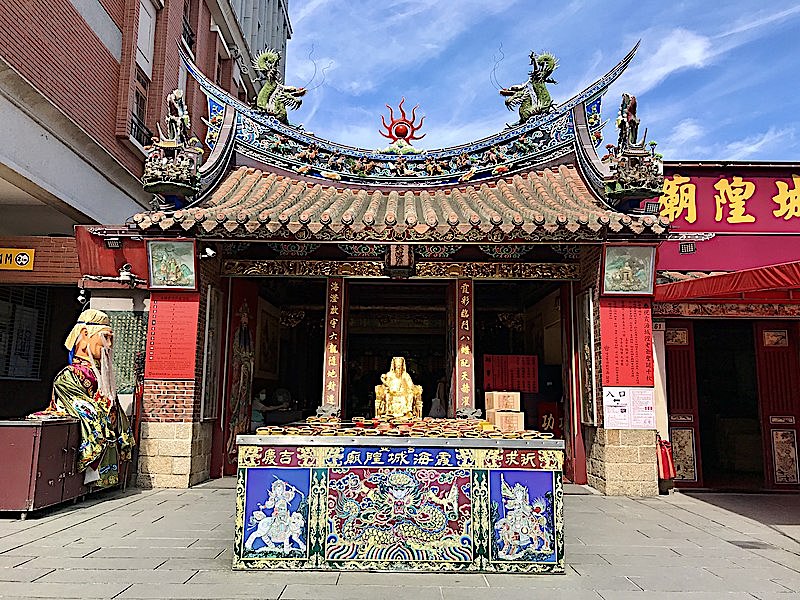 The Xia-Hai City God Temple is small, but has a great reputation.
Situated in Dihua Street, which is one of the oldest streets in Taipei, and close to Dadaocheng Wharf, many places are worth-visiting in this area.
The Xia-Hai City God Temple is famous for its "efficiency", and people usually find a partner inside three months.
It has been voted as the second most popular Yue Lao temple by netizens. Unlike the Mengjia Longshan Temple, people don't have to cast divination blocks to get red lines.
As long as they follow the praying process, they can get the lines.
Looking at the opening hours of Xia-Hai City God Temple, it is quite rare to see them not on the hour.
According to the temple staff, the opening hours are related to airplanes, since believers are not only from Taiwan.
6:16 (am) comes from, D616, a kind of light solo airplane, and 7:47 comes from the well-known airplane, the Boeing747, which is large.
The meaning behind these times is the hope that people come to the temple "single" and return home with love.
Address: No. 61, Sec. 1, Dihua St., Datong Dist., Taipei City, Taiwan.
 Opening hours: 06:16 – 19:47 (every day)
Le Cheng Temple – Taichung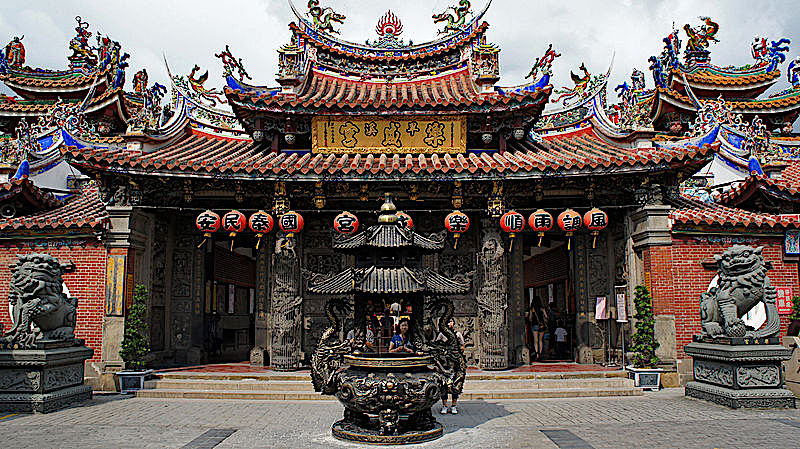 Le Cheng Temple has a history of more than 260 years.
People primarily visit this temple to pray for health; therefore, it is also known as the "Hanxi Matsu Temple".
Recently though, more and more people come to Le Cheng Temple to pray for love and marriage.
The number of thank you cards and wedding invitations on display indicate how successful matchmaking is, as people are recommended to revisit the temple if they find their love.
The Le Cheng Temple is especially famous with teenagers.
Unlike other temples, Yue Lao is on the second floor of this temple, and visitors also need to cast the divination blocks to get red lines.
The process of praying at this temple is quite complex, but all the efforts are worth it.
Address: No. 48, Hanxi St., East Dist., Taichung City, Taiwan.
Opening hours: 06:30 – 22:00 (Sun-Sat)
Grand Matsu Temple – Tainan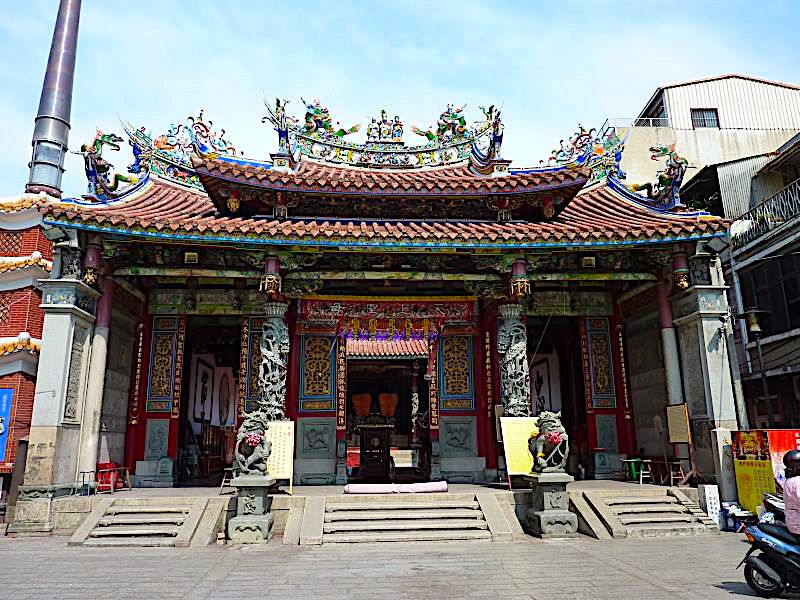 Tainan Grand Matsu Temple is one of the four most popular Yue Lao Temples in Fucheng.
According to statistics, Yue Lao at Tainan Grand Matsu Temple matches an average of 300 couples per year.
The Yue Lao at this temple is particularly good at helping people have romantic encounters, and at intensifying relationships.
Therefore, this temple is most suitable for couples that wish to have better relationships, or for those who have specific beaus to request red lines to.
Address: No. 18, Lane 227, Section 2, Yongfu Rd., West Central Dist., Tainan City, Taiwan.
Opening hours: 06:00 – 20:45 (every day)
Longfeng Temple – Nantou
Located in a gorgeous city at the center of Taiwan, Longfeng Temple is naturally beautiful and mysterious.
The original location of this Yue Lao shrine was on Lalu Island, but, because of the devastating 921 Earthquake in 1999, it was moved to Longfeng Temple.
Almost every person who visits Longfeng Temple will receive a red line from Yue Lao.
However, still, a few do fail.
Nevertheless, it is still possible to draw a divination stick and ask for a resolution from Yue Lao.
Longfeng Temple is so popular not only because of its location, but also because of a legend which says that people can find their love as soon as a month after visiting,  and no longer than six months.
Address: No. 292, Zhongshan Rd., Yuchi Township, Nantou County Taiwan, Taiwan.
Opening hours: 06:00 – 21:00 (every day)
If you are still unsure about the process of praying to Yue Lao, volunteers in the temples are always willing to help. You just have to approach them, and they will show you what to do. Just keep the tips in mind and be prepared – everything will work out!