Taiwan is known for its night markets and street food.
But another aspect of food culture worth trying in Taiwan is the traditional Taiwanese breakfast – another delicious eating option worth trying.
Living in Taiwan we are lucky as we have multiple options out there for breakfast. And a LOT of people do eat out for breakfast – it is just part of the culture.
Be it meal-deals in convenience stores, breakfast food stands, or local breakfast shops, we have a lot of options for that first food-fix of the day.
Local breakfast shops can be found everywhere in Taiwan.
They are often called "Mei & Mei" or something similar. It is common to see breakfast shops filled by locals in the morning, as office workers and students do not have time to prepare their own breakfast at home.
You will be amazed by the short time the staff you speak to need to prepare your breakfast; one reason local breakfast shops mean so much to the Taiwanese on the go.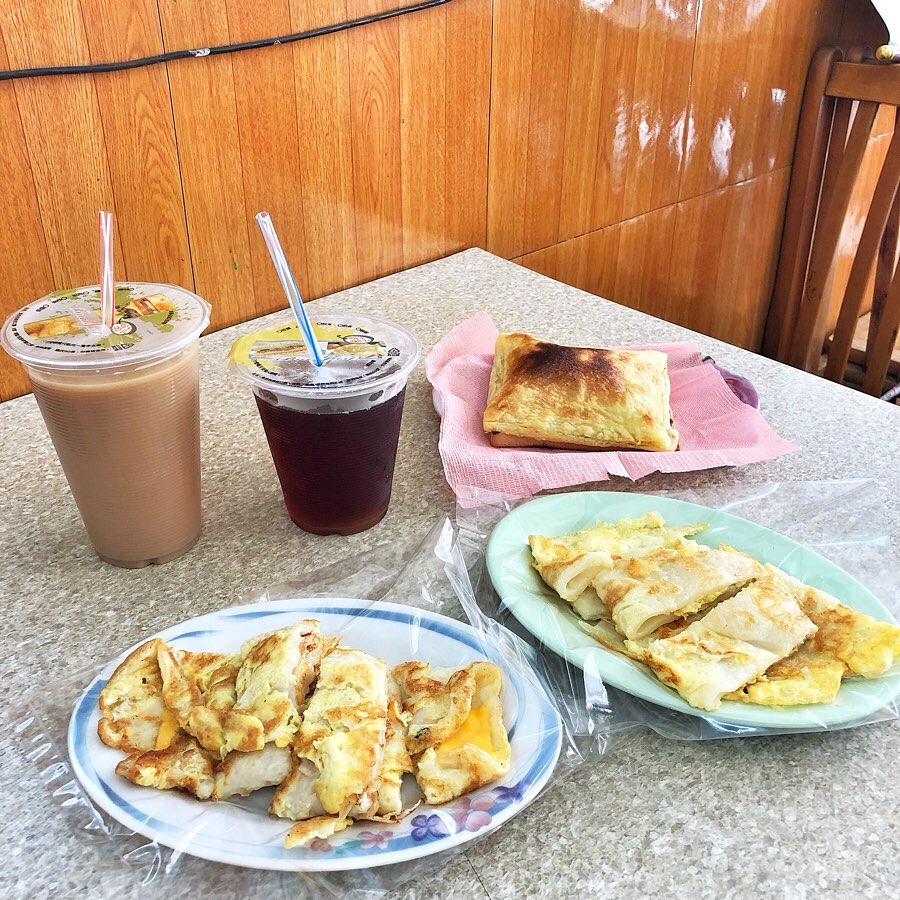 Photo: see_get_eat on Instagram 
As a study abroad student, I always found myself missing the food I used to eat in local breakfast shops back home. 
One of my favorites was – still is – the Chinese omelette.
I like it with pork and cheese. People can choose to add different ingredients to their Chinese omelette, such as chicken cutlets, tuna, and corn. In addition to Chinese omelettes, many breakfast shops also offer a wide range of products, including black pepper hibachi noodles, sandwiches, and radish cakes.
Large iced milk tea is also a must with breakfast.
 But, besides the local breakfast shops, there are several breakfast shops that are extremely famous amongst both locals and foreign visitors or residents alike, so it might be a good idea to try both the local breakfast shops and the ones below during your visit to Taiwan – in this case the north of the island as the places below are in  Taipei, Keelung, and Yilan. 
Dingyuan Soy Milk
Dingyuan Soy Milk is one of the most famous traditional Taiwanese breakfast shops in Taipei.
The thing with this shop is that it is common to see more Japanese than Taiwanese in the shop.
This is because Dingyuan Soy Milk is highly recommended in Japanese language travel guides, and is also close to the well-known tourist attraction, Chiang Kai-shek Memorial Hall.
Soymilk, sesame flat bread, xiao long bao, and green onion pancakes are the bestsellers in the shop. Almost every customer will order xiao long bao here because of its succulent pork stuffing and scalding but delicious when cooler – hot soup.
Photo: niniyeh
Address: No. 30-1 Jinghua St., Zhongzheng Dist., Taipei, Taiwan
Opening hours: Monday closed, Tue-Sun 4:00am-11:00am
 Cheng Huang Breakfast
Cheng Huang Breakfast shop has a long history having been open since 1952, and although the shop has a plain exterior, simple indoor decoration, and limited seating, it is still very famous among Yilan's local citizenry.
Soy-stewed pork with rice is regarded as the top 'must-eat' here and the pork is tender and juicy, but not greasy.
Many people also like to add an over-easy egg and stir it in with the rice.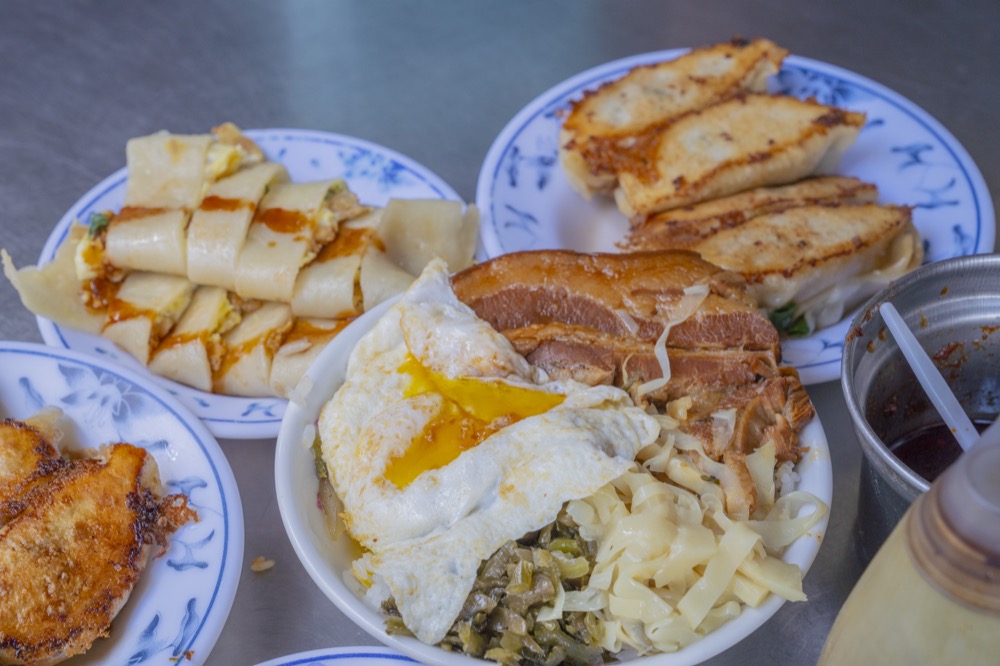 Photo: master_food_diary  
Address: No. 3, Chenghuang St., Yilan City, Yilan County, Taiwan
Opening hours: Monday, Sunday closed, Tue- Sat 4:00am-2:00 pm
Chou Jia Scallion Pancake
Chou Jia Scallion Pancake, originally named Chou Jia Soy Milk, is especially famous for its scallion pancake.
Unlike other scallion pancakes, which are usually flat and thin, Chou Jia's scallion pancake is smaller but much thicker.
The special baking process leads to a crispy layer and juicier center for the scallion pancake.
The idea of scallion pancakes originated from the "noodle culture" we had in the mid-20th century.
"Noodle culture" is not only about noodles though, but also about other food made from the same base ingredient – wheat – such as dumplings, wonton, and steamed bread. 
Due to the economic depression at the time, people could not afford expensive food, and scallion pancakes were cheap and could easily fill the stomach.
This breakfast thus became popular, and has been very popular with local Keelung residents ever since.
Photo: paivita_xue on Instagram
Address: No. 309, Xin'er Road, Zhongzheng Dist., Keelung City, Taiwan
Opening hours: Monday closed, Tue- Sun 4:30 am- 12:30pm 
Chou Ji Meat Porridge
Located opposite the well-known tourist attraction, Bopiliao Historical Block, in Wanhua District, from its simple indoor decor, we can see that the Chou Ji Meat Porridge shop has a long history.
As such, meat porridge is the signature dish of this shop.
The raw rice is slowly boiled with minced meat, shallot, dried tofu, and shrimp. Another must-order if you visit is the crispy fried pork. You can choose whether to have the leaner meat or fattier meat option.
Also, note the way the price is listed in the shop; prices are not based on single dishes, but rather on the weight of food.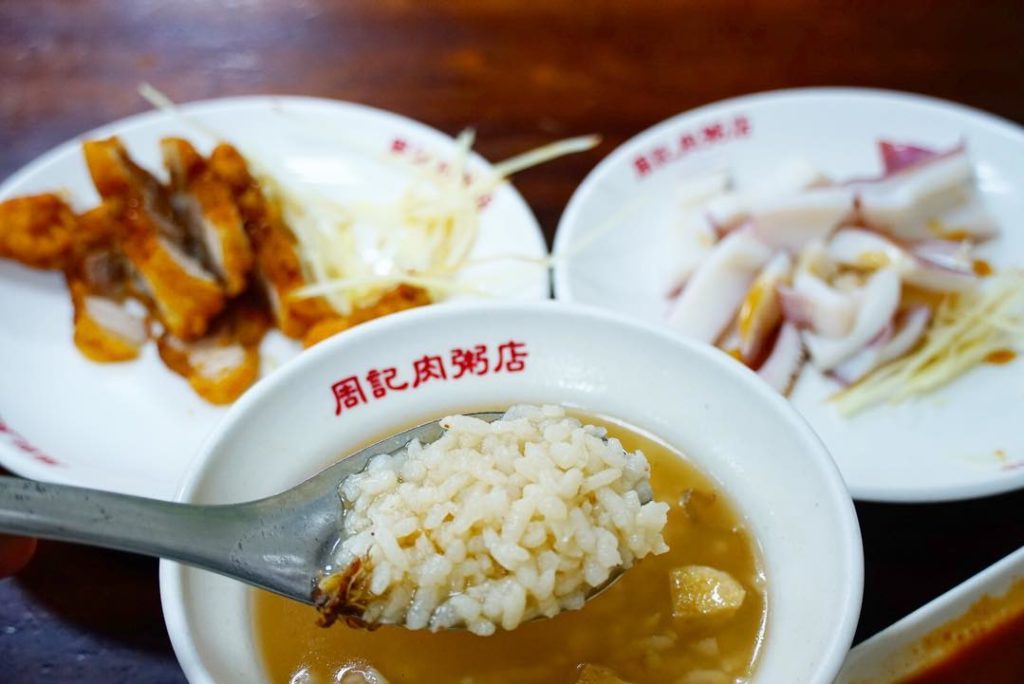 Photo: shihhaotung on Instagram
Address: No. 104, Guangzhou St., Wanhua Dist., Taipei City, Taiwan
Opening hours: Mon-Sun 6:00am-4:30pm
Liu Mama Rice Ball
Rice balls are also one of the traditional breakfast forms that Taiwanese like to have.
Rice balls are usually very large with rich ingredients wrapped inside, and can be so large that people often opt for them as brunch.
There are 26 flavors of rice ball at Liu Mama, and the top three ranking rice balls are, all signature purple rice balls in seafood, meat assorted, and signature traditional rice ball form.
You really should try the purple rice ball if you have never eaten purple rice before.
It is nutritious, it smells very good, and the rice is always fluffy.
The special thing about Liu Mama's Rice Ball is that there are two layers of seaweed; one on the inside and the other on the outside, surrounding the whole rice ball.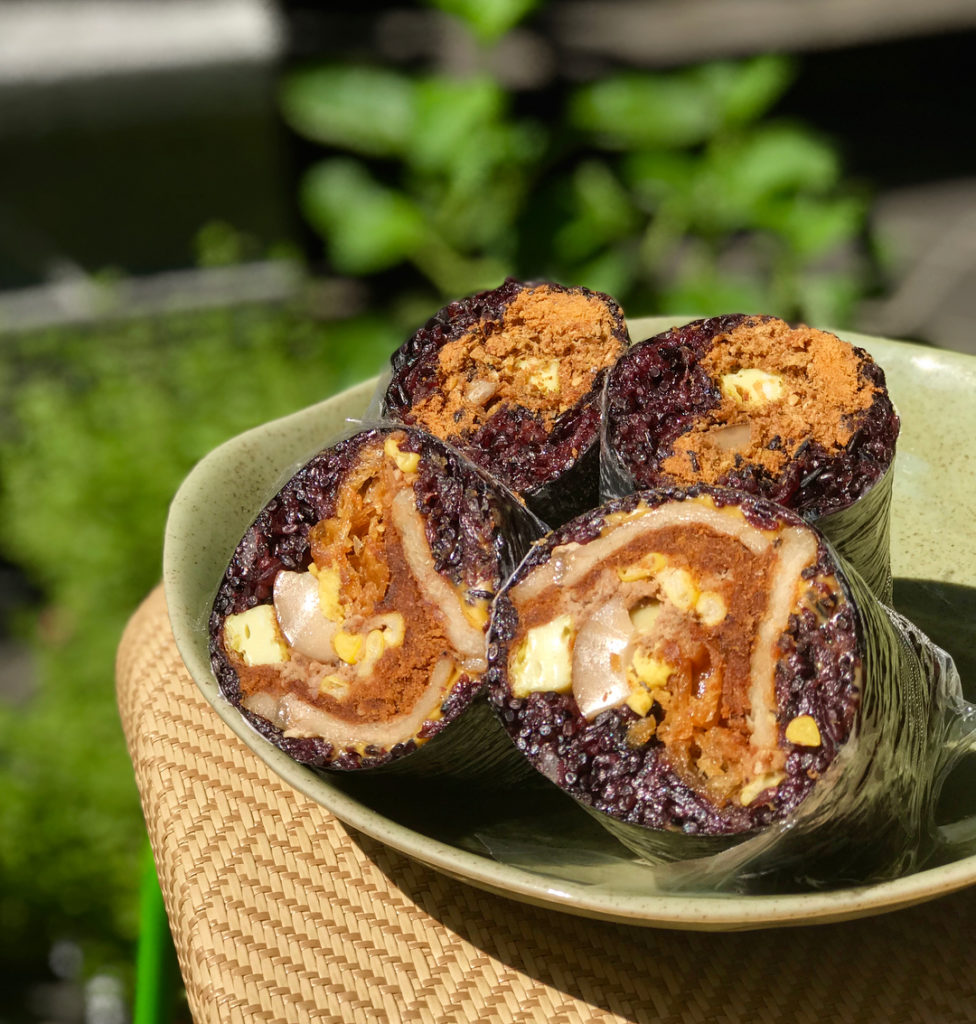 Photo: oscarlife1222 on Instagram
Address: No. 88, Section 2, Hangzhou South Rd., Zhongzheng District, Taipei City, Taiwan
Opening hours: Monday closed, Tue-Sun 5:00am-11:00am
Chen Jia Cold Noodles
Chen Jia Cold Noodles sells only one kind of noodle; its signature cold noodles.
In order to keep the chewy texture of the noodles, the cooks first use a fan to cool them down, then cools them with their air conditioner.
The sauce that comes with the cold noodles is made from a secret ratio of soy sauce, sugar, sesame paste, and vinegar handed down from Chen's ancestors.
And the "three in one soup", with its miso soup, pork balls egg-drop ingredients, is highly recommended by customers who visit the store.
Photo: mnm_foodie on Instagram
Address: No. 29, Lane 123, Section 5, Nanjing East Rd., Songshan Dist., Taipei City, Taiwan
Opening hours: Sunday closed, Mon-Sat 24hours
Taiwan is a food paradise throughout the day – and the day begins with breakfast.