As a modern city, Taipei is not only the capital of Taiwan, but the most diverse city in the country.
People enjoy different activities based on whatever the environment provides them with, and the manifold ambiance on offer makes it almost a privilege to live in a city like this. 
You can be enjoying the buffet in five-star hotels one minute, and 10 minutes later you can be riding a bike along a riverbank.
Hikes can easily be accessed just 10 minutes after stepping off the metro, and there are more than five well known and well-trodden trails like this in this incredible city.
Today, I will introduce one of the easiest to reach trails from the city's metro, leading to one of the best-known Instagram spots in Taipei.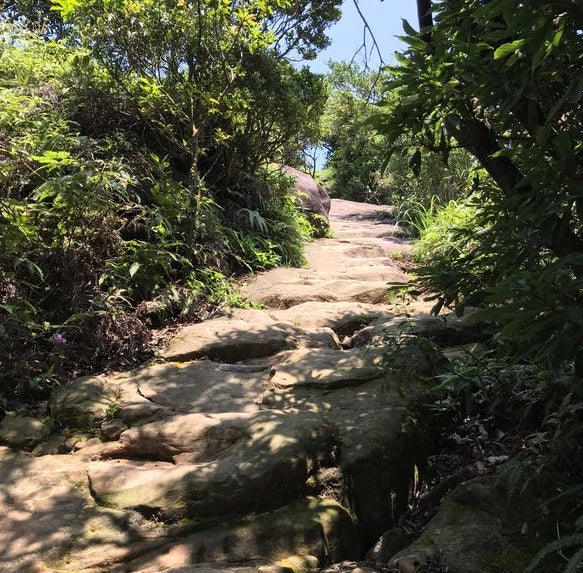 The Jinmianshan Hiking Trail (金面山親山步道), or as some people call it; Jiandao Mountain (剪刀山) or "Scissor Mountain", is a short hike that will take about 30 – 40 minutes to the top depending on your speed. 
It is located in Taipei's Neihu District, and the trailhead is a short 10 minutes walk away from Xihu Metro Station.
The trail is well known for its diverse topography and the amazing 360-degree view you are rewarded with.
Clear instructions are on offer for all throughout the hike along the route.
The first encounter is with rock steps from which you can see the cityscape on your way up, and after 20 minutes or so walking up these fairly consistent steps, you will see a rough rock face with ropes hanging down. 
This might seem a bit of a challenge for anyone unfamiliar with ridge hikes, but it is a lot safer than it looks.
And come the end of it you will be rewarded with some of the most 'grammable' photos in the city; and speaking from a local's 'POV' I think one of the reasons I like Jinmianshan so much is because of the diversity along the route which makes this trail so much fun to hike.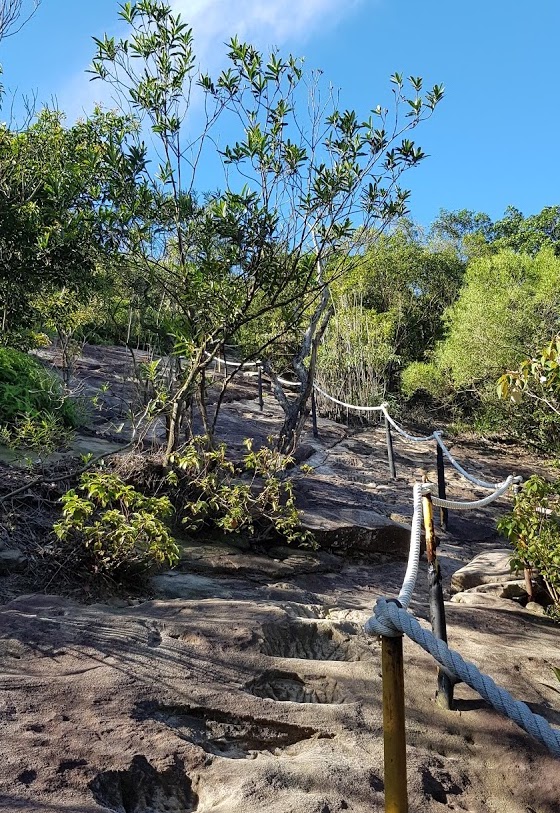 Before you reach the peak, you will see one of the most famous places on Jinmianshan – the Lunjian Pagoda (論劍亭).
This is actually a rest area and like rest areas on highways up and down Taiwan, most hiking trails in Taipei have their very own special pavilions at which to take a breather.
This two storied structure is in so many pictures taken by so many different groups or societies that have hiked up here.
Leaving the Lunjian Pagoda, you are already so close to the peak.
When you get a glimpse of the enormous rocks ahead, and people queueing you have now reached the peak.
For those interested in taking pictures to earn more followers and 'likes' the effort this far will be worth it, and for those who just want to enjoy the feeling of achievement or embrace the city and the view, find yourself a spot to sit and breath in the fresh air.
When you are done, there are two paths to lead you back down. Just follow the instruction boards, and decide which way you want to go.
There will be bus stops close to each of the exit points along the way to take you to the metro or wherever your next destination happens to be.  
The peak itself is quite narrow compared to its fame and the number of visitors it hosts, so I would say that if you are thinking to avoid the crowds, visit on a weekday or early in the morning on the weekend, so you can enjoy the peace and quiet all alone – hopefully.
A fabulous destination recommended to all those looking for something a little bit active, fun, and a with a bit of a challenge thrown in, in Taipei – Jinmianshan Hiking Trail won't let you down!
Know:
Metro: Xihu Station 
Trailhead: Jinmianshan Trail, Section 2, Huanshan Road, Neihu District, Taipei City
Time: 1hr max
Ascent: 150 ~ 250M
Difficulty: low – middle
Water: Bringing your own is recommended. You can get water from the Bishanyan Kaizhang Shengwang Temple, however, it's not on the main trail to the peak. 
Notice: You don't need to be aware of any particular wild animals or even mosquitos here as it is a popular outdoor spot, and is maintained for human visits.  
Nearby: The Antipodean Specialty Coffee (4.4 stars on Google Maps – 3/07/2020)
Enjoyment factor: 9/10