The kids' summer vacation is here.
Yes, it can be challenging to find spots and activities that suit every family member, but staying indoors is far from ideal with outgoing kids
So why not consider hitting nearby hiking trails to help tire out both the older kids and younger boys and girls whilst also getting them out enjoying nature?
And if in the Taipei area, as many are, there is no better place to head for a walk in nature than Taipei's 'back garden' – Yilan.
In this piece I will introduce a few easy to hike, predominantly 'loop' trails around which to take the family this holiday season.
Just be sure to bring enough water and insect repellent with you! And take the kids home afterwards!
Wang Lung Pi – Yilan
(Yuanshan Township)
This damp natural ecology habitat behind a local elementary school is crammed full of fish, waterfowl, and batrachians (amphibians in normal-speak).
Centuries ago, flash floods and soil erosion created the lake at the foothills of the local mountains by the Da Jiaoxi River, but being located in the mountains, with its high altitude, the lake's water level rises and falls with the amount of rain falling on any given day.
In time Wang Lung Pi subsequently became a part of the daily lives of local residents with local elders picking the name it still goes by from an ancient poem, hoping that it would always be filled by the rain – and thus supply water when needed.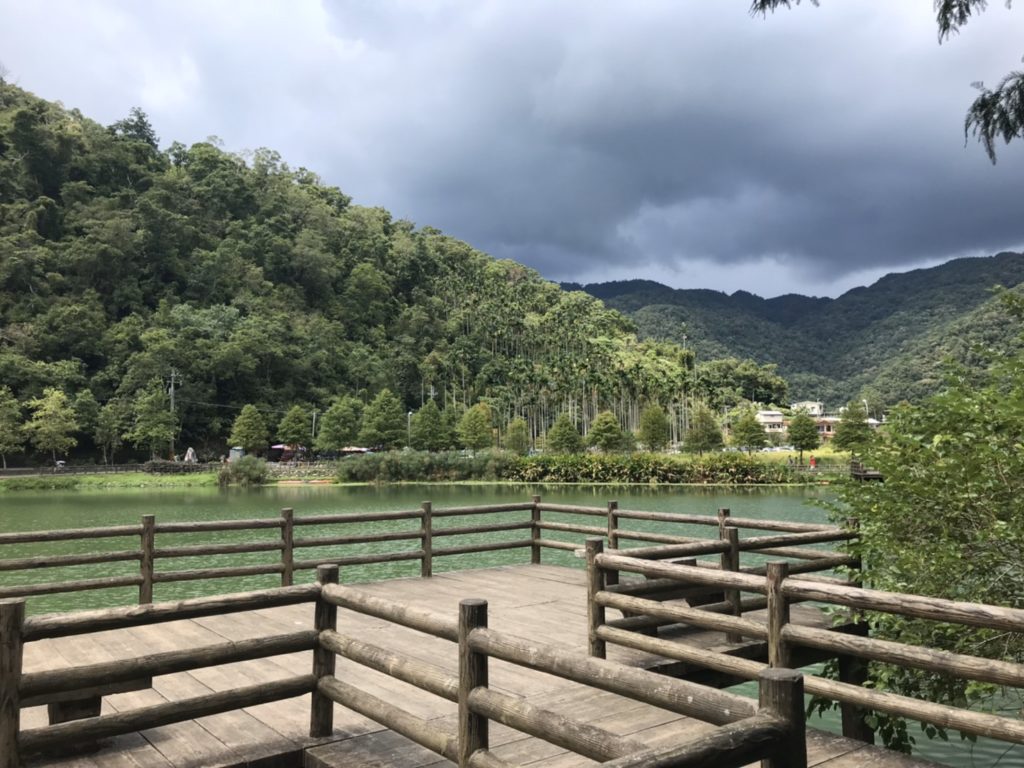 Wang Lung Pi is now the site of a calming path with fantastic views of the nearby mountains, a huge expanse of sky and the large pond.
Local vendors sell their produce around a parking lot near the pond and even the younger kids are not ignored as there is a well-constructed wooden road for the little ones to run and play on!
However, due to its geographical location, drizzle and downpours are frequent so bring along an umbrella or raincoat just in case!
Linmei Shipan Trail
(Jiaoxi)
An easy, fairly flat trail in the hills with only a few parts featuring steps, before entering the main trial you will need to pass a golf course from where you can see a sign with the name of the trail marked – from the main road, but it can be somewhat obscured by the local fruit sellers.
Even so, the vendors are nice and friendly, so if you are a bit lost, just ask them and they will point you in the right direction!
The path itself when started will soon open up on to a grassy clearing with some toilets, and from here it is a short two mile trek offering views of a waterfall, picturesque bridges around said waterfall, and numerous other picturesque spots offering up backdrops for some nice photos.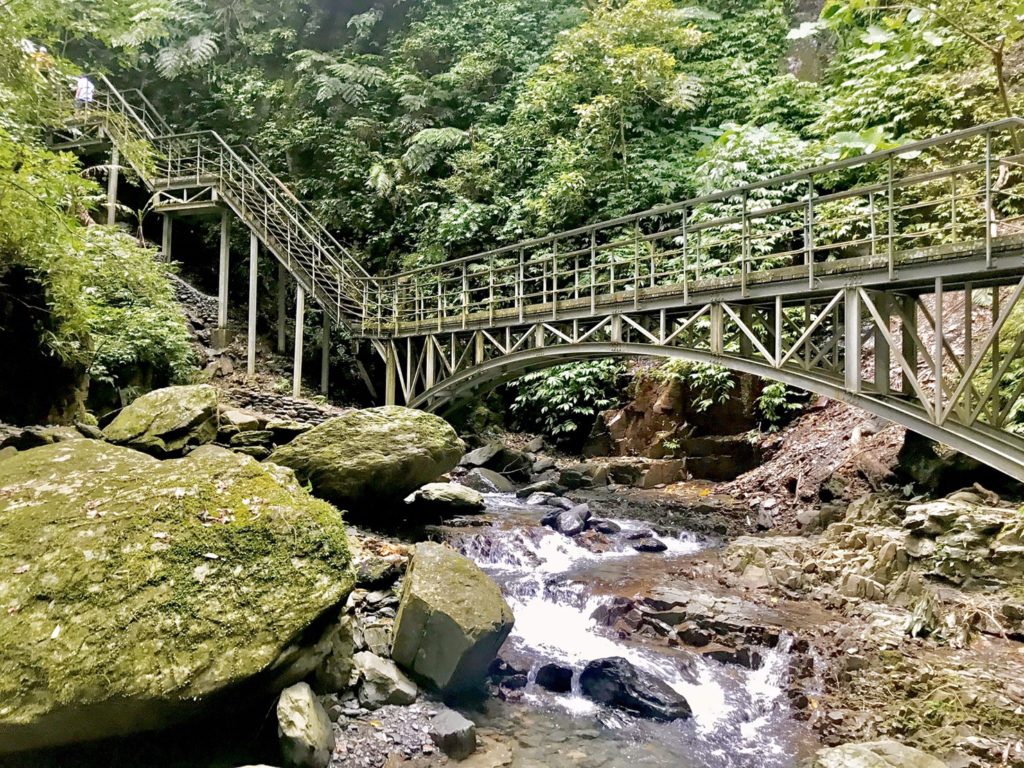 Wufengchi Waterfall
(Jiaoxi)
This is another must-see spot near Jiaoxi – a waterfall attraction in Yilan with a three-tiered drop and a well-built walking track.
The  lowest tier, is just inside the entrance and while not very high, swimming is not allowed in the water at the base, but kids can play and / or paddle in the water as their elders – and usually betters – hide here from the sun.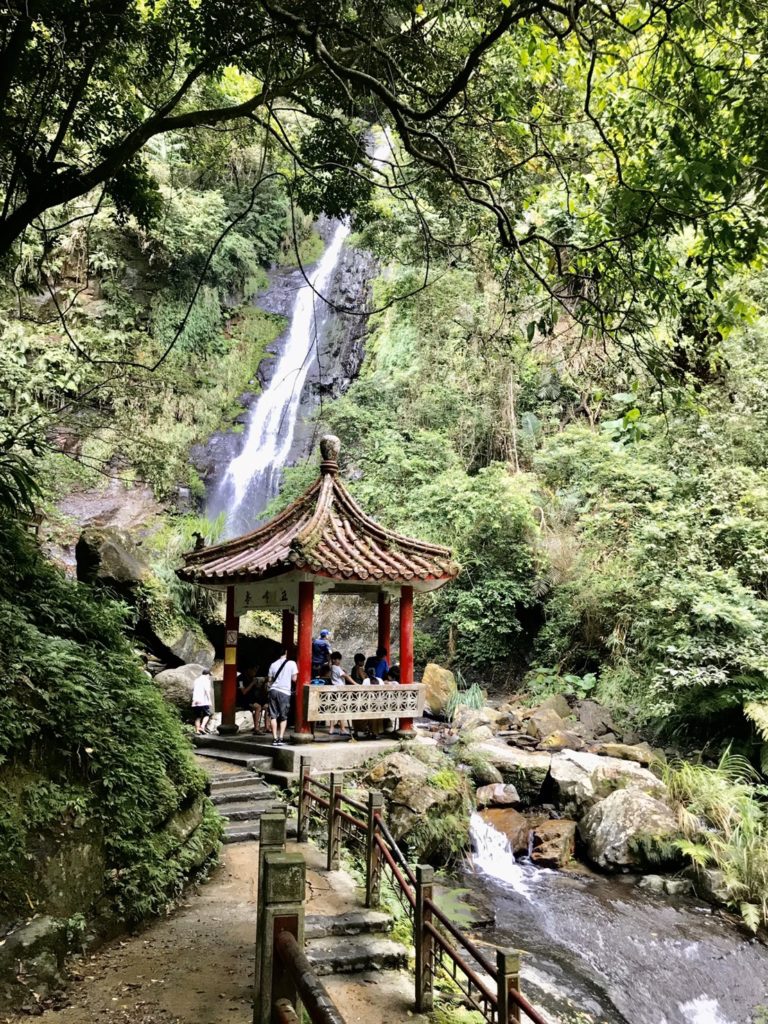 Tier 2 is marked by a red roof pavilion and is the biggest of the three linked waterfalls currently open as the path to tier 1, is officially closed as a result of recent rock falls, although it can be seen from afar if you head to the Catholic church!
And remember – don't forget to take the kids home!