Editor's note: the schools are now out, the summer hols are with us, and ….. nobody can go overseas, yet.
COVID-19 will be defeated one day, but the summer of 2020, will see record numbers of Taiwanese enjoying a 'staycation' rather than an overseas jaunt. 
As such, here at The Taiwan Times we will be bringing you more than a few of our own personal faves – by local Taiwanese – should you be looking for ideas on where to hang out, soak up the sun, or delve into a bit of local culture.
This is our first such piece; a local take by a local Penghu lad.
Enjoy the summer!
Penghu has become one of Taiwan's hottest travel spots this summer, and this in large part is down to its hugely popular International Fireworks Festival.
The festival, now in its 18th year, has attracted millions of visitors over the years, and this year is bigger than ever with the coronavirus effectively putting a stop on people travelling abroad.
Hence, Penghu, along with other island getaways around the nation including Xiaoliuqiu, (a.k.a Lambai Island) Lanyu Island (Orchid Island). and Ludao (Green Island), as well as the Matsu Islands are the only places Taiwanese people can really 'get away from it all' in a bid to enjoy a quasi-overseas trip.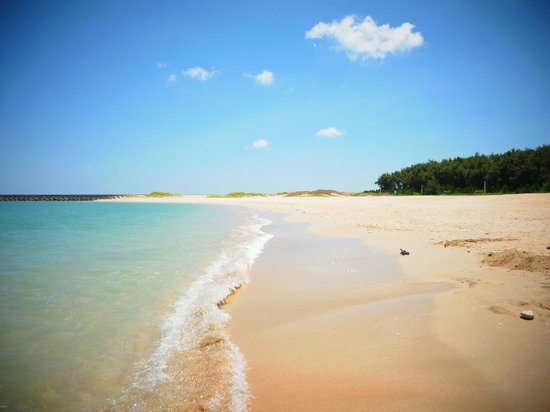 This so-called concept of "revenge tourism," a term used to describe people flocking to one place to get away in the wake of a long-term prohibition from travelling, is compounded in Penghu by the existence of the annual fireworks festival.
The fireworks festival in Penghu, is usually held from April to June each year, but for 2020, its start date was postponed to July because of the COVID-19 pandemic.
With its fireworks displays scheduled each Monday and Thursday, this year's festival collaborates with the Marvel franchise to feature drone performances in order to offer audiences a brand-new visual experience.
Moreover, the whole show is for free. Gratis. Beat that!
During the opening of the festival in early July, it was reported that more than 20,000 people gathered at Guanyinting, a famous local beach resort in MaKung City, to watch the drone show and the fireworks display bringing together both the locals and tourists.
And with the fireworks festival scheduled to run into early September this year there is still plenty of time to head to the islands.
Yet, despite the profits made from the booming tourist industry brought about by COVID this year, many Penghu locals are feeling annoyed by the sudden soaring number of incoming visitors, as their daily lives have been deeply affected by the upswing in tourist numbers.
As such this is causing issues for the local environment, having an effect on traffic conditions and also daily routines as there is no set limit on numbers visiting.
According to the local police administration, the number of traffic accidents in Penghu has risen 45% so far this holiday season as a result of many tourists' reckless attitude towards driving (or riding – of scooters) in Penghu.
Lines in some places have become so bad that it now takes more than one hour for people to wait in line for breakfast at some of the renowned local breakfast stores.
A number of residents have even described the influx it as "a punishment for the locals," as the huge number of visitors have effectively destroyed their casual and easy-going lifestyles.
Regardless, Penghu's tourist dominated economy will benefit in this post-pandemic era with tourists currently limited to domestic tourism options only, and with the International Fireworks Festival and the release of nationally available stimulus vouchers both encouraging people to visit the beautiful Penghu islands, concessions are needed.
However, tourists please note that this is a double-edged sword: as it is not appropriate to enjoy your own trip at the cost of others'.
Please help maintain the beauty of Penghu while having fun during your visit.