This is the second in a series of interviews we did at different times in recent CPBL baseball seasons, that we are reposting as we enter the final countdown ahead of the 2021 CPBL Season.
Just to whet your appetite.
Opening game, weather permitting, will be a week today.
Last year it was all about beating COVID – and the CPBL, and Taiwan as a whole, did an excellent job in doing so, becoming the first baseball league in the world to get the games on, and eventually fans in the seats.
Here's hoping for another year of COVID-free baseball, some great games, and memories for all.
Mitch Lively plays for the CTBC Brothers in the CPBL here in Taiwan. Both on and off the field he is loved by his fans and his teammates.
That kinda makes him the most popular pitcher in the most popular team in Taiwan.
And last year he sat down with me for a chat ahead of a game in Tianmu, Taipei.
Tonight he is back in action for the Brothers against the Fubon Guardians at Xinzhuang.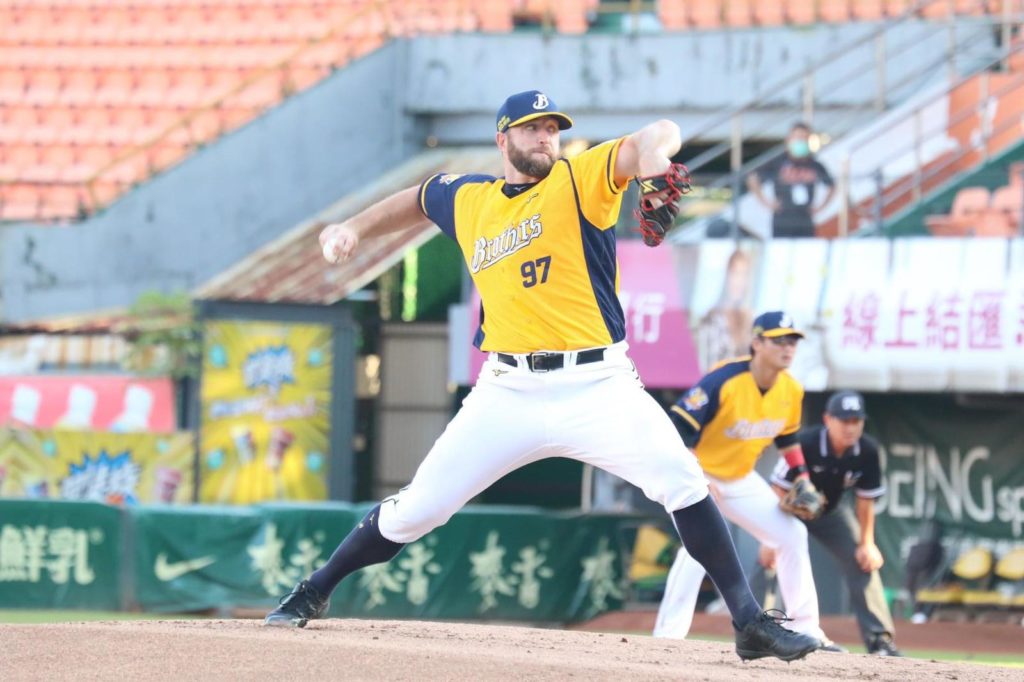 Talking to Sam Williams, sports editor of Lassen News in your hometown, he said you had a choice between football and baseball back as a kid – you obviously went into baseball. Any regrets?
Not one. I've been doing this thirteen years now and I don't think a football career would have lasted that long.
Baseball Reference tells me you have spent 7 seasons overseas now – highlights and low points in that time?
(correcting me) – No, this will be my third season overseas. I had parts in Mexico, out of the (US), but this is my third in Asia. Parts of seven years in Latin America, but yeah, this is my third in Asia.
How much did you know about baseball in Asia before you came over this way?
Just a little bit. You know, I watched Mr. Baseball with Tom Selleck and a little bit from talking to guys who came back to the states who played over here, but not to the extent that I do now.
You were briefly up in Japan with Nippon Ham. A lot of Americans who have gone over there have had clauses in their contracts so they don't have to train as the Japanese train. Did you ever think of doing that?
No, they let us do our own thing over there. It wasn't really a clause but I always did everything the Japanese did. I arrived mid-season so I was just trying to fit in. And they are some hard workers, I'll tell you that much.
You didn't fit in size wise in Japan did you?

 
(laughing) Not very often, especially on the train. I took up a lot of room on the train.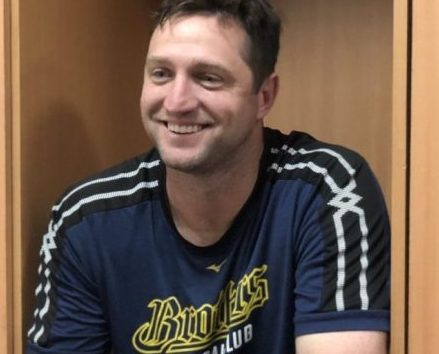 Over the course of your career, before Brothers, your staff are watching us talk of course, where did you feel the happiest in baseball?
With my first team in my hometown with my father as my coach, from T-Ball to when I was nine years old. That was the best time of my life playing baseball.
Do you watch a lot of baseball yourself? Other sports?

 
It's funny. I don't really like watching baseball. I think it's boring. Honestly I think it's kind of a boring sport to watch. For me (that is). I (do) like to watch guys that I have played with if I see them on TV. And, I like to watch highlights. But to sit through a nine inning game I won't do it. To watch highlight reels I like, but (as I) do it every day, I'd rather sit through a basketball game or a football game.
Game of Thrones?

 
Never seen an episode. (laughs)
How did you feel when you knew the Brothers were interested in you?
I was actually quite happy. I went to Japan and spent a year in Japan, then two years in Mexico and it was a gold mine to get over here. I actually thought, a year earlier I was going to come (to Taiwan) but I didn't. (MB: to Brothers?) To Lions actually, but then when I got the chance here I was quite excited to get back overseas because I love Asian culture.
How have the Brothers helped you fit in?

 
They make it real easy. They give us nice housing, and take care of our families when they are out here. They give me a good interpreter like the guy behind you there, Howard (below*) that makes my life really easy out here. Any questions I have with myself and my family, Howard is on top of it and takes care of it. He's my lifeline, that guy right there. You can take a picture of him. We'll take one together. Without him I would be lost.
Even with Howard's help, what have you found hard to adjust to?
Finding trash cans, personal space. The(se) are non-existent. Nah, I'm just joking. Communication is still the hardest. You know, if he's not with me going to a restaurant that doesn't have pictures or a little bit of English on it, I'm lost. I don't know what I'm going to get. When I'm in Mexico you can read Spanish, or you kind of know what the words mean, but here is but if you don't know what the characters mean, you're done.
A question based on a suggestion from Tom Chapel in Tainan – which food would you never touch again.
Stinky tofu. (It) doesn't taste bad. It's just the smell. I can't get past it. I've eaten it, I just can't get past it.
Which of your team mates has particularly impressed you?
(pointing across the locker room) That man right there, Cha Cha. (Cheng-Min Peng) He is one of the best team mates I have ever had in my career. He's a legend and I say it to his face every day. For a veteran of his calibre to go our of his way to help everybody else on the team, you don't see that very often.
When pitching in Taiwan, with all the noise in the stadium with organized singing, and cheerleaders dancing, can this be off-putting?

 
No, if you are dialed in and focused on your job you don't see any of it. All I see is the catcher, and his glove. I hear noise obviously but it's background, like white noise. You don't know what it is. But if you're not focused I can see the guy eating a hot dog in the top row, and I can hear that guy chewing and telling me how bad I am. So it all depends what mindset you have that day.  
Do your teammates have a nickname for you?
I don't think so. (looking around to Howard, other players) They call me 'Lifulee' or (offered by Howard) 'Princess' because they did a dress up for rookies last year and I dressed up like Elsa. I didn't just dress up, I got into character.
As you do….. you were clean shaven I hope?
No, I had a beard. I had a full beard. You wouldn't want to run into me in a bar at night. 
Where should Mitch Lively fans in yellow and blue go to grab a selfie with you or possibly start stalking you?
I go to a place for breakfast every morning. A guy from the states, from Chicago moved out here a few years ago. It's an American diner down by SOGO mall in an alleyway and I also go to an Italian place (in the same area). I go there a lot. I don't go out drinking to the bars. I just go out to eat. I also go to 'Kurashushi' (a Japanese chain conveyor belt sushi joint). I eat a lot of sushi. Every Monday is sushi day.
How many plates do you get through?
(looking at Howard) We did 42 together. I did 24, and he did 18. And I pay, I take care of Howard.
You have a young son now. What career advice would you give him if he starts showing interest in baseball?
Do it, just have fun. Don't be too hard on yourself. Don't worry about being in a competitive league. Just have fun doing it. Everyone always asks me is he going to be a ball player? I say I don't know. He may be a ballerina, he can be whatever he wants to be.
A question from baseball fans in the UK – at the Bat Flips and Nerds site on which this will appear: 'With over 1000 MLB games a season on TV, what makes it worth UK fans taking time out of their day to watch CPBL?'

 
Maybe they like the cheerleaders? The games over here are a lot different. They are not like the games in the States. It's a different atmosphere. There is something for everyone. You have music going on the whole time. I think fan interaction is what draws people to baseball here. I see little kids doing all the dances. 
Can you do (the) same dances?
I do! 
Your tiff with your coach last year was well documented. Many allegations made in the media. Are you a believer in what happens in the dressing room / on the bench stays there? Or should it be shared?
What happens happens, you know. You're in the heat of the moment, in a war, a battle. Tempers are going to flare. Real men, you are adults, you squash it and move on past it.
Have you kissed and made up now?
Within 10 hours. We had dinner the next night together. I don't think I would have been back here, he's the manager now.
Next from a Lamigo and CPBL fan based up in Japan called Joe:

  

Does having a foreign – and English speaking coach help you? Any difference in training MO to what you might be used to across the Pacific in the US, Mexico etc?
I don't think it helps you fit in more, but it makes it easier about what to expect and how things are being done. But in as far as fitting in, you have to be an outgoing person. Nick (Additon) and I have that personality of trying. We are not in Taiwan trying to get some place else. We are not trying to get back to the States. We are fully invested in being here, in playing here.
Where will you be five years from now?
Hopefully playing, but probably not. I could probably coach at the collegiate level. I wouldn't want to coach at the professional level. It's the same lifestyle away from my family. Hopefully back in my hometown, Susanville in California where I live with my wife and my family. My whole family lives there. So maybe doing a coaching academy or coaching at the college.
Any shout outs to those perhaps reading this back home – family or kids now at Lassen High School – motivate them?
People say you're from a small town so you don't have a chance but if you work hard and keep your nose clean and keep focused on what you want you can be anything you want in this world. 
Penultimate – were our roles reversed and I was the 1.96m pitcher from Susanville for the Brothers and you were the shorter, but far more handsome sports writer, what would you ask me?
(laughs with me…or at me?) What's your favorite part about this game?
Switching back – What's your favorite part about this game?
Putting on my cleats and buttoning up my shirt every single day.
Do you clean your own cleats.
I don't, because two interpreters started their own business and they clean the shoes for extra money so I help them. But just being able to pull on that jersey every day since I was four or five years old, that was my dream.
Finally, it has been said – by another from a former CPBL writer now in Canada – that you have the biggest hands in Taiwanese ball. (Look at pic for comparison of an average female hand VS Mitch Lively)
I have really big palms. My fingers are not so big, just beefy. You should see my Dad! 
Howard has since moved to the front office at the team where he works as a scout
(This interview first appeared in mid-2019 in the brilliant baseball blog Batflips and Nerds)