This is the third, and last today, in a series of interviews we did at different times in the last, 2020, CPBL baseball season, that we are reposting as we enter the final countdown ahead of the 2021 CPBL Season.
Just to whet your appetite.
Opening game, weather permitting, will be a week today.
Last year it was all about beating COVID – and the CPBL, and Taiwan as a whole, did an excellent job in doing so, becoming the first baseball league in the world to get the games on, and eventually fans in the seats.
Here's hoping for another year of COVID-free baseball, some great games, and memories for all.
There has never been another foreign pitcher in Taiwanese baseball quite like Mike Loree.
The former Lamigo man has been with the Fubon Guardians – and their predecessors the EDA Rhinos, since 2014, in Taiwan since 2012.
Over that time he has started in 182 games including 41 for Lamigo, and will add number 183 tonight, in an outing against the CTBC Brothers in Taichung.
Of that number, he has won 87 with 1,178 innings pitched! Not bad for a guy with the initial goal of just aiming to be be here for a couple of weeks.
Whether or not Mike's longevity record will ever be surpassed in Taiwanese baseball is one for future generations to take-up and cover.
Right now though, his team are not having the best of seasons, but on a blisteringly hot Saturday afternoon in Taiwan's second city yesterday he made time after pre-game practice to have a chat in the home dugout.
So Mike, first up, what do you have in common with Cincinnati Reds boss David Bell, and former MLB players Chad Bradford and Josh Outman – aiming to catch him off-guard?
(After much pondering and checking the names again) I have no idea.
You share the same birthday, September 14th.
Oh, right, that's a good thing.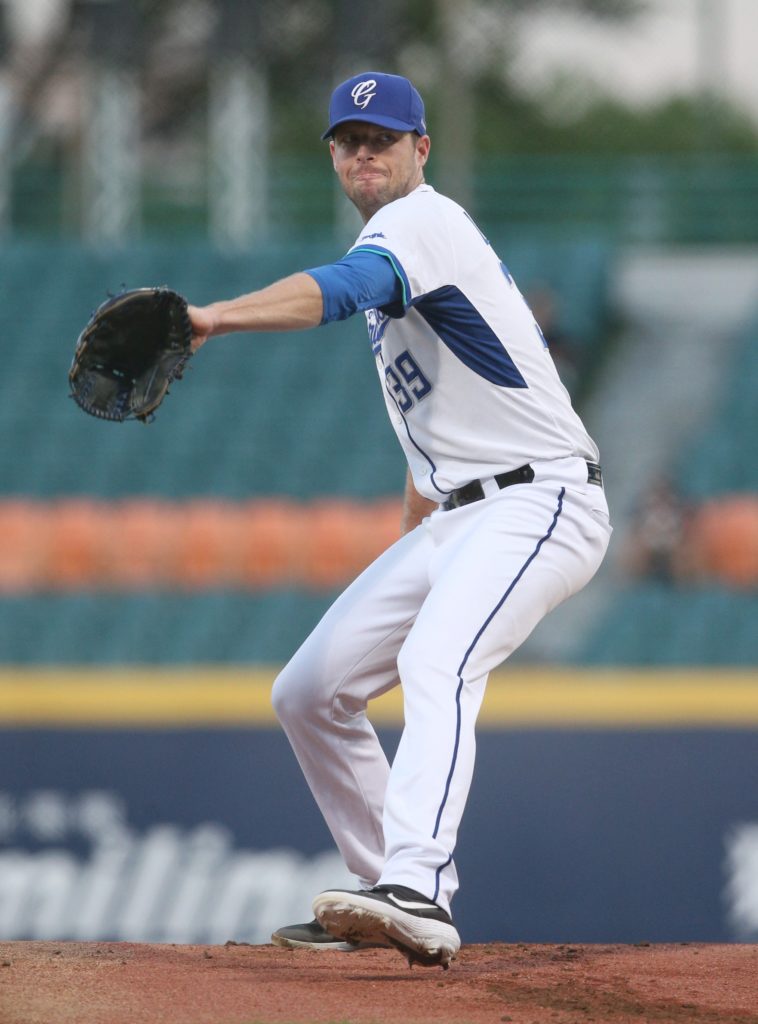 You are the longest serving foreign pitcher in Taiwan. Did you think this would ever be the case when you first arrived here?
Honestly, when I first arrived, I got here on August 14th, 2012, and August 31st is the foreign player deadline.
So I was just hoping to make it two weeks honestly. (laughs) Hoping to make it past the 31st when I first got here.
You played first for Lamigo in Taiwan, then for the Fubon Guardians' predecessor, the EDA Rhinos. What differences are there between the teams and the way you have felt over time?
Baseball is baseball, and there aren't too many differences between organisations and styles.
At the organisations I have been with I have been treated really well, and my family has been treated really well too.
And Taiwan as a whole has been very welcoming to me, myself and my family. Each organisation I have been with in Taiwan has been a really great experience. Not too many differences.
Did you hear the story of Manny Ramirez wanting to come back to Taiwan? (broke by The Taiwan Times).
And would you like to pitch to somebody like Manny?
I did. I pitched to him in 2013!
That's how long I have been here. He was with the EDA Rhinos, I was still with Lamigo at the time.
How did that go?
I struck him out a couple of times. He got a couple of hits off me. I pitched against him though.
Your team has been having a rough time recently. What are they doing to get back on track?
Everybody is working hard, and we realise we need to make some adjustments to be back on track obviously.
We can't keep on playing the way we have been playing. We have to get better.
Individually the guys understand that and everybody is working towards the common goal of being better to win more games and see what happens after that.
In certain places we can give ourselves a chance to win more games.
Do you need to work on your own dancing skills for when you accept MVP awards (and need to dance with the Fubon Angels)?
My wife tells me I have two left feet (laughs) so …
How do you get ready for a game mentally? Any special routines pre-game? (we discuss other sports stars' ideas / superstitions)
I try not to have any weird quirks that would make me feel like I'm unprepared so I try and stay away from things like I have to eat this, or I have to take a shower, put the right sock on first kind of thing, but leading up to a game I like to get a good night's rest, wake up, eat breakfast, make sure I eat lunch and that I am fueling my body properly.
I try to make sure I get eight hours of sleep. I just try to do everything leading up to that start then I can live with whatever happens.
You are not a short guy – Mike is 192cm – have you ever driven a scooter through Taipei? Are you even allowed to do so?
I have not, and as a team, I don't think we're allowed to drive scooters, no. I think that is an organizational rule.
Any favourite things about life in Taiwan?
The favourite thing would just be the experience of living in a foreign country, experiencing a new culture, new food, the people, travelling to different parts of the country.
These are all experiences that have shaped me as a person.
I have had great experiences that for my children I hope they will remember.
Are they at school here?
No, they're back home in Arizona.
With the two week quarantine, we decided it would be too much for them, and for my wife with a five year old and a three year old. I really didn't want to put them through that.
It has been a little difficult.
How do you feel in these special times, with things like quarantine making it difficult for your family to come and visit you?
The way I look at it, it's hard, it's not easy. But there are still a lot of things to be thankful for.
We can be thankful we are playing baseball right now during this pandemic.
There are a lot of guys in baseball in the US who aren't playing baseball. There will be no minor leagues this season, so there is a lot to be thankful for so it is just one of those things where hopefully it is just this year, and we can get back to normal.
The CPBL did get a lot of global attention because of COVID-19 and being the first league in the world to start playing ball. Have you enjoyed that attention?
I think it is great for the league. Personally it doesn't affect me as much because I have to do my job and I have to do it well here.
But I think for the league getting that exposure to the rest of the world is very positive.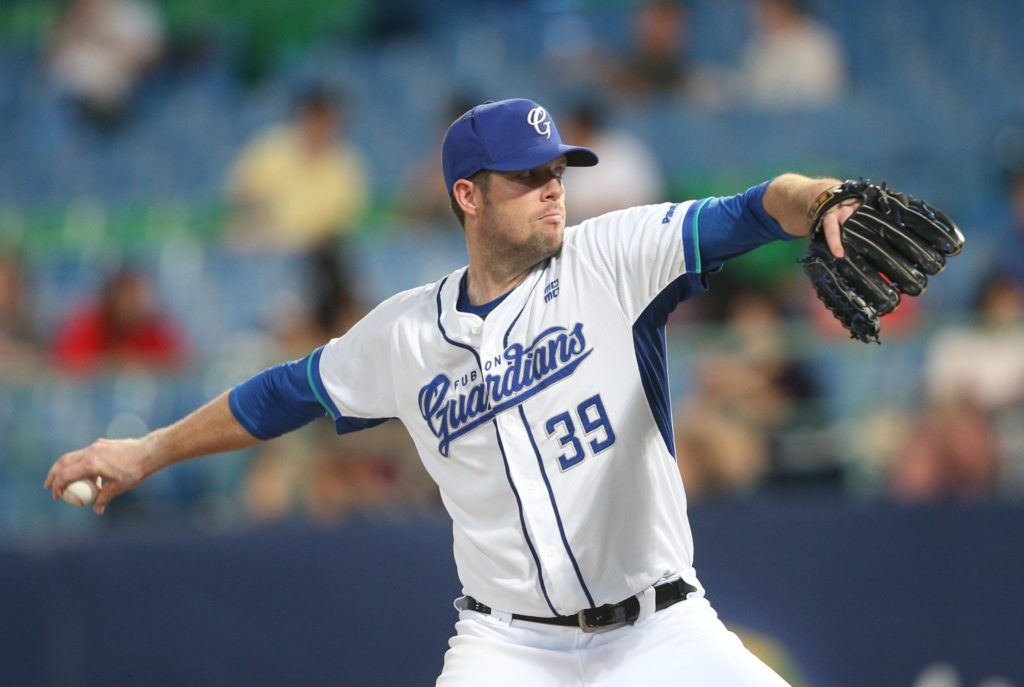 How do you relax away from the mound while your family are not here?
Usually I try and get up, and get out of my apartment and do something that day. Maybe go out to breakfast or go out to dinner and kind of enjoy the day. Get my coffee, talk to my family.
Usually my day revolves around food.
Last one – I am Mike Loree, and you are the baseball writer. What question would you ask yourself?
Hmm, I have never been asked this question before.
What does it take to be a successful professional pitcher over time? And how to have longevity in your career?
And how would you answer that yourself?
By continuing to work hard, and self improvement, always realizing that even if you are doing good things, you can always be better.
Listen to your body, you can be a student of the game, study the game and find ways to be even more competitive and even better as a pitcher and a person.