Logan Darnell is unique amongst pitchers in Taiwan's CPBL in that he is the only guy to have arrived during the nation's COVID-19 lockdown, and subsequent period of quarantine for all new arrivals.
He did his 'time' cooped up un a room – see comments below – before joining his teammates in Taiwan's ancient capital to take his place on the mound in the Uni-Lions starting rotation.
And tonight he goes against the Fubon Guardians looking for his first win of the season.
Yesterday I had a chance to talk with Logan on the Lions' bench about groundhogs, his time in quarantine, and how to cope with the brutal Taiwanese summer sun.
One out of left field to start. February 2nd is your birthday. It's the same day the National League (in MLB baseball) was founded. So my test question for you as a professional baseball player – of the eight teams that founded the national league in 1876 which two are still in existence?
Logan's face starts to speak for him
..and your face is telling me you have no idea …
Yeah, I have no idea about that. (laughs) The only thing I know that happened on February 2nd is that the groundhog, if it sees its shadow ….
I'm English. I didn't know that one.
(explains groundhogs, shadows and the sun) You see, I taught you something, you taught me something – Groundhog Day. February 2nd.
(Going back to the much researched first Q) It is the Atlanta Braves and the Chicago Cubs.
Ah, I should've known that. I grew up a Braves fan.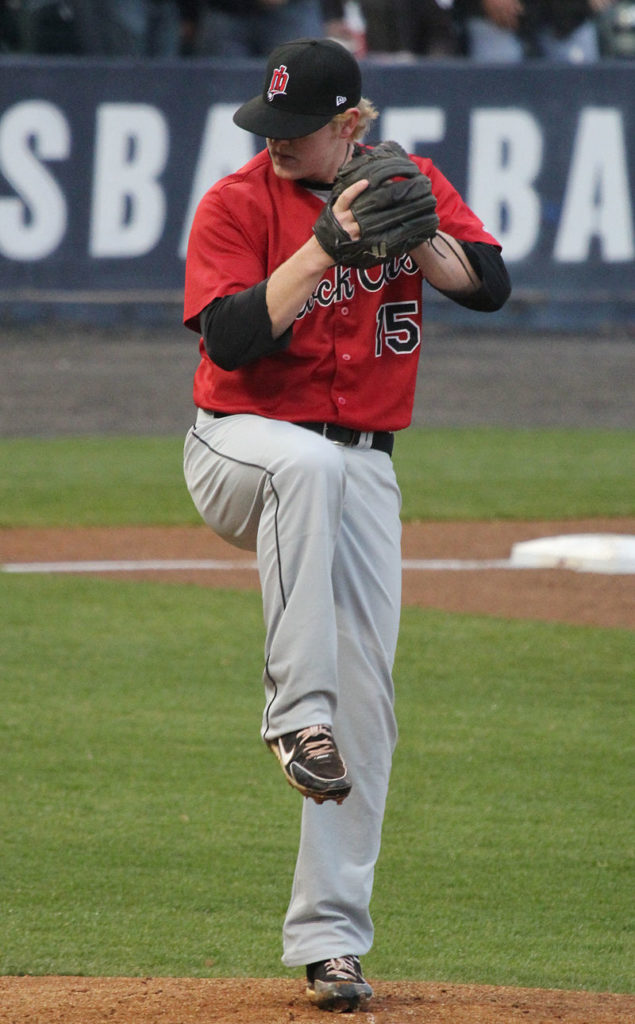 Proper questions now. You are now living and pitching here in Taiwan. How did you feel when you knew there was interest in you coming here?
I was excited. Any time you get to see somewhere, be somewhere that you've never been and see a different culture it's exciting. Now that I've been here a while I love it here. It's awesome. The food is good, the people are really nice, and the baseball is good too.
Are settled in the city now? And in the team?
Yes, in Tainan, yes, and in the team, everything's great.
What big differences have you noticed with baseball in the U.S.?
As far as hitting goes, here they take what they can. There are a lot of two strike approaches non-stop early in the round, unlike in the states where they might wait for their pitch, here they just take what you give them, and get a single here instead of waiting for a big pitch.
There are also a lot of hard workers here, working hard every day.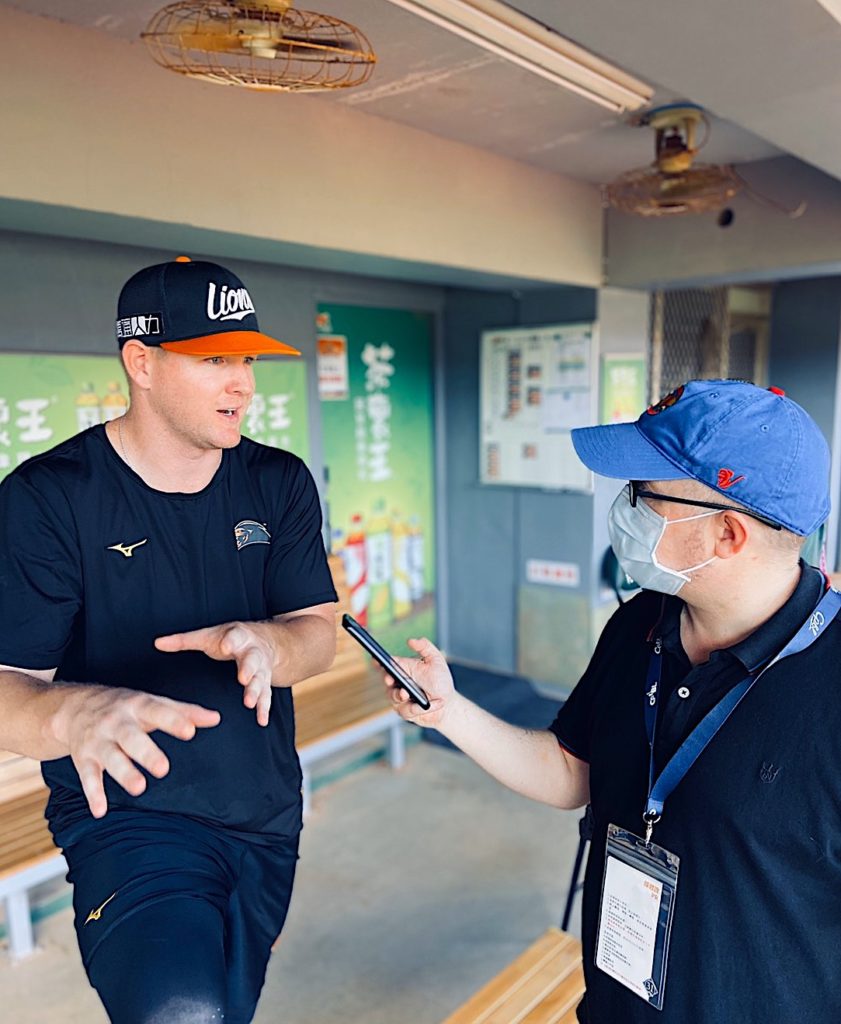 You came in when the COVID-19 quarantine system was in place. Has that been hard on you and perhaps any plans you may have had for family to visit?
Yeah, the quarantine for two weeks was tough. You think you can do it, and you think it is not a big deal, but after two weeks of not doing anything, and being in one room, my body kind of broke down, and I tried to get back out here and work out and throw, and I was super sore from just laying around.
But it's definitely tough because you know you have to get through the work visa thing, through the embassy in the states, so that takes a couple of weeks, then there's the quarantine, so for the moment it is just me over here. My wife can't come so you just do the best you can.
Is the pitching approach here very different to what you are used to in the states?
It is, it's tough man. There's a lot of hits given up, a lot of singles and the ball seems to really travel. There have been rumors of the balls being juiced..
That has been confirmed.
Yeah, so you jam a guy, and usually in the states, you jam them and they're out, but here you jam them and they get a hit, so it's like you just have to be willing to understand you're going to give up hits. It's gonna happen. You just have to keep it to five or six runs, or less.
If you give up five runs and go six or seven innings you've done well. It's not normal. Usually (if) you give up four or five runs you did not do your job. Here (if) you give up four or five, you did your job, and obviously you wanna give up zero, but you gotta have the perspective that I'm jamming this guy, I'm missing the barrel, but the ball is still getting through the hole but they get jammed and still hit a homer because the wind is helping. A lot of little things like that. You have to try to keep it minimal.
Career highlight to date?
I would say for sure making it to the Big Leagues was a career highlight. You always work to get to the highest level of baseball. When you finally make it there, it is an exciting moment.
(and) I threw a no-hitter in AAA in Rochester, where I'm from now. That was pretty amazing. The game started in North Carolina, and it got rained, then we picked it up in New York and we finished it a no-hitter. Me and a team mate, so that was a pretty good game.
How do you relax away from the ball park in Taiwan?
I play video games a lot, I walk around, see things I have never seen. We went to the beach in Kaohsiung one off day. That was pretty cool. So, just seeing the area.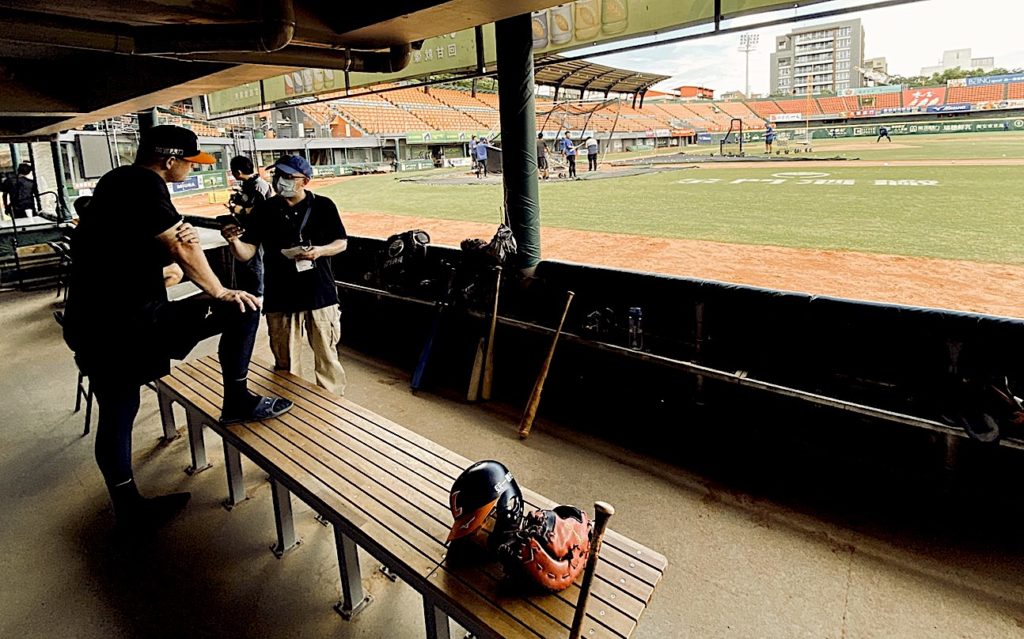 (Hearing mention of a beach – from one very fair skinned guy to another) How do you cope with the sun here in Taiwan? I don't.
You know what I do, I stay next to the air conditioner inside. (laughs again) I try not to go out as much as possible. It's tough. Sun screen obviously. I'm white, so I have to be aware how hot it is and always either stay inside or put sunscreen on.
Ten years from now, where do you see yourself?
I'll probably be coaching somewhere with my wife and my baby, my wife's due in July with our first baby so he'll be nine years old or almost ten at that point, so hopefully chasing him around and helping him out with the game as he's young and growing up. But I think I could coach after baseball after playing for almost ten years and understanding the concepts and the negatives and positives. So, trying to help somebody else out.
Reverse our positions. What would you ask yourself it you were me?
I think a lot of people don't understand the negatives and the hard parts (about playing baseball). They'll look at the outside and think look how he's doing on the field, look how he's performing and (think) let's criticize him for this one maybe bad outing, or the one bad game when you have to think we are away from our families on the other side of the world.
Yep, it's easy to criticize.
Yeah, you see the surface, they see the surface product, and there's a lot of things that they don't understand that might be going on in a guy's life that just doesn't matter to them because all they want is what's out there. (pointing to the mound)
I think sometimes that's the thing I wish reporters would think about, or fans would understand. We're not trying to go out there and sink. We're not trying to go out there and lose.
We're doing the best we can, and there's a lot more to it than people see.