"What is Transitional Justice? A country pursuing legal responsibility (against) offenders and bringing justice to the victims through re-investigation, re-evaluation and reparation as a stage of transiting itself from a monocracy to a democracy. It targets (the) improper (use of) violence (violation of human rights) against individuals conducted by the power which the state apparatus possessed. This should not be allowed to happen again by reformed institutions, by consolidating nomocracy, deepening democracy and safeguarding human rights." — Chou Wan-Yao, Professor of History at National Taiwan University
With the ultimate goal of preventing similar cases from happening again, by only releasing files related to the White Terror, and by compensating the victims and relatives of victims is not enough for society as a whole to learn from the past.
Instead, by learning about the the innovative artworks currently emerging in relation to the history of the period known as White Terror, only then can a level of awareness be fully implemented vis-a-vis those dark days.
Taiwan Bar, a digital content media source, has been making vivid, and explicit animation depicting the history of the 228 Incident and subsequent White Terror for some time now.
A computer game named Detention was created and developed by Red Candle Games in 2017, and adapted into a film version in 2019.
PXMart, one of the largest supermarket chains in Taiwan once released its 'Ghost Festival' ads based on the stories behind three victims of the White Terror, but unfortunately deleted said ads as a result of issues raised in its mixing of political perspectives with business.
Two reality plays in memory of the 228 Incident were produced by MARKTWAIN PRODUCTION who also invited relatives of victims to locations of historical importance.
The stories of these victims were portrayed by actors serving as victims, and soldiers, before an unsuspecting crowd. After a performance depicting the experiences of one Tang De-Chang, his surviving offspring, Tang Tsung-Muo, commented, "We want Taiwanese people to respond to this history, and they should know this was not a play. Only that (will make) our effort worthwhile."
Continuing along the same vein, a postdoctoral researcher at Academia Sinica is now working on transitional justice related works with a focus on the issue of White Terror.
Lin Chuan-Kai is in the process of giving 500+ speeches on the "White Stories" and the context of White Terror in different towns and schools. He collects stories from the period from every town and school he goes to, "We always care more about things close to us" he says, aiming to intrigue people with stories that took place in locations audiences can relate to.
"I want to bring the complexity of these victims' lives to the face of younger generations" he adds, whilst at the same time serving as a conduit by providing access to undisclosed files relating to the victims from before the 1980s to their relatives alive today.
A team composed of Lin, a number of artists, and teachers has been working on the promotion of a mass creation centered on the collective memories of White Terror where they invite people to express their feelings with body movements, and in the production of prints after listening to history accounts, by turning these accounts into different forms of art.
Chuan-Kai Lin is another who dedicates himself to the creation of artwork to this end. His artwork His work, The Three Bodies in collaboration with Creators (安魂工作隊) is now exhibited in the Museum of Contemporary Arts in an exhibition to continue until May 10th. 
The Three Bodies, offers three ways for the audience to understand political criminals.
First, by way of wax figures often made to represent the lives of prisoners in museums.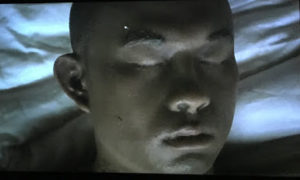 Second, in the form of straw-made, human-like amulets, which are often used in the folk ritual Zêh-Gai (to eliminate bad luck), representing the bodies of criminals. (Lin presents the straw amulets in the form of insects and taxidermy specimens, to demonstrate how victims were thought of and stereotyped by the government of the day)
The third body form is represented using texts extracted from old files on the victims, and includes the memoirs of some. Lin uses these texts to convey the messages and the physical experiences that cannot be 'felt' in seeing wax figures or by reading files, such as in forced tattoos that were seen as indicative of the prisoner's loyalty to the country.
"I want to bring the stories and the complexity of individuals back to these bodies," Lin said, "so that people can rethink the victims' experiences, to understand what their lives might have been like."
Another exhibition at the National Human Rights Museum (NHRM), Come with Us, Please —, is composed of 12 groups of young creators from fields including public education, visual arts, social media marketing, and mass communications.
The artworks shown focus on the theme of 'Injustice Sites' and have produced amazingly creative artworks such as Injustice Chocolate; chocolate shaped from the aerial views of sites related to The White Terror, in addition to The Path of Terror; a board game based on the process of interrogation, trial and execution.
Transitional Justice in Taiwan is maturing nowadays – monuments and museums have been established, spontaneous works in civil society are emerging, and most of the once secret files are already disclosed.
Around 10,000 of 18,000 victims have received compensation, and are no longer considered criminals.
But what about victims who don't even have a 'file' such as people shot on the street, or those murdered for their political beliefs without trial?
The stereotypes that exist in the mindset of many Taiwanese, and the rigid education that covers this time in our history makes it hard for people to understand the victims of White Terror, and also makes it difficult for the government to bring justice to certain groups and victims still ignored today.
This is Pt II of a three part series in the run up to the 74th anniversary of the 228 Incident by The Taiwan Times writer Charlene Lin.