Editor's note: This is the second in a series of four interviews today. Each will focus on a different team in this season's CPBL (professional baseball) league here in Taiwan.
Currently the only professional baseball league underway anywhere in the world, it is getting huge attention from fans and casual observers alike.
In the past few weeks four new English language fan groups – one supporting each of the teams in the league – has popped up on Twitter.
This is their story: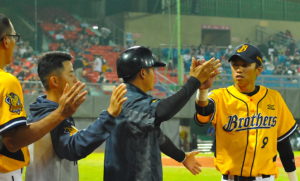 How did you first hear of the CPBL?
I did a bit of research and discovered it was one of the two leagues still competing during this coronavirus crisis.
It is a testament to the country of Taiwan and their ability to fight the virus and the CPBL itself.
What did you make of the first game last Sunday?
I was really impressed with the game.
The level of play was high, and the broadcast was great as well. It really felt like pro-baseball on all fronts, which was exactly what I needed.
What made you choose the Brothers?
Brothers is just such a great name. Who would you fear competing against more than a band of Brothers?
I really wish some American high schools / colleges would use Brothers or Sisters as a nickname.
What do you know about them?
I know a lot more now than I did last Friday! I know the team has had great success recently but has failed to break through to win a title.
I know about a decent amount of the players, including the international players such as Miranda, Lively, De Paula.
It seems the Brothers are one of the favorite teams of Taiwan.
What message would you send to the teams or the CPBL if you could
We would love to support the growth of the CPBL and the Brothers here in America!
Our account has picked up a big following in a short timespan, and we think it will only keep growing.
We hope to connect more American fans with the Brothers.
I think we already have done that to an extent and will continue to do so.
Follow the CTBC Brothers English language fan account on Twitter here