Editor's note: This is the third in a series of four interviews today. Each will focus on a different team in this season's CPBL (professional baseball) league here in Taiwan.
Currently the only professional baseball league underway anywhere in the world, it is getting huge attention from fans and casual observers alike.
In the past few weeks four new English language fan groups – one supporting each of the teams in the league – has popped up on Twitter.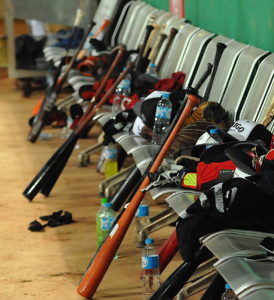 This is their story:
How did you first hear of the CPBL?
I heard of CPBL on twitter via Baseball Brit and Batflips and Nerds. They were putting information out about the league starting.
So I decided to take a look.
What did you make of the first game last Sunday?
I decided to hold off from watching the first game. I wanted my first CPBL experience to be watching the Rakuten Monkeys.
I'm so glad I did this as it made my first game so much more enjoyable!
The Game ended with a 12th inning walk off for the Monkeys.
The game had everything though HRs, RBIs, stolen bases, comebackers, great defensive plays and a few bloops too.
I loved the entertainment too – it had a feel of an MiLB game – but quirkier.
What made you choose the Monkeys?
I chose the Monkeys because of the crimson uniform and because of how great the stadium looked. I also liked the look of the mascot!
I had heard of Rakuten too from their links with other sports teams.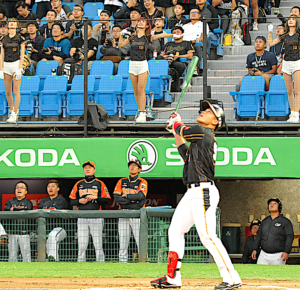 What do you know about them?
When I decided to support the Monkeys I knew next to nothing about them.
This was the case when I first set up the Rakuten Monkeys UK twitter fan account. But even over this first week I feel I have learned so much about the CPBL and the Monkeys.
Whether it be from watching games, reading articles or through interactions with other fans in the CPBL community on twitter.
I have witnessed Chu Yu-Hsien being absolutely dominant at the plate, earning him 2 MVPs this week.
From interacting with people based in Taiwan I've learned that his nicknames are 大朱(Big Chu) or 酒窩大砲(Dimple Cannon) and learning these types of details is great.
The Monkeys also have one of the greatest team songs I've ever heard in baseball – so catchy – it's been stuck in my head all week!
What message would you send to the teams or the CPBL if you could?
Firstly that they are doing an amazing job with the CPBL.
They have managed to generate interest that I think will be sustainable in many of the fans.
That's no mean feat when they are unable to fill stadiums at the moment because of the current situation.
But I'd hope that they would see that there is a demand for team merchandise from fans in the UK, Europe and America. If there was a way to make this a simpler set up, it would be great to see.
And also to recognise there are dedicated English language fan accounts on Twitter.