Yongkang Street in Taipei City is a foodie paradise and home to all kinds of food – local and imported.
So, be it noodles, braised pork rice, fried rice, or desserts and drinks, there is a little bit of everything in an area just a few decades ago largely devoid of any decent eats.
This area's eats first appeared on culinary maps because of Ding Tai Fung in the late 50s – DTF being the now world famous chain xiao long bao restaurant.
But after the opening of MRT Dongmen station in 2012, the floodgates really opened, and more and more people are now visiting  this gourmet paradise on the 'newer' side of modern Taipei.
Here are a few of my faves in the area.
Tian Jin Flaky Scallion Pancake
Tian Jin Flaky Scallion Pancake is probably the most recommended must-try for people who visit Yongkang Street.
There are plenty of flavors for people to choose from, and because of the increasing number of foreigners visiting the store, and being very mindful of this, the store now offers its menu in multiple languages (English, Japanese, and Korean).
My favorite flavor is the simply named 'Club' (no. 6), with egg, cheese, ham, and basil all thrown in together.
The store names this flavor a rather apt "Everything".
Unlike other flaky scallion pancakes, Tian Jin's flaky scallion pancakes are actually very crispy because the chefs never stop flipping the pancakes while frying.
Long queues are a common site here, but don't worry as it usually only takes about 5-10 minutes to be served.
Another tip is to go earlier. My last visited at around 10 am saw very few people in line.
Photo credit: cini_0921 on Instagram
Address: No. 1, Lane 6, Yongkang St., Da'an Dist., Taipei City, 106
Hours: 9:00 – 22:30 Every day
Du Hsiao Yueh Danzi Noodle
Du Hsiao Yueh was selected as one of the 40 Taiwanese food items that people can't live without by CNN in 2015. Not sure why it wasn't 50…
Anyway, there is an interesting history behind the name of this store.
In 1895, the Hong family made a living by fishing. However, this activity was highly dependent on the weather and seasons. During the times they couldn't go fishing, they started to sell "Danzi Noodles".
"Du" means pass in Chinese and "Hsiao Yueh" represents "difficult times, therefore, the
meaning of the store's name is essentially passing difficult times by selling Danzi noodles.
Besides Danzi noodles (pictured below), the braised pork rice is also very good, and one of my favorites is deep-fried egg tofu with dried bonito sauce.
A special feature at this store is the clerk showing just how Danzi noodles and braised pork rice were made in the past using traditional kitchenware.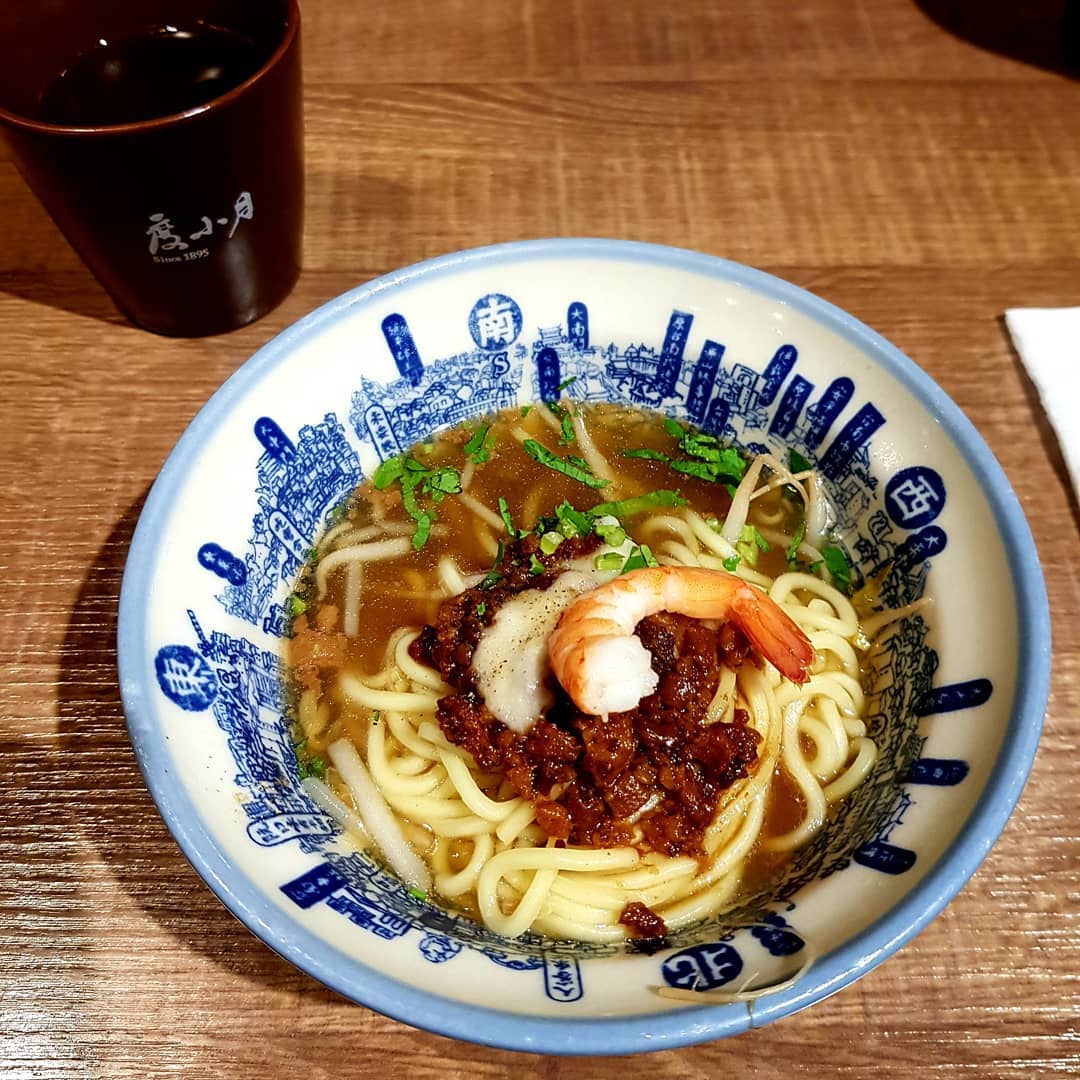 Photo credit: felix_hou1228 on Instagram
Address: No. 9-1, Yongkang St., Da'an Dist., Taipei City, 106
Hours: 11:30 – 22:00 Every day
Yongkang Beef Noodles
Yongkang Beef Noodles were this year awarded the Michelin Taipei Bib Gourmand (2020). That in itself speaks volumes.
Yet, this remains a place you can enjoy a high quality of food at affordable prices.
I visited the store at 11 in the morning, and the tables were almost full, so I strongly strongly strongly (intentional repetition there!) recommend people arrive bang on opening time.
If you are currently in Taiwan, it might be a good idea to visit the store now as tourist numbers are lower than usual.
The signature dish of Yongkang Beef Noodles is essentially beef noodles with a spicy soybean sauce and diners can decide if they want beef, tendon, or a mix of both.
The beef is so tender that it sometimes falls apart as you pick it up.
Local tip – Taiwanese also like to add pickled mustard greens to beef noodle soup to enrich the taste. The taste of pickled mustard greens is a bit sour, but it is really a must with beef noodle soup.
And, in addition to beef noodle soup, steamed hog spare ribs, and steamed hog large intestines are also recommended.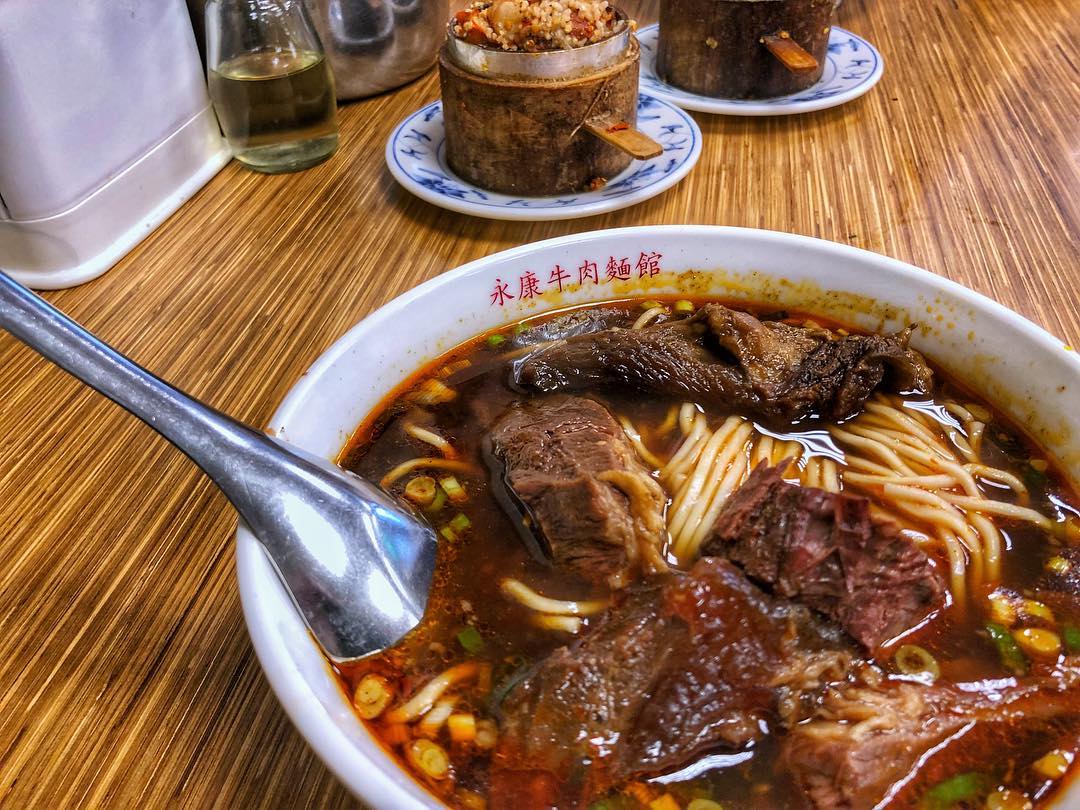 Photo credit: the__stanley on Instagram
Address: No. 17, Lane 31, Section 2, Jinshan South Road, Da'an Dist., Taipei City, 106
Hours: 11:00 – 21:00 Every day
Yongkang Sliced Noodles
Yongkang Sliced Noodles is famous for its sliced noodles – as we can see from its name – as well as the special taste of its soup.
Unlike normal noodles, sliced noodles are thicker and chewier since they are usually cut piece by piece from a huge lump of dough.
In the past the chef used to cut the noodles himself, however, because of occupational injuries, he has made a robot of sorts to cut the noodles for him.
There is no need to worry about the taste of the noodles though since they still taste the same; just don't be surprised by a robot cutting noodles when you visit the store.
Of all the dishes in the store, my favorite is the beef noodles with a tomato soup base (see picture below).
The aroma of the tomatoes really comes though while drinking the soup, and the meat is also very tender and easy to chew.
There are also many other non-tomato options too.
These include clear stewed beef noodles, hot and sour soup noodles, and fried sauce noodles. Take your pick.
Photo credit: jam94879527 on Instagram
Address: No.5, Lane 10, Yongkang St., Da'an Dist., Taipei City, 106
Hours: Thursday closed, 11:00 – 14:00, 17:00 – 20:30 Friday-Wednesday
Little Cottage
Not long ago, Little Cottage was voted No.3 fried in Taiwan's best fried rice rankings, right behind Mingsheng Fried Rice and Ding Tai Fung.
The exterior of Little Cottage is very simple, and people can easily pass it by without noticing. However, its fried rice is wonderful.
In Taiwan, fried rice can be cooked by either adding soy sauce or salt. The version sold at Little Cottage is cooked with salt.
The secret behind a bowl of 'successful' fried rice is to have the rice grainy but not greasy, which Little Cottage does exceptionally well.
You can choose to have your fried rice either with ham or shredded meat, and both are good. And besides fried rice, spicy wontons are also very popular with customers, as are the prices; most dishes at Little Cottage are under $NT 100.
So, if you want something cheap but also delicious, Little Cottage is always a good choice!
Photo credit: corporaljoey on Instagram
Address: No. 5-6, Lishui St., Da'an Dist., Taipei City, 106
Hours: Monday closed, Tuesday to Sunday 11:00 – 14:00, 17:00 – 21:00
Da Lai Hsiao Guan
The braised pork rice at Da Lai Hsiao Guan is also known as the "Champion braised pork rice" of Taiwan, as it has received many gourmet awards.
Almost all visiting the store will order it.
The braised pork on top of the rice has fully absorbed the sauce, and with the tasty bamboo shoots just to the side, this braised pork rice tastes perfect.
However, if you want to try something other than braised pork rice, chicken rice is a similarly delicious option and quite different from other chicken rice styles seen at other stores.
Since there are many delicious dishes to eat at Da Lai Hsiao Guan, remember to ask your friends and family to go together so you can sample the full range.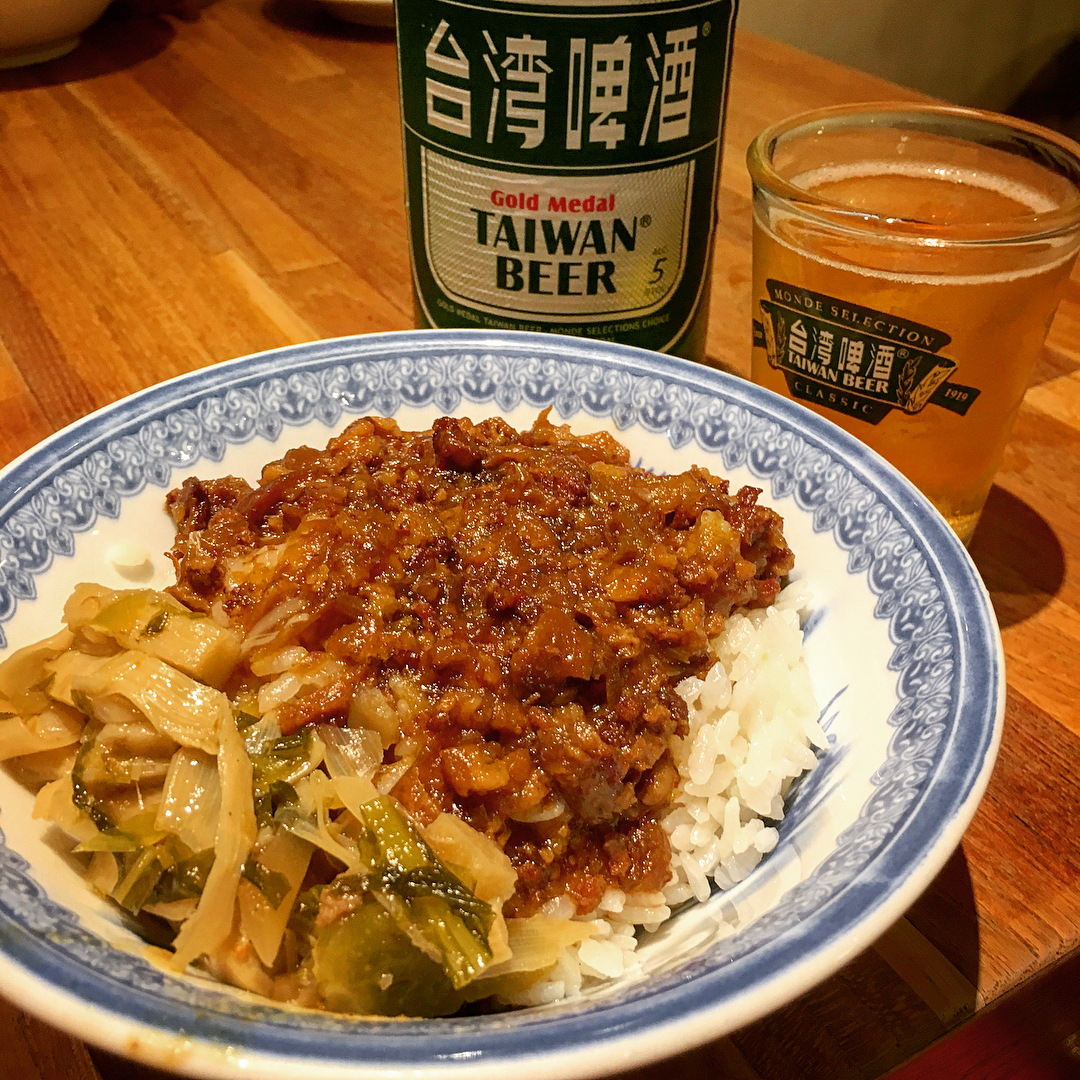 Photo credit: nemopai on Instagram
Address: No. 2, Lane 7, Yongkang St., Da'an Dist.,Taipei City, 106
Hours: Monday – Friday 11:00 – 14:00, 17:00 – 21:30, Weekend 11:00 – 21:30
Bai-Shui Tofu Pudding
Bai-Shui Tofu Pudding is originally from Jiaoxi, in Yilan, to the south east of Taipei, and only opened on Yongkang Street very recently.
Its tofu pudding was designed based on the concept of Taiwanese popiah, which usually contains peanut powder and parsley wrapped together with other ingredients.
There are two kinds of tofu pudding on the menu: maltose peanut powder tofu pudding with pearls (see picture below) and maltose peanut powder tofu pudding with peach resin.
The secret in the menu is the mix of pearls and peach resin in the tofu pudding.
Friendly reminder: No tofu pudding will be sold after they are sold out, so remember to go early!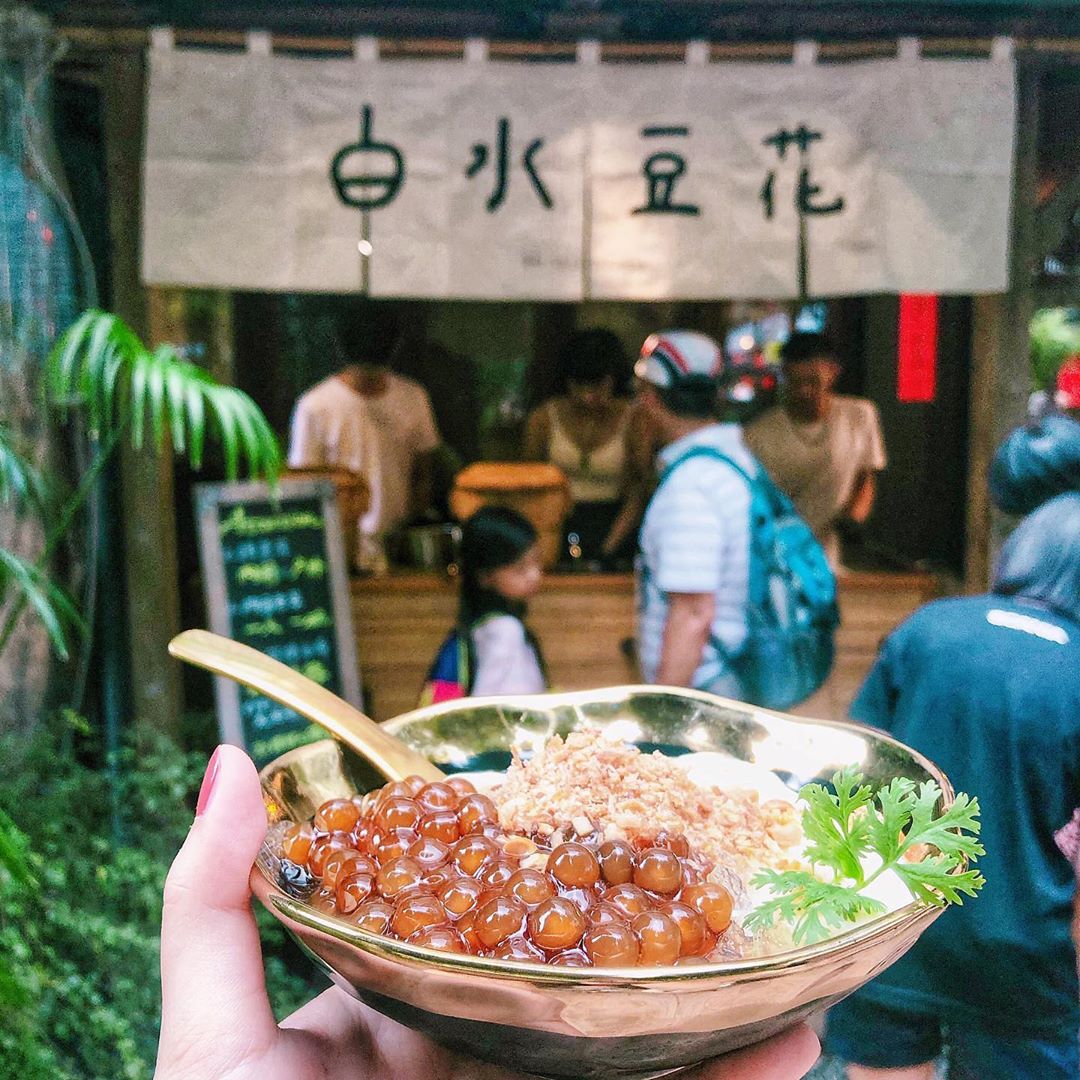 Photo credit: tina_1013 on Instagram
Address: 1F, No. 9, Yongkang St., Lane 31., Da'an Dist., Taipei City, 106
Hours: Thursday closed, 14:00 – 20:30 Friday – Wednesday
Note: Yongkang Street can easily be reached by taking the MRT to Dongmen Station Exit 5. All of the stores mentioned above can be reached on foot from the station.