In reports from Taiwan's official government Central News Agency (CNA), it has been announced that the U.S. yesterday indicated the "possible sale" of heavyweight torpedoes to Taiwan.
The latest move by the U.S. government is would run to a cost of around US $180 million according to the report – in the region of $ 10 million dollars per torpedo – although this reportedly includes "spare parts, test equipment, shipping, training and other related elements of logistical support" according to CNA.
"The proposed sale will improve the recipient's capability in current and future defensive efforts. The recipient will use the enhanced capability as a deterrent to regional threats and to strengthen homeland defense," a press release by the U.S. State Department is quoted as saying.
The U.S. Bureau of Political-Military Affairs followed up with two tweets referencing the sale just hours after the second inauguration of President Tsai Ing-wen earlier on Wednesday; the first saying "The (U.S. State Dept.) is proud to contribute to the security of Taiwan through arms sales and defense cooperation which supports the maintenance of peace and stability across the Taiwan Strait."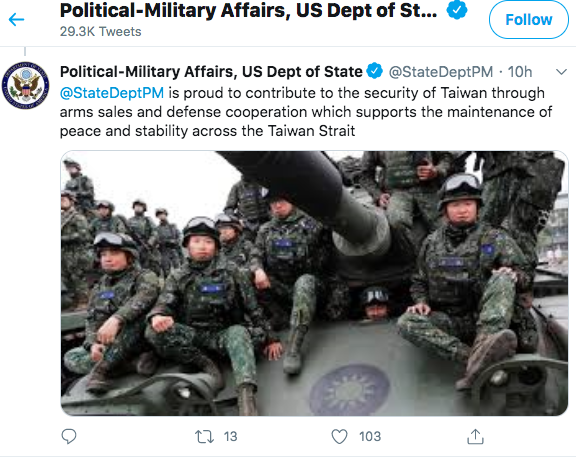 The sale is the latest in a series of arms related sales to Taiwan since Republican President Donald Trump came to the White House in early 2017, and is no doubt likely to raise the hackles of Chinese authorities in Beijing in the coming days.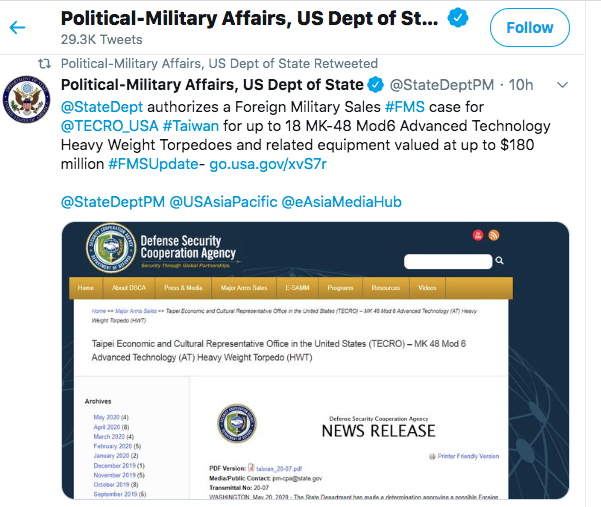 A sale of F-16 fighters for US$ 8 billion in August last year was the most recent U.S. arms boost for Taiwan to draw strong protest from China.