As Ca-Nhum Vom begins his second stint in charge of Taiwan's national team, he inherits a team with a number of issues.
In the short term, he has taken charge of a squad that has been struggling for some time and will be seriously lacking match fitness ahead of a crucial game against Nepal. But, looking further to the future, there are serious questions to be asked about the team's identity on and off the pitch.
With Taiwan's faint hopes of qualifying for the World Cup now a mathematical impossibility, the only immediate competitive goal of Vom is to hope that he can manoeuvre Taiwan into the 2023 Asian Cup via the backdoor of the qualifying rounds.
Taiwan currently sit rock bottom of their group with zero points, having conceded 25 goals and scoring just twice in their five games so far. However, thanks to Nepal's own struggles and the Asian Cup's forgiving qualifying criteria, they are not without hope. Under the qualifying rules, the four best fourth-placed teams in groups A-H will progress to the Asian Cup qualifying third round, whilst the next four fourth-placed teams will advance to the Asian Cup qualifying play-off round.
Nepal, Taiwan's opponents on March 26th, are three points ahead of them in fourth place in group B and have a superior goal difference. But if Taiwan can beat Nepal away from home, avoid too many lopsided scorelines in their final games against Australia and Kuwait and hope that Nepal lose heavily to Australia and Jordan then they may be able to leapfrog Nepal.
However, complicating the crucial qualifier (which will either be held in Nepal or Bhutan, based on an upcoming announcement from the Nepali FA) is the issue of fitness. The match is likely the first competitive football most of Taiwan's players will have played since the 2019 domestic season finished in December.
Playing a crucial qualification match, at high altitude, after nearly four months without a competitive game, makes for a daunting task. If Taiwan are to avenge their shock 2-0 defeat at home to Nepal back in September, it will take a monumental effort.
How Taiwan will try to play against Nepal and beyond is surely one of the things keeping Vom up at night. Should they take the game to their opponents, or wait and try to hit them on the break?
Under previous coach, Englishman Louis Lancaster, the team focused on a short-passing, possession-heavy game. However, despite some impressive looking phases of possession, the team never managed to fully implement his vision. They consistently moved through transitions too slowly, allowing teams to set themselves in defence and repel Taiwan's attacks with relative ease. At the same time, the team struggled defensively, particularly against long passes and through balls.
Nowhere were these twin issues more evident than in the dour 1-0 friendly defeat at home against the Solomon Islands. Time and time again, Taiwan dominated possession and passed the ball well, yet they failed to seriously threaten and were undone by a quick breakaway leading to a penalty.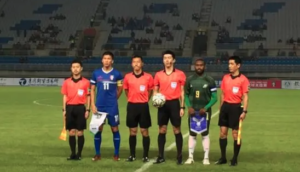 Since that game last March, Taiwan have won once, drawn once and lost five times, scoring 5 and conceding 26 along the way.
In their most recent games, Taiwan have looked increasingly ragged in defence and short of confidence. In the 9-0 and 5-0 defeats against Kuwait and Jordan respectively, Taiwan's defensive shape utterly collapsed and simple passes went astray under pressure from opposition players and their own nerves. If Vom is to lift his team's spirits and get them performing, will he look to a more pragmatic strategy?
Certainly, this is what some of Taiwan's fans have asked for. Citing the seeming overachievements of small nations like Iceland, who have punched well above their weight in international football over the last ten years (including a particularly memorable win over England at Euro 2016), many fans have expressed frustration that Taiwan has not been able to emulate a country with a far smaller population.
However, with the limited budget of the CTFA and the growing, but lower, levels of support for football in Taiwan, this does not seem a realistic expectation. Nevertheless, there are some lessons that Vom may choose to take from Iceland. Iceland play a defensive and counter-attacking game, allowing opposing teams to get close to them before pressing the ball and then moving it up the pitch quickly when they turn it over. If Vom chooses to use this tactic, or blend it with his side's current style, will he be able to beat Nepal and keep their goal difference respectable enough to climb above them?
One final thing for Vom to consider is how to integrate new players into the team. Under Lancaster and his predecessor, Gary White, the CTFA actively scouted players of Taiwanese heritage from around the world.
Whilst there have been some successes, with Oxford-born 19-year-old midfielder Will Donkin featuring with increasing regularity and Toronto-born winger Emilio Estevez Tsai impressing on his recent debut against Australia, it is a long and slow process to undertake.
Can Vom convince players based thousands of kilometres away to play for him? And if they do, how will they perform?