With the global sporting calendar decimated by COVID-19, the Taiwan Football Premier League prepares for a potential four-way title race between Taiwan Steel, Tatung, Taipower and Taichung Futuro.
For the last three seasons, Taipei-based Tatung and Kaohsiung-based Taipower have held an insurmountable lead as the top two teams in the country. After the winter offseason, that position is looking far less secure.
Steel To Dominate?
Taiwan Steel, an advertising vehicle for a conglomerate of steel interests in Taiwan, and Taichung Futuro have title aspirations after making a number of new signings.
Taiwan Steel, in particular, will give Tatung and Taipower reason to fear. Despite a lowly fourth-place finish, 19 points off the top, last season, Taiwan Steel are arguably the favourites this year.
When last season finished, Taiwan Steel set about improving their team, primarily by plundering their rivals.
Defending  champions Tatung have been particularly hard hit by Steel's ambitions, losing star striker Marc Fenelus and Taiwan international defender Chen Wei-Chuan to the Tainan team.
Steel have also added last season's top scorer, Benchy Estama (25 goals), and Taiwan's starting goalkeeper Pan Wen-Chieh. Pan arrived in fortuitous circumstances for Steel; initially slated for a move from Tatung to Hong Kong's champions Tai Po, the move fell through in January, leaving Pan free to sign for Steel.
Is Tatung's Reign Over?
The loss of key players to a league rival could well be a signal that Tatung's reign may be over. The Taipei side have been the dominant force in Taiwanese football and have won the last three league titles.
Although Tatung have brought in some new players, with Luis Galo and Ben Ouedraogo arriving, they will likely rely on their remaining players from last season to defend their title.
Tatung still have goals in the team, having retained the services of Angel Samuel Kouamé (20 goals), and Taiwan international forward Onur Doğan (14 goals). If they can provide the goals to cover Fenelus' departure,  Tatung will back themselves to have enough to defend their crown.
Will Taipower Come Good?
Tatung's biggest rivals from recent seasons, Taipower, will be hoping to benefit from Tatung's troubles. The Kaohsiung side have finished second in the last three seasons and only a disappointing home defeat to Tatung on the final day of last season prevented them taking the title.
Taipower have retained their strong team from last season and have added 24-year-old Taiwan international midfielder Chen Chao-An, and the top scorer in last year's college championship, Jiang Sin-Long.
If Taipower can maintain their momentum from last season, or further improve, they might be well-poised to wrestle the title from Tatung.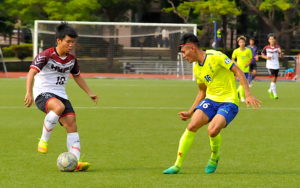 Or Will Futuro Rise To The Top?
Taichung Futuro are also looking to improve on last season's performance. Futuro were disappointed to finish fifth last season after harbouring greater ambitions. The side played well at times, but found goals hard to come by.
To rectify this, Futuro have signed Hang Yuan FC's South Korean forward Joo Ik-Seong. Joo scored 20 goals last season and often created havoc with his skills and pace.
Joo is joined by a number of other new players, Japanese fullbacks Kohei Ueda, 21 and Keita Yamauchi, 25 have been recruited from the J3 League's YSCC Yokohama, 36-year-old Japanese goalkeeper Jun Kochi from the Japanese 5th tier, and Taiwanese defender Jiang Hao-ren from NTUS.
Japanese coach Toshiaki Imai has also been recruited to oversee the team.
Imai knows the league well after his two spells with the men's national team and one with the women's. Imai will hope that his experience in Taiwan can help his players bridge the gap this season.
It All Starts Sunday
Taiwan's Premier League season kicks off on the 12th of April. Due to COVID-19 fears, however, the first cycle of fixtures will be played behind closed doors.
Nevertheless, as one of the few leagues active, it could provide an opportunity to boost the profile of Taiwanese football and football-starved viewers from abroad may find themselves watching Taiwanese matches.
Those who do watch will hopefully be treated to the most competitive league season in recent history.