At the 2017 London Somalia Conference the UN Secretary General António Guterres said that AMISOM was in Somalia to respond to global threats from transnational terrorism.
Competition between the Federal Government and Federal Member States
Security reform and anti-corruption measures are two remarkable achievements of the Federal Government of Somalia.  In a country with no political parties, disparate institutional developments turn out to be a competitive advantage for the incumbent government and may inadvertently defeat the state-building purposes.
This current political deadlock in Somalia could have been prevented through genuine discussion on the ideological differences of the two rival groups in Somali politics: one group that seeks to roll back the frontiers of the  strong state (to some it is modelled on the pre-1991 centralised state), and the other group seeks the federal government to be sole authority that, among other privileges, controls national infrastructure and is in charge of devising foreign policy.
Before 2017 the weak state model was in place.
Federal Member States could enter infrastructural agreements with foreign companies.
DP World signed agreements with Somaliland and Puntland without authorisation from Mogadishu.
In essence, the inconsistent Federal Government policies create political disagreements that can destabilise the political order. The last federal government and the incumbent government have pursued divergent policies to work with Federal Member States.
President Hassan Sheikh Mohamud, though not as pragmatic now as he was before 2017, understood better the significance of political consensus on electoral matters.
His administration underperformed as far as  governance and transparency are concerned but he ensured that all Federal Member States were on board for his Vision 2016.  Limits on his authority made him more pragmatic.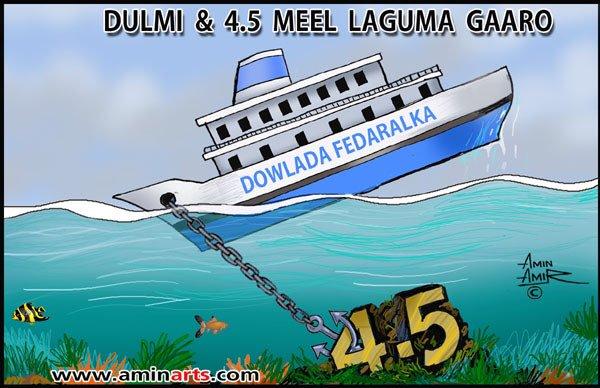 The unwritten rule of the federal authority is that the responsibility to create political consensus on key issues such as elections rests on the Federal Government of Somalia.  Building a national political consensus is difficult but attainable.
At the Federal Member States, leaders not beholden to the central authority enjoy free rein to formulate policies. Puntland, the first pre-federal administration, argues the Draft Constitution gives it the right to sign infrastructural management agreements with foreign companies, for example.
Understood this way, the federal system becomes an institutionalised, fiefdom-based system devoid of political accountability.
Political exclusion
Somali governments formed since 2000 have not succeeded to root out political exclusion embedded in 4.5 powersharing system.  Somali social groups known as Others have lower political status even in their traditional districts such as Marka, Barawe, Jowhar, Jilib, Hamarweyne, Shingaani and Kismayo .
Their 20% voting power under the current powersharing mechanism proves futile if there are no politicians who subscribe to political equality.
That is why political consensus among powerful stakeholders has recycled the two-tier political system in Somalia  for the politically privileged and the politically marginalised social groups.
Which type of governance can bring political exclusion in Somalia  to an end — the strong stake or the weak state? The experience shows neither can without a substantive political consensus among stakeholders.
It is a fallacy that a country dependent upon foreign peacekeepers and without democratic institutions can create a strong state. Political equality for citizens is more important than holding indirect elections in Somalia.
This article first appeared in the Puntland Post and is republished with permission