Titled Breonna's Law, in honor of Breonna Taylor, the Louisville Metro Council in Kentucky has unanimously passed a law banning 'no-knock warrants' on the back of the fatal shooting of a 26-year-old African-American woman on March 13th this year.
All officers will also be required to to wear body cameras at every search from now on.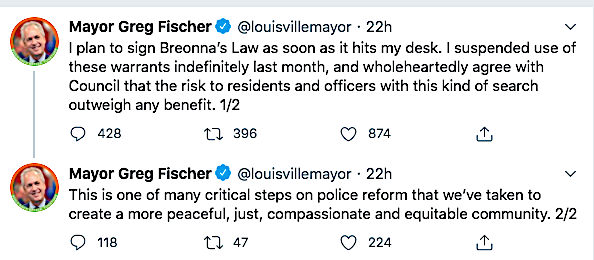 Prior to the legislation being passed to him, Greg Fischer, Mayor of Louisville in tweeted:" I plan to sign Breonna's Law as soon as it hits my desk. I suspended use of these warrants indefinitely last month, and wholeheartedly agree with Council that the risk to residents and officers with this kind of search outweigh any benefit."
After signing the piece the mayor took to Twitter again, and has now 'pinned' an image of himself signing the legislation to the top of his Twitter feed.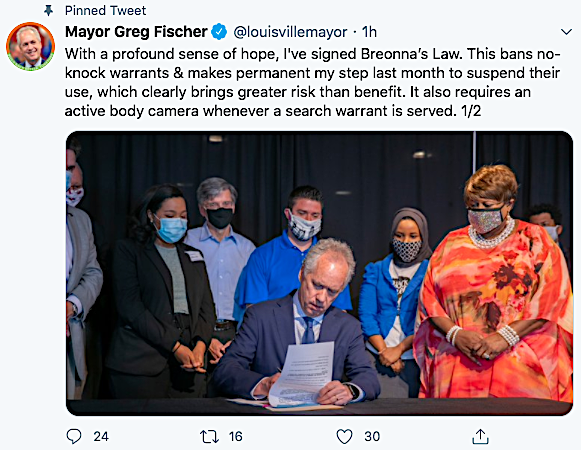 What happened to Breonna Taylor ?
Breonna Taylor was a black woman fatally shot and killed by Louisville Metro Police Department officers in her home on March 13th, this year.
The three officers were searching for two people who were already in custody.
After knocking down her door without warning, and firing more than 20 shots, Breonna was hit eight times. The emergency medical technician still in her mid-20s died at the scene.
Her boyfriend, Kenneth Walker, a legal gun owner, thinking the housed was being burgled had fired his gun in self defence. The officers responded with a hail of bullets. 
In the aftermath it was discovered that the police were at the wrong house. There was no search warrant that gave them the right to be there in the first place.
And, despite multiple examples of clear misconduct on the part of the officers involved, Kenneth Walker was initially being charged with attempted murder.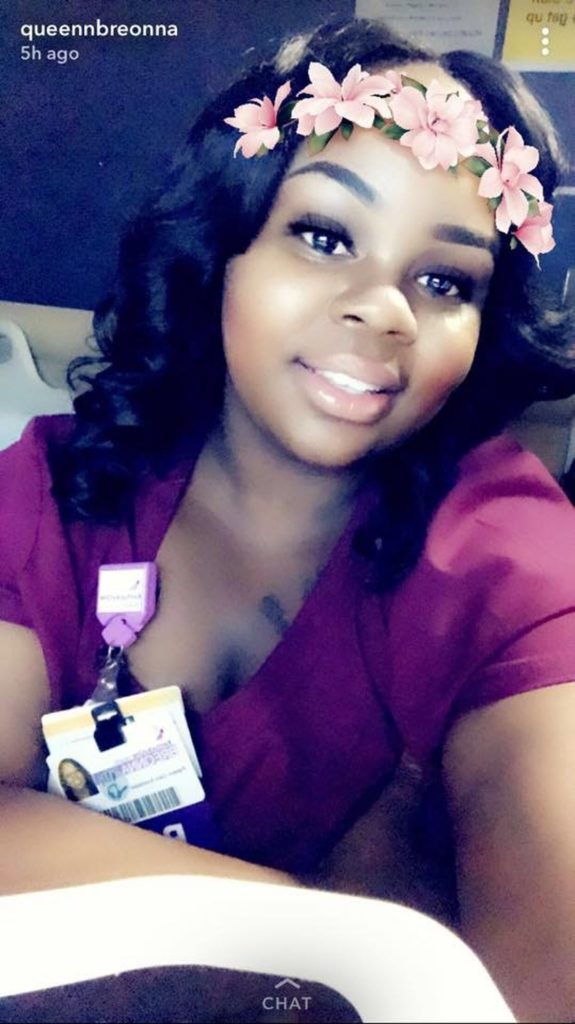 The police who killed Breona Taylor meanwhile remain free.
Mr Fischer added:" This is one of many critical steps on police reform that we've taken to create a more peaceful, just, compassionate and equitable community."
The three police who killed Breonna Taylor, Sergeant Jonathan Mattingly, Detective Brett Hankison and Detective Myles Cosgrove have not been charged with any crime so far.
This outrage, largely ignored at the time but followed by the death of George Floyd, led to the now global Black Lives Matter and SayHerName protests.