After a brief respite on Sunday, extending into Monday in some areas of western Taiwan, the rains are set to return Tuesday, and will last through to the weekend.
Lightning storms could affect expected much of Taiwan from Tuesday to Thursday.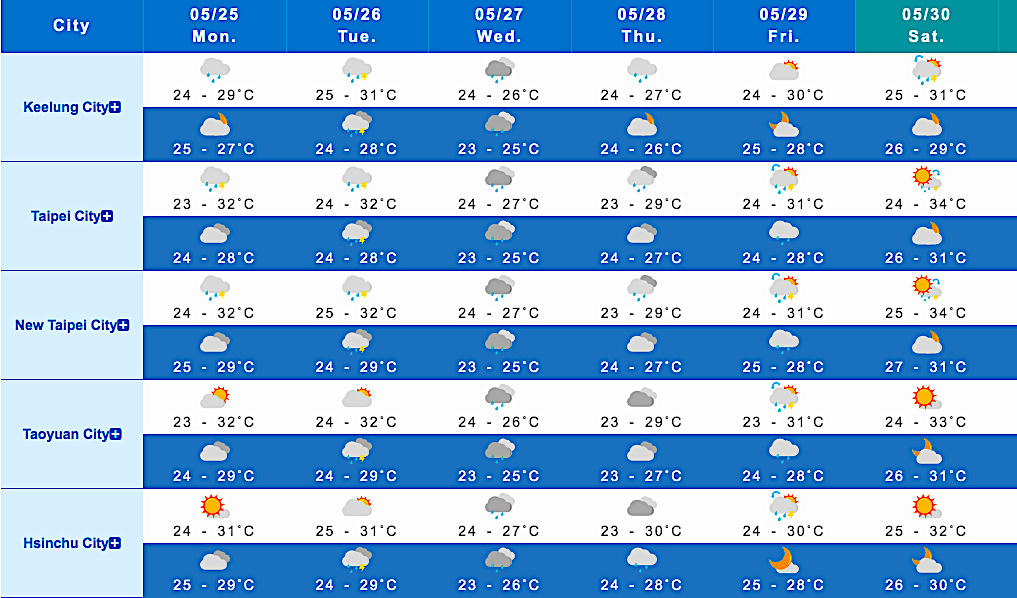 Taiwan was particularly hard hit by the arrival of the Plum Rain front early last week with torrential rain affecting travel and sporting schedules for much of the week.
Taiwan's professional baseball league, the CPBL, recently the poster child of sports around the world, had five successive days of games postponed, before finally managing to host games late on Sunday.
Southern Taiwan's Kaohsiung and Pingtung regions saw some of the most severe weather.
3,500 Kaohsiung residents were evacuated from their homes for fear of landslides in mountainous areas, and in the main island's southernmost county of Pingtung, NT $8 million of crop damage was suffered by the region's rice and melon farmers.
Some parts of the county recorded over 60 centimetres of rainfall on Friday.
In other news noted by Taiwan's Central Weather Bureau, the east coast counties of Yilan and Hualien have both seen a flurry of earthquake activity in recent days and weeks.
Hualien was on the receiving end of six earthquakes measuring between magnitude 3.8 and magnitude 4.8 between May 6th and the 18th, while Yilan has seen a quick succession of three earthquakes in the past three days – all in the same region. The strongest of these struck earlier today at magnitude 5.2