Due to concerns over COVID-19, Taiwan's Railways Administration (TRA) made an announcement in late February banning gatherings, and people sitting on the floor in the main concourse of Taipei Main Station – at least until the end of April.
In that time the main hall, once crowded with migrant workers and those participating in various activities, seemed uncommonly spacious.  
Then, when the TRA expressed its plan to stipulate a permanent 'no-sitting' rule earlier this month, the agency found itself subject to both criticism and support. 
Supporters of the plan argued that gatherings in the main hall should not be normalized, and that the crowds occupying the floor interrupts a busy pedestrian thoroughfare, that passenger interests should be prioritized as they are the paying customers of the station. 
Critics meanwhile saw the rule as discriminatory, particularly against migrant workers.
It was said to be an act undermining the value of diversity and inclusiveness, in the guise of deterring the pandemic, especially as cluster infections are now less of a threat in Taiwan. 
Lin Chia-lung, Taiwan's Minister of Transportation and Communications, said that the subjective visual perception should not lead policy-making, and that the TRA should consult professionals, related groups, and other authorities to assess possible plans that could balance functionality and space sharing.   
There are currently over 700,000 migrant workers in Taiwan, many of them coming from predominantly Islamic countries. 
As such, in order to construct a Muslim-friendly environment for workers and tourists alike, some tourist attractions and transit centers are equipped with prayer rooms.
However, they are still insufficient in number, and in terms of space set aside, especially during important holidays like the recent Eid al-Fitr.
If the no-sitting rule is realized and the crowds that normally gather move to a new location, it would merely be a relocation of the masses, and the alleged eyesore.  
In its initial press release, the TRA mentioned that they will rely on their own personnel and the police to enforce the no-sitting rule, and that violators will be fined.
This appeared to be a plausible measure during the height of the pandemic, with people unwilling to risk the possibility of getting infected.
But as the concerns over COVID-19 mitigate, it is difficult to guarantee that the crowds that used to gather would not come back.
It would also be a difficult task for enforcers to define and identify violators.
Is a non-passenger who buys a drink from a convenience store in the station not a paying user too?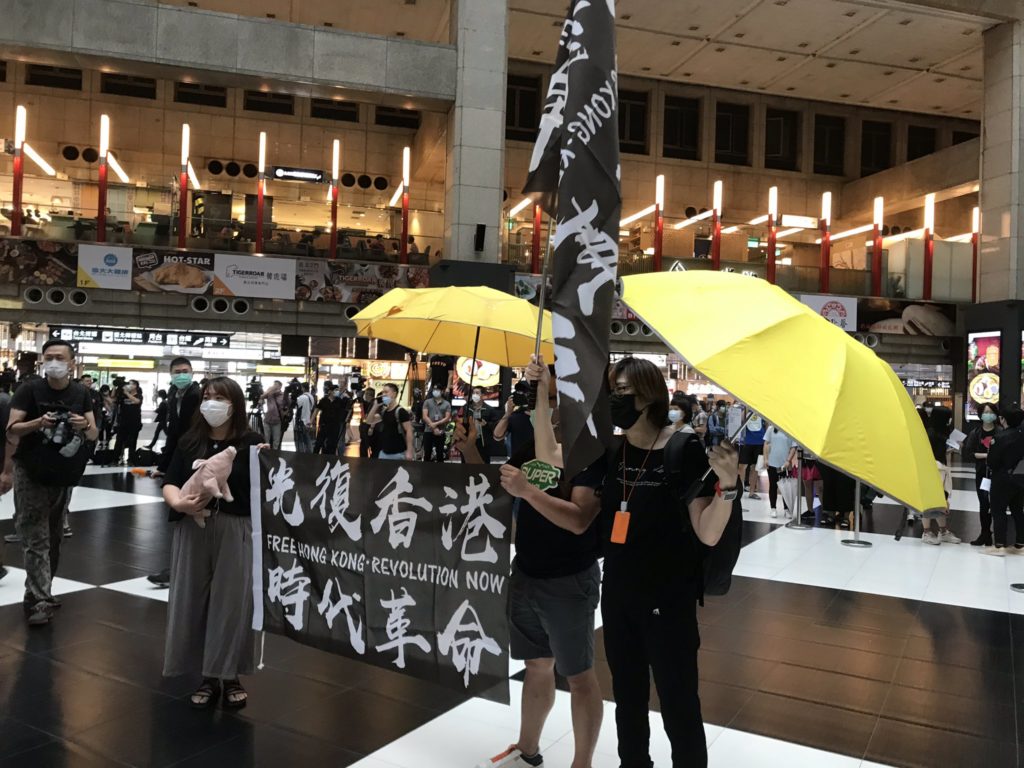 The no-sitting rule would probably become one of those laws that are there in Taiwan, but that are not enforced. 
On Saturday, an event named "Sit-in at Taipei Main Station" took place in the main hall to demonstrate opposition to the no-sitting rule, but this was largely overshadowed because of another gathering protesting actions by Beijing in Hong Kong in recent days.
At the same time, netizens supporting the no-sitting rule are actively voicing their support for the plan. 
With two public opinions colliding, and the TRA encountering pressure from all sides, it seems possible that the status-quo might just prevail this time.