As much of the world remains transfixed by America's ongoing political turmoil, several hundred people Saturday evening marched along downtown Bangkok's popular Silom Road to demand democracy and equal rights for the nation's LGBT+ residents.
In a rare example of the LGBT+ movement appearing in Thailand, a group linked to Free Youth called The "Seritoey Plus" (Free Gender) dressed largely in black and gathered at the  Samyan Mitrtown shopping center mid-afternoon before heading out to march.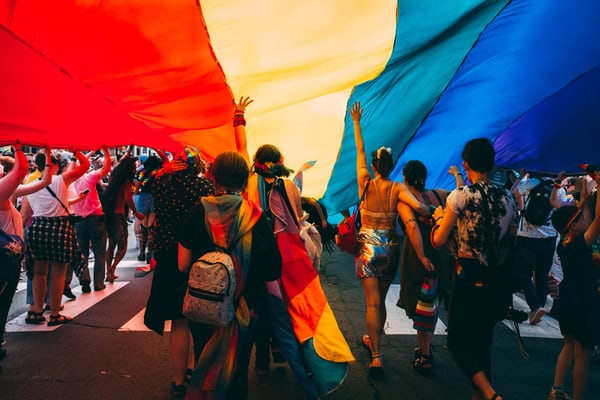 Setting out at 5 pm, the participants offered up a mixed message of reasons behind the demonstration.
The COVID-19 pandemic featured with some claiming it was a way to help bring people back to one of the city's main shopping streets, and other using the opportunity to back the recent democracy protests seen around the nation.
At one point, the 'Prai Parade' as it was being called – Prai being a Thai word for commoner – saw members walking over or stamping their feet on images of Thai Prime Minister Prayut Chan-o-cha, his deputy, and other political figures.
Those being insulted in this manner included the leader of a group that supports the Thai Royal Family known as Thai Pakdee.
The event came to an end by 9 pm with organisers then saying they would visit restaurants and stores in the Silom Road area to help boost the economy.
Another stop on the route along Silom Road included the offices of the Thai Red Cross Society to demand the acceptance of blood donations from those in the LGBT+ community – a message seen throughout the day on placards carried by the crowds.
Other popular messages in the hotchpotch of issues covered included hashtag-style decorations and flags calling for the #EqualMarriageRights and #LegaliseSexWorker(s).