June 6th was a huge day for the Taiwanese people, especially so for the people of Kaohsiung.
It was the day Kaohsiung City Mayor Han Kuo-yu was removed from the office of mayor on the back of an overwhelmingly one-sided recall election – becoming the first ever person in such a high-ranking position in Taiwan to suffer such an ignominious fate.
Based on Taiwan's electoral law, prior to the vote it was announced that over 575,000 votes were needed to remove mayor Han.
The final vote tally showed that over 930,000 citizens of Kaohsiung voted against the unpopular mayor out of a total 2.3 million eligible voters.'
Ever since Han lost the 2020, presidential election in January, "Wecare Kaohsiung," (sp) a nongovernmental organization, had been dedicated to removing Han from the office of Kaohsiung mayor.
The four main initiators, Yin Li, Chang Po-yang, Chen Kuan-rong and Li I-chieh, launched the campaign in a signature drive and rally to demand Han's resignation.
"We made it," said Chen Kuan-rong, after the result was made public. "We are teaching those politicians that lies and hateful speeches will never prevail."
"We are making Kaohsiung great again," added Yin Li, declaring that Kaohsiung citizens should now reunite to improve Kaohsiung's current situation.
The Democratic Progressive Party (DPP), Taiwan's current ruling party meanwhile took to Facebook, "Our constitution law suggests each Taiwanese citizen is endowed with the right to voice their opinions through voting."
The post  continued, "we respect and appreciate Kaohsiung citizens' decision, and we are honored (by this demonstration of) our own democracy."
Han Kuo-yu, on the other hand, criticized the DPP for launching a smear campaign and attempting to drag him out of office.
"I'm so proud of having been the mayor of Kaohsiung," Han said, suggesting he truly appreciated those supporting him during 2018, nine-in-one elections.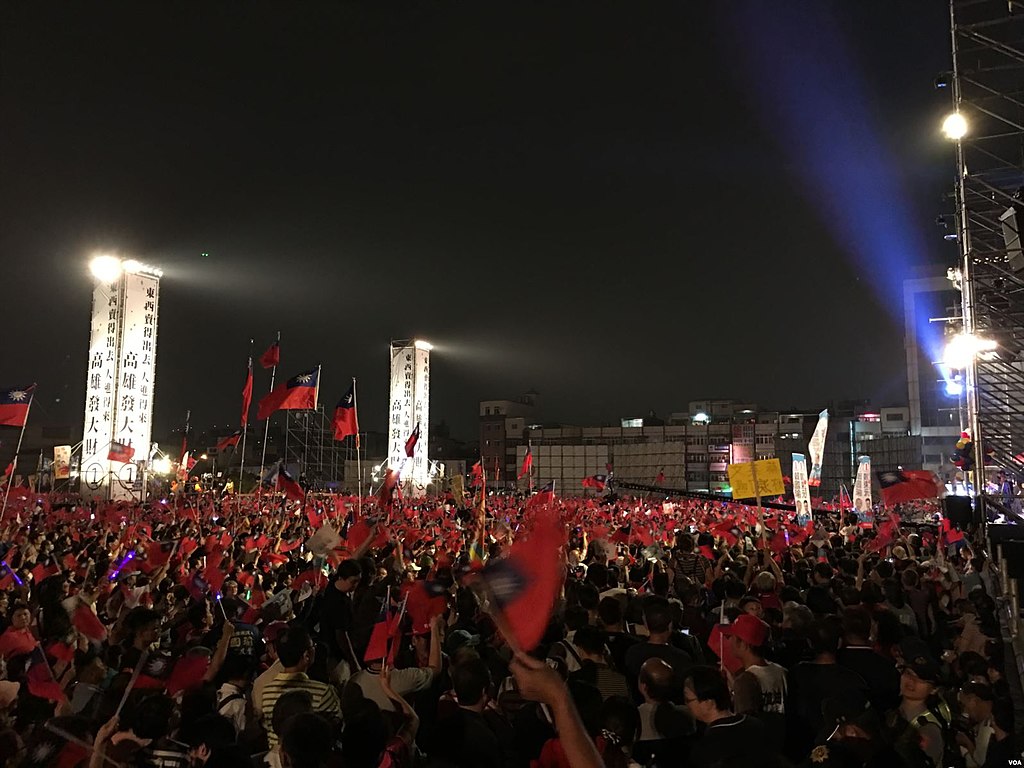 Han also indicated that all the work he has done so far as mayor beats that of all other city mayors in Taiwan.
During the speech, Han kept emphasizing that "slanderers" created by the DPP and all his political rivals were behind much of the vote.
"Kaohsiung is a beautiful city. We have put in much effort to make more progress, including in dengue fever prevention and bilingual education.
Yet there are still people and media spreading rumors about me, and getting my policies twisted."
Following Han's defeat, the Kuomintang (KMT), Taiwan's main opposition party who backed Han in his failed presidential campaign, also issued a statement, suggesting the KMT and Mayor Han sincerely apologise to, and convey their gratitude to the citizens of Kaohsiung City who gave the Party a chance in 2018, to help Kaohsiung City move forward.
In the statement, KMT chairman Chiang Chi-chen further indicated that he disapproves of the obviously inappropriate involvement and political manipulation of the DPP, arguing that this might be detrimental to Taiwan's democratic institutions.
The public is now curious about Han's next step.
According to electoral law, Han will be out of office in 7 days, and has indicated this to be the case with June 12th his last day according to The Taiwan Times sources.
However, it remains possible that Han may file a lawsuit against the result of the recall election, and should a lawsuit lasts until after Dec 25th, – the mid-way point of Han's mayoral term  – there will be no mayoral by-election for the city.
Instead, the city's vice-mayor would take charge of Han's duties.
2020 truly marks an important year in Han's political career: from losing a presidential election to being defeated in the recall vote, Han's popularity has dramatically declined.
As such, questions about any subsequent political ambitions have now drawn the Taiwanese people's and the national media's attention.