Taiwan's healthcare system topped Numbeo's healthcare rankings for 2021.Taiwan has successfully contained the COVID-19 pandemic for more than a year, preserving most commercial activities and even hosting large-scale concerts in Taipei Arena.
Starting last month, however, the island became the newest hotspot in East Asia as it was hit by a second wave of infections.
In response, the CECC raised the nationwide epidemic alert to level 3, which includes banning indoor dining, large gatherings, and mandating mask-wearing at all times. Surprisingly, however, there was no increase in testing.
Explaining this decision, the CECC claimed that low infection rates do not justify the need for mass testing. Ironically, such low rates may very well be the result of Taiwan's failure to test.
Minister of Health and Welfare Chen Shih-Chung further alleged that false test results could strain the nation's medical system. This seems hardly plausible for a country that has consistently topped global healthcare rankings, including Numbeo and the World Index of Healthcare Innovation.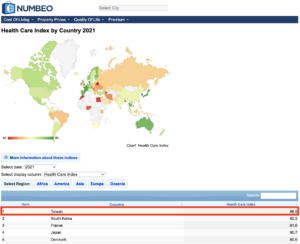 The CECC's homepage boasts: "Taiwan's epidemic prevention and control efforts are in line with the testing strategies of many medically advanced countries worldwide." This cannot be farther from the truth.
Take a look at South Korea: it immediately launched a test, trace, and contai campaign at the onset of the pandemic and has since tested more than 10 million people. Its strategy has garnered international praise for flattening the curve.
Now in Singapore: it has similarly struggled with a new wave of infections that started  last month, and has thus ramped up nationwide testing to curb its community transmissions.
Ultimately, testing remains a crucial tool to detect and treat infections early on. Jeremy Levin, chairman of the global Biotechnology Innovation Organization, concurs that "testing is a core part of a public health campaign to defeat any epidemic or pandemic."
Unlike vaccines, the easily acquirable nature of testing kits means that the government no longer has the island's ambiguous international status to defend its nonexistent testing campaign.
Perhaps it is time for Taiwan's administration to stop making new excuses to delay mass testing and brave up to the pressing task at hand.
Credits: Taiwan CDC, Singapore Ministry of Health, The Guardian, Verywell Health