According to sources from (the national) government, the Chinese Ambassador to Somalia Mr. Qin Jian arrived in (the Somaliland capital) Hargeisa today for talks with officials from the Ministry of Foreign Affairs and International Cooperations, and representatives from the President's office.
Sources add that the ambassador's itinerary does not include a meeting with President Muse Bihi Abdi.
This is the third visit by Mr. Qin Jian to Somaliland.
The ambassador's (previous) visits were centered around dissuading Somaliland from establishing bilateral ties with Taiwan.
According to sources, Somaliland has strongly rebuffed the Ambassador's offer for a Chinese liaison office in Hargeisa in exchange for ceasing talks with Taipei.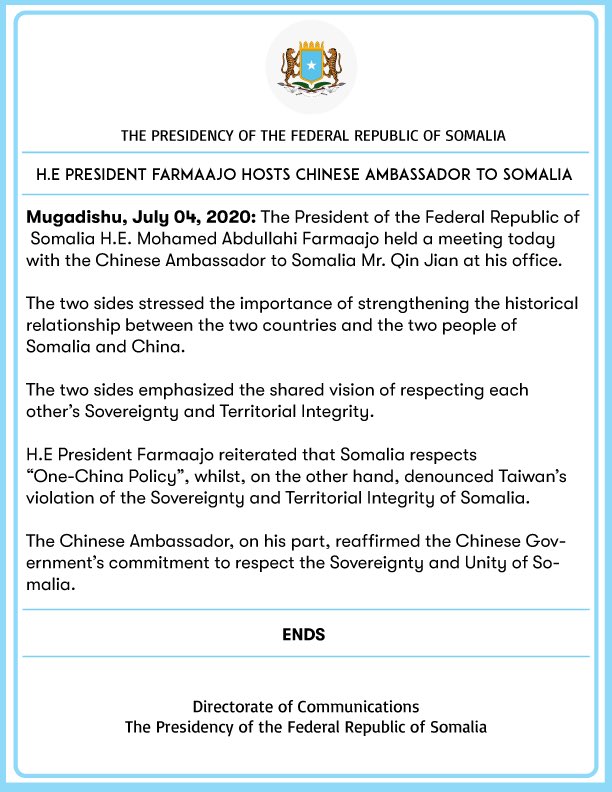 (The) Chinese Ambassador together with the President of Somalia Mr. Mohamed Abdillahi Farmajo issued a strong statement opposing the bilateral ties between Somaliland and Taiwan (in July), and reiterated their mutual commitment to the territorial integrity of China and Somalia.
Similar to Somalia's territorial claim over Somaliland, China claims Taiwan as part of its territory, and opposes any diplomatic ties with Taipei.

It is unclear if Ambassador Jian's mission to Somaliland is to deliver an ultimatum from Beijing given his country's (previously) strong statement and commitment to Somalia's territorial integrity, and opposition to Somaliland's independence.
China and Somalia recently reached an agreement for joint patrols of Somaliland's territorial waters.
Efforts to reach Somaliland government officials for more information about Ambassador Jian's current visit were unsuccessful.
Editor's note: this article and accompanying image first appeared in the Somaliland Chronicle, and is republished with permission.