British-Australian academic Kylie Moore-Gilbert, jailed in Iran in September 2018, on charges of espionage has been freed.
Kylie, now in her mid-30s and a lecturer at Melbourne University in Australia made a quick statement following her release deeming the conditions behind her departure from Iran as "bittersweet."
It is understood she has been freed in exchange for the release of three Iranians, although no reliable details have yet been released on these individuals although video footage of them already back in Iran was shown on TV stations in the country.
Kylie had been tried in secret and convicted after a highly controversial court case.
Throughout her trial she denied all charges made against her.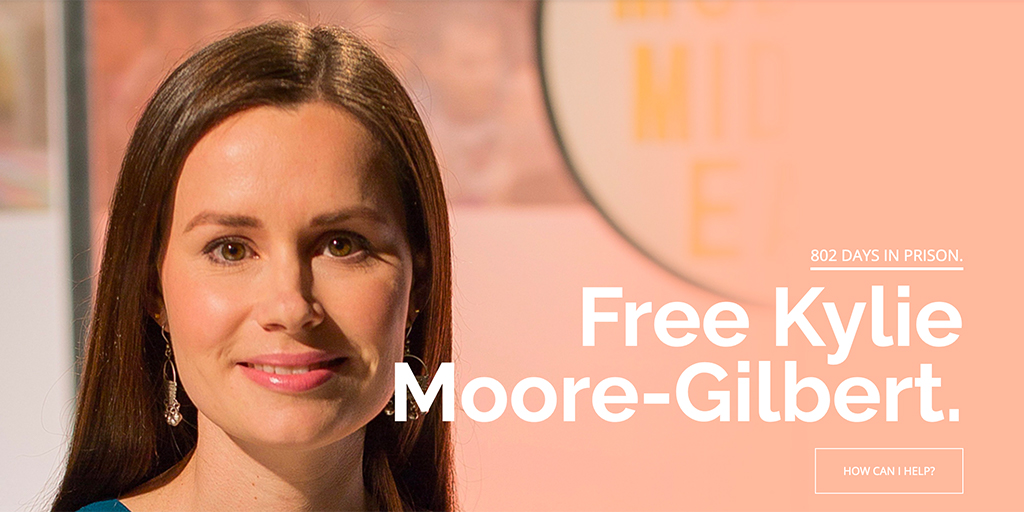 SC of online campaign to free Kylie.
"An Iranian businessman and two Iranian citizens who were detained abroad on baseless charges were exchanged for a dual national spy named Kylie Moore-Gilbert, who worked for the Zionist regime," an Iranian government linked website said in breaking news of her release yesterday.
Some time after her release became known on Wednesday, Kylie said "Thank you also to all of you who have supported me and campaigned for my freedom, it has meant the world to me to have you behind me throughout what has been a long and traumatic ordeal," adding "I have nothing but respect, love and admiration for the great nation of Iran and its warm-hearted, generous and brave people. It is with bittersweet feelings that I depart your country, despite the injustices which I have been subjected to. I came to Iran as a friend and with friendly intentions, and depart Iran with those sentiments not only still intact, but strengthened."
A letter smuggled out of the prison in which Kylie was detained prior to her release addressed the issue of espionage.
She wrote "I am not a spy. I have never been a spy, and I have no interest to work for a spying organisation in any country."