"He remembers those vanished years.
As though looking through a dusty window pane.
The past is something he could see, but not touch.
And everything he sees is blurred and indistinct."
It tells a story about love, repentance, memory, and the faded 'good old days'.
Directed and produced by the famous Chinese director, Wong Kar Wai, "In the Mood for Love" is celebrating its twenty-year anniversary this year.
A restored 4K version of the film will hit screens again soon globally.
Set in early 1960s Hong Kong, the movie begins with Mr. Chow and Mrs. Chan moving into the same neighborhood on the same day.
Their furniture has been mixed up, and misplaced, and the relationship begins here.
Mr. Chow and Mrs. Chan discover their spouses are having affairs – with each other.
Both being at a loss as to what to do, they confide in each other, discuss the issues together, and finally develop faint, blurred, but deep feelings for each other.
The original Chinese name "花樣年華" means "Flowery Years", which is the best description of the time Mr. Chow and Mrs. Chan spend together; beautiful, fascinating, and blooming.
However, flowers wither, and so do their "Flowery years."
She keeps her head low, but gives him a chance to come closer.
Lack of courage means he never makes that effort to step in closer, so she goes, away, never coming back.
The director, Wong Kar Wai has his own unique ways of presenting different emotions in different movies.
The sad, yet beautiful tragedy between Mr. Chow and Mrs. Chan is wrapped in a number of elements of Chinese traditional beauty.
Aesthetic, Decaying Beauty of 60s Hong Kong
The road Mrs. Chan constantly walks to get noodles in the neighborhood, the dim street light flashing at the corner, the mottled wall with its posters and stickers falling apart, the old sidewalk where Mr. Chow and Mrs. Chan hide from the pouring rain…
All the scenes featuring Chow and Chan meeting up are deliberately filmed in such old-fashioned color tones in the waning days of an aesthetic, decaying city – 1960s Hong Kong, in Wong Kar Wai's mind.
" I never intend to precisely reproduce Hong Kong in the 60s, instead, I'm depicting some subjective scenes in my mind." Wong Kar Wai says.
The story begins in an old, decaying Hong Kong, and ends in the remains of Angkor Wat in Cambodia.
Throughout, Wong displays extremes of such kinds of old, aesthetic, decaying, and dilapidated beauty.
Along the way, he implies the fading of a once blooming, 'flowery' time.
At the end, the time fades, and youth is gone. All that remains is decaying memories just like the remains of Angkor Wat.
Mrs. Chan's Chinese Cheongsams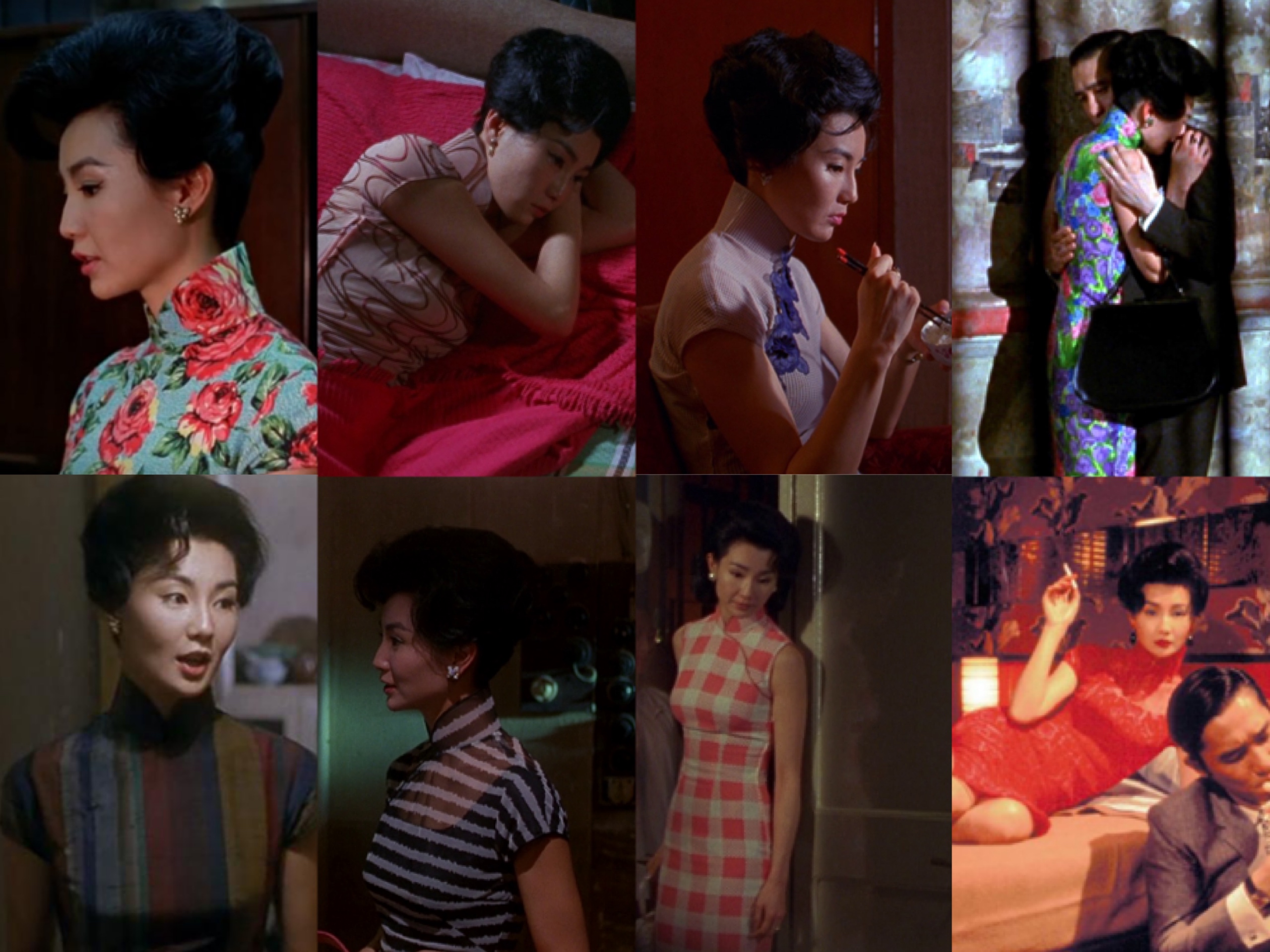 The blue cloth with red roses pattern attached, the light green cloth with the white diamond check design, the black and white stripes printed on a perspective fabric…
Maggie Cheung's twenty three portrayals of cheongsam have no doubt been regarded as one of the most memorable parts of the movie.
If the director tells his story through shots, then production designer, William Chang has given life to the characters through his fascinating design of cheongsam over the course of the movie.
The dark rainbow-stripe-pattern cheongsam appeared when Mrs. Chan is thinking about Mr. Chow, but tries hard to control herself and refrain from the emotions bubbling up; her feelings mixed up, like the many colors in her cheongsam, complex, colorful, but darkened.
Mrs. Chan is in her black-and-white-strip-printed perspective cheongsam when she meets Mr. Chow in the neighborhood at night, both waiting for their late-home spouses.
The scene implies the clear and noticeable affairs their spouse have embarked upon, like the cheongsam, obvious at a glance.
The purple cheongsam with red and green flowers is worn when Mrs. Chan enjoys her time with Mr. Chow, their days spent together are bright, vibrant, colorful and "flowery".
The famous Chinese female writer Eileen Chang once said, "For those who cannot speak, clothing can be the language, the carry-on theatre."
Pay attention to the charming, attracting Chinese cheongsam Maggie Cheung wears in the movie, and you may find subtle emotions expressed through the images her clothes project.
Farewell Rehearsal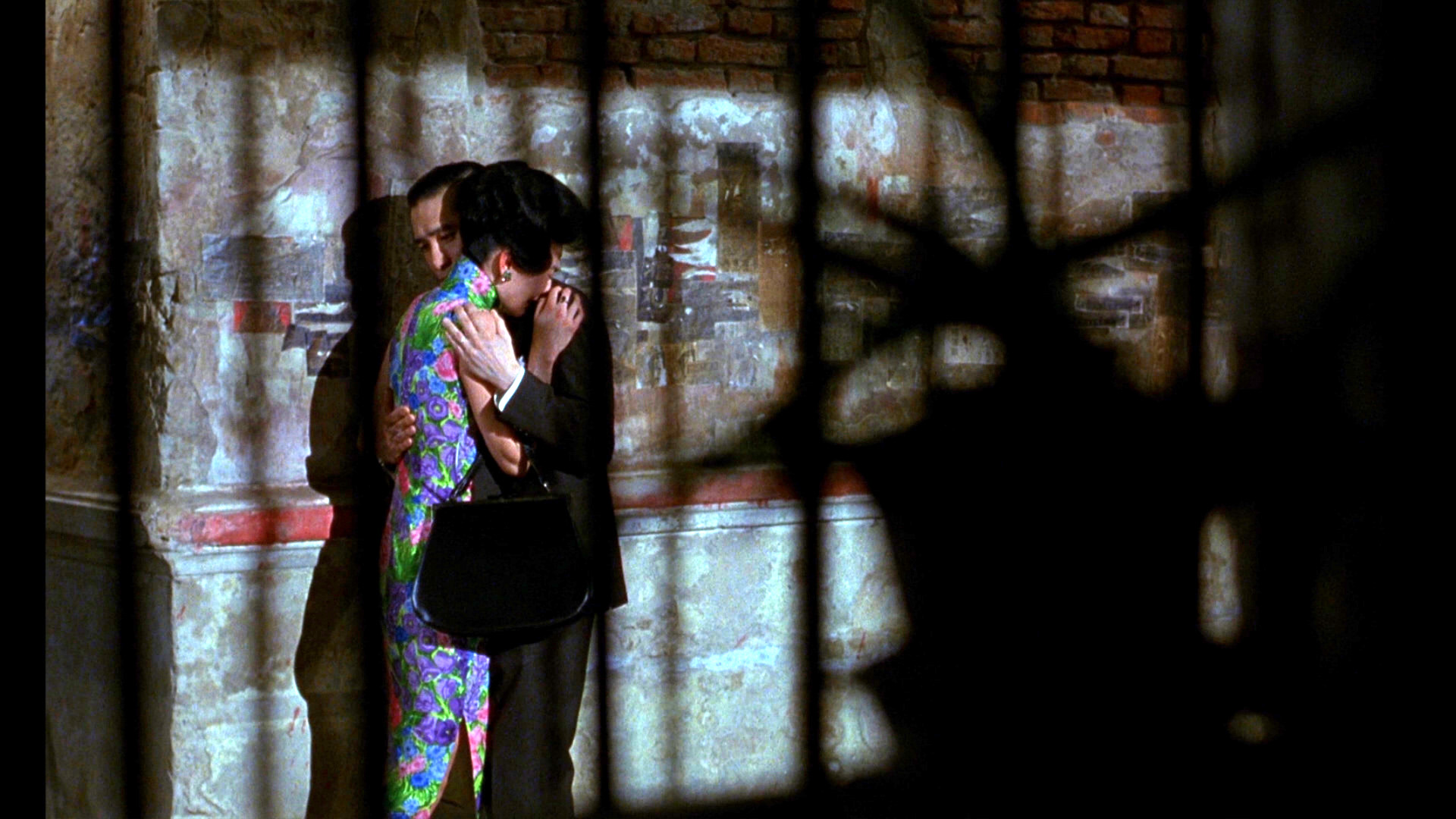 "This is not true" Mr. Chow says to comfort Mrs. Chan when they try to "rehearse" saying goodbye.
Wong Kar Wai plays with reality and fantasy by setting up a theme of "rehearsal", a kind of acting within acting.
From the beginning, the audience is also deceived, believing in the separation between Chow and Chan, feeling the same unwillingness, helplessness, and sorrows the characters feel.
"Farewell" has always been an issue in traditional Chinese culture, literature, and movies.
From the oldest Chinese poetry – Tang's poems – and the traditional association of willows with the act of farewell, to many Chinese movies adopted from literature, artists have dealt with the same issue in different ways, and Wong Kar Wai's method of saying goodbye might break your heart – in an unforgettable manner.
A rehearsal is a practice for a later performance, meaning that it is going to happen eventually, which is the best, cruelest depiction of Chow and Chan's story.
They start with a tragic discovery, time passes, roaming through fantasy and reality before they finally ealise that the end of their story will also be a tragedy.
If you're in the mood for love, you won't want to miss this great poetry-like Chinese movie.
Time has passed, and the "flowery years" of Mr. Chow and Mrs. Chan have already faded, but the fascinating blooming memory will be preserved, in the decaying city of Wong Kar Wai's mind in 60s Hong Kong, in Maggie Cheung's colorful Cheongsams, in the unforgettable heart breaking farewell, and in all the fans' hearts.
We all have our "flowery years", when we're "in the mood for love", deeply, happily, but somehow tragically.