France has seen just under 10,000 new cases of COVID-19 infections in just 24 hours; the single worst day since records began in the early days of the outbreak.
Officials in Paris announced that a total of 9,843 cases of the virus were confirmed yesterday at a meeting of government ministers aimed at increasing protections against the spread of the virus.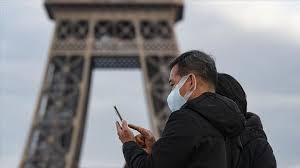 It is understood that the current total of those infected by the coronavirus in France now stands at 353,933, with 30,813 having died either directly of the virus, or for reasons related to their symptoms.
France remains the 14th worst affected country in the world just behind the UK.
A further meeting in France later today will now look at new measures on how to help
limit further spread of the virus, although the nation's scientific council, in working to advise the government has said that "tough" decisions may be needed, without offering further details.
French President Emmanuel Macron meanwhile, offered a vague assurance that the public would be informed of measures to be taken in the next few weeks.
"We need to be as transparent and clear as possible," Macron said to the media yesterday, according to reports.
"We need to be demanding and realistic without giving in to any kind of panic."
Across the English Channel in the UK, Britain's recent spike in coronavirus cases saw another 2,000 cases recorded – for the fifth straight day – as London moves to once again restrict social gatherings to just six people, although this will not come into play until Monday according to Tweets sent out by Prime Minister Boris Johnson.