ChiaoHsi is a junior student at the University of Washington in the U.S. For now she is riding out the coronavirus pandemic back in Taiwan.
She kindly agreed to answer a few of our questions.
Have the recent clampdowns affected you?
I am currently studying at the University of Washington. Washington state is known as one of the states which has been struck the hardest by COVID-19 with 284 deaths and 6,966 confirmed cases reported by the Washington State Department of Health as of Friday April 3rd 2020.
About a month ago, due to the pandemic outbreak, all schools, local restaurants, and shops were shut down.
The federal government encouraged all citizens to take steps to promote social distancing and stay home as much as they can.
In Seattle, as far as I know, public transportation has changed as well; the Metro bus rides are free now.
Riders will no longer enter at the front of the bus and will only be allowed to get on and off the buses from the rear doors.
King County Executive Dow Constantine said in a news release."Changing how riders board and exit our bus fleet and also suspending all fares is part of that effort."
I also lost my job temporarily.
In King County, nearly 19,000 young adults are having a hard time paying their rent, bills and buying food because of all the businesses that have shut down. 
Although the local grocery stores have been donating more food and money to the food bank, unfortunately many young adults are struggling to pay off their monthly rents and bills.
What particular annoyances have you felt?
Harvard and other major universities still charge full tuition as classes go online.
We paid ridiculous amounts of tuition fees for this semester or quarter, but they gave no refunds.
We now use almost none of the school equipment so it's extremely unfair for us that we still need to pay the full amount of tuition including all the bus passes, the classroom equipment charges, gym fees, etc. 
All students have to adjust as our colleges turn to distance learning, and for some students who flew back to their own countries also need to adjust to time zone differences to be able to participate in their classes.
For instance, it's extremely challenging for me to have to wake up early in the morning at 2:30AM everyday during the week to attend classes online through Zoom.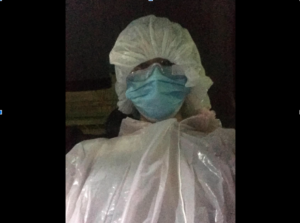 Has Taiwan done a good job in its handling of the COVID-19 issue?
The World Health Organization (WHO) predicted Taiwan would be the 2nd most infected country, yet we have proved them wrong, and we all know that Taiwan's government has gone above and beyond to protect the citizens' safety in many ways.
One of the biggest differences between Taiwan and the U.S. is that in America people were taking it very lightly, at least that's what I saw in Seattle, Washington.
At the beginning of February, the situation was getting worse and worse and the number of people who got infected radically increased on a daily basis, yet the local people didn't acknowledge the need to take serious precautions.
Most people thought that I was overreacting a little when I wore masks in public, and I was told COVID-19 was just "a flu" like all others. 
However, when we hit March, the number of people who were infected and who died from COVID-19 was insanely high, now the highest number in the U.S. so they see the seriousness of it, and have learned to take better precautions.
"As this crisis evolves, we are constantly reviewing all of our practices and policies to provide the best service while keeping people safe," King County Executive Dow Constantine stated.
How are you spending your time of late – living as normal a life as possible or on edge because of the virus?
"Rejoice in the Lord always: again I will say, Rejoice. Let your forbearance be known unto all men. The Lord is at hand. In nothing be anxious; but in everything by prayer and supplication with thanksgiving let your requests be made known unto God. And the peace of God, which passeth all understanding, shall guard your hearts and your thoughts in Christ Jesus." ‭‭(Philippians‬ ‭4:4-7‬)
During this time, I found a lot of peace in God. Every morning the first thing I do is to pray and read the Bible. Through this time I've built a closer and deeper relationship with God like never before.
I've been very active and involved in a church called International Christian Church (ICC) for almost three years.
We meet every Tuesday, Wednesday, Friday and Sunday. We all join together to worship and host bible discussions, congregational meetings, Sunday Service and fellowships through Zoom, Facebook and YouTube lives.
Additionally, we are studying the Bible with many people through Zoom everyday. Hallelujah, many of them were baptized into Christ in the past few weeks. 
Other than that, I've been catching up with some novels that I had wanted to read for quite a while, and I've been doing yoga, exercise, and weightlifting in my house everyday.
I'm learning to write all kinds of poems inspired by the Psalms that king David wrote.
I have an absolute conviction for not wasting time. I don't want to look back and regret the time that I wasted doing nothing, but rather prefer to spend my free time connecting with people I love and doing what I love.
I want to encourage you all to focus on what's important to you and to stay productive. Maybe you will find new hobbies.
It can be as simple as learning how to write with your non-dominant hand or learning how to cook new dishes. 
"Be very careful, then, how you live—not as unwise but as wise, making the most of every opportunity, because the days are evil." ‭‭(Ephesians‬ ‭5:15-16‬)
Editors note: In an update since time of typing, The Universal Student U-Pass fee has now been waved for the spring quarter.