Boney Kross is of Ugandan and South African descent, and for the past four years he has called Taiwan home.
To date, in his own words "I have enjoyed everything this country has offered me."
By Day
He teaches English and music, "quite an experience" he says sharing a skillset learnt in Africa and elsewhere with a culture he knew nothing about before arriving.
The Musician
In the evenings and at weekends, however, he is often to be found performing in and around Taipei. His performances are both solo gigs and as a member of a band; his own band being "Higher Roots" and specializing in Afro and reggae music.
The band have gigged at almost every music festival in Taipei over recent years, and at most of the prominent bars and restaurants.
It has been a time of plenty, of  "good vibes"  as Boney says, using a phrase from the music circles in which he mixes.
The Virus
Of late though things haven't been going to plan. "The COVID-19 virus has caused most of our shows to be cancelled" he says. The reasons may be 'obvious' in this period of shutdown, but with one of the biggest bands in Taiwan with close to 12 members Boney admits "we need facilitation whenever there's a show."
"This is now quite a challenge" he continues, "since some of the places we perform in depend on their own customers' attendance to have a show go ahead. One of our regular spots is MIK-6, the Indian restaurant. "But they have seen a decline in people who dine there due to this pandemic. We used to perform before a  full house but now have a moderate  number  whenever we have a show."
"My solo shows are becoming a challenge too as I am now performing for less than 10 people at times. This pandemic has really hit us hard, and we don't know what to expect next. We have cancelled all our shows and are stepping back from performing to take stock, and to reorganize the band."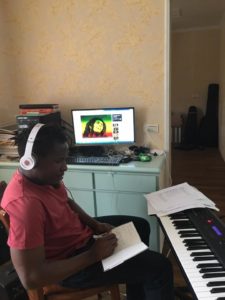 The Future
Meeting the man, however, even with the knockbacks he is facing, there is a feeling of c'est la vie, but with a smile. Boney isn't the kind to take a hit and let it keep him down, regardless of how many others are ultimately affected by the virus. Boney Kross is a man who has learnt to adapt to the challenges life throws at him.
The optimism in his being asked about the future therefore comes as no shock: "I am looking forward to a great post-virus comeback, but for now am using my time to sharpen my skills, write new songs, and learn more about the music business."
"Looking at the bigger picture, I would like to commend Taiwan for the great work it has done in containing the virus, and in providing both it's citizens and non citizens the support we need."
For more info on the man and his music – Google is your friend. He is active on Facebook and Instagram.