According to sources speaking to the Somaliland Chronicle, and since independently confirmed by The Taiwan Times, an Egyptian government delegation visited Somaliland on July 12th for a series of high-level meetings with members of (the) Somaliland government on bilateral ties and cooperation between the two countries.
The sources indicate that members of the delegation whose visit lasted two days have participated in a series of high-level meetings with the Ministry of Foreign Affairs and International Cooperation, Ministry of Education, and the Ministry of Livestock and Fisheries Development.
It is unclear if President of the Republic of Somaliland HE Muse Bihi Abdi met the Egyptian delegation.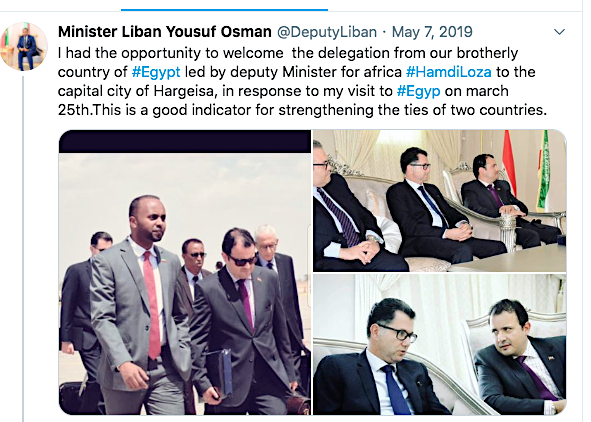 According to a member of the Somaliland government who spoke on strict condition of anonymity, the meeting was initiated at the highest level from Cairo, (with Egyptian authorities) taking a closer look at the strategic region on the heels of newly established diplomatic ties between Somaliland and Taiwan.
Sources add that the Ethiopian government lodged a formal protest with Somaliland within hours of the Egyptian delegation's arrival in Hargeisa.
Although there have been previous high-level contacts between Somaliland and Egypt, the latest visit from the Egyptian delegation to Somaliland comes at a time of heightened tension between Egypt and Ethiopia over the Grand Ethiopian Renaissance Dam.
Editor's note; this story, prior to edits, first appeared in the Somaliland Chronicle here.