Japan's Prime Minister, Shinzo Abe, and Taiwan's President, Tsai Ing-wen, have this week pledged to work together as part of the global battle against the COVID-19 pandemic.
Both leaders took to Twitter in recent days offering supportive messages in the wake of Japan declaring a state of emergency on Tuesday.
At the time Prime Minister Abe announced a huge stimulus package aimed at easing the effects of the virus, and this was followed soon after by President Tsai using Japanese on Twitter to show her support for one of Taiwan's closest regional allies.
Her message included an offer of medical support.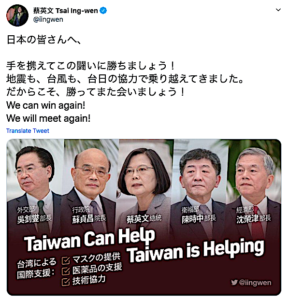 Abe soon after responded with a message of thanks to the people of Taiwan written in traditional Chinese.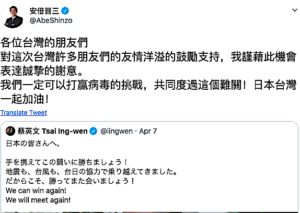 Taiwan and Japan have a long history of helping each other, particularly in recent years through a series of natural disasters.
Most prominently in the eyes of many in Japan, Taiwan was the first nation to respond in the wake of the devastating March, 2011 earthquake and tsunami un northern Japan.
No immediate mention has been made by either government as to yesterday's announcement of one million masks to be donated to overseas nations by Taiwan including Japan.
A press conference held late Wednesday in Japan by Chief Cabinet Secretary, Yoshihide Suga indicated that Japan's official representative in Taiwan, the Japan-Taiwan Exchange Association (JTEA) would handle the issue of possible mask donations by Taiwan.