The announcement follows a now-deleted statement made by the Somali Ministry of Foreign Affairs on Twitter that condemned the invitation extended to the President of the Republic of Somaliland H.E. Muse Bihi Abdi by the Kenyan President Mr. Uhuru Kenyatta.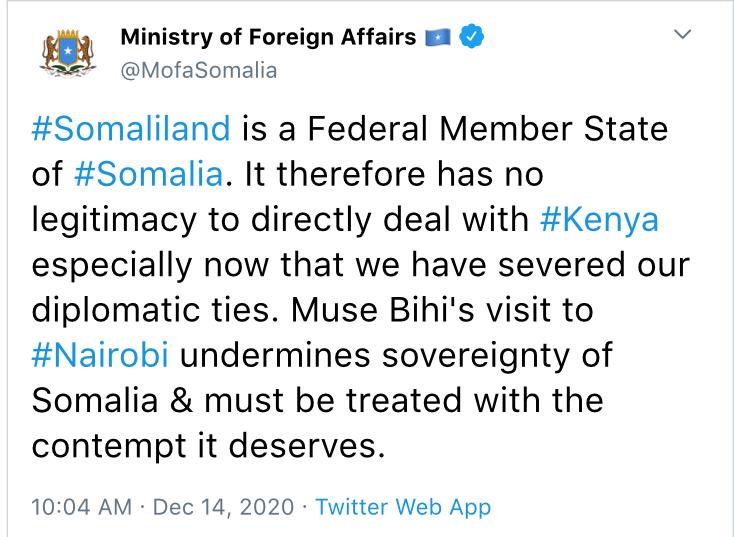 "The irrelevant statement from the failed administration of Somalia, shows nothing but only failure and irresponsibility. The Republic of Somaliland and The Republic of Kenya are two independent countries which (have made) the rightful decision to strengthen their mutual relationship." Somaliland's Ministry of Foreign Affairs responded.
Although the statement issued by the Federal Government of Somalia at 2:00 AM did not mention President Bihi's visit to Nairobi and meeting with Mr. Uhuru Kenyatta, Somalia in the past has cut diplomatic ties with the West African Nation of Guinea Conakry following a similar visit by President Bihi in June 2019.
It is unclear if Somalia's severing of diplomatic ties with Kenya extends to the Kenyan Defense Forces serving in Somalia under the internationally mandated AMISOM mission.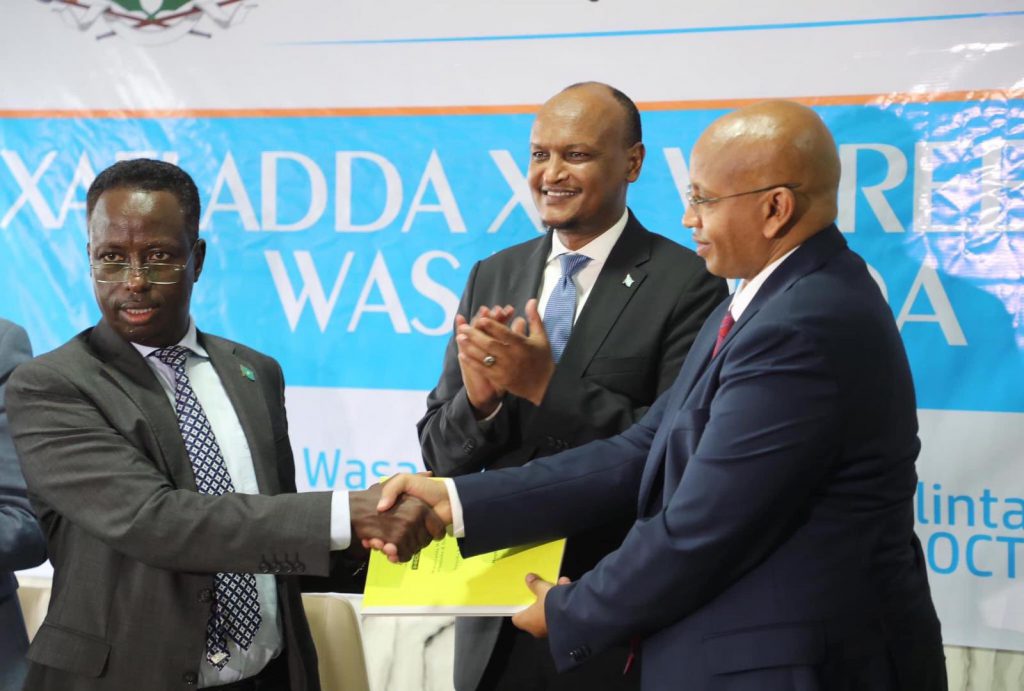 Mr. Osman Dubbe who announced Villa Somalia's decision to cut diplomatic ties with Kenya is originally from Somaliland and has been in his current post for two months.
His predecessor Mohamed Abdi Hayir (Maareeye) and the Deputy Prime Minister Mr. Khadar Mahdi are also from Somaliland and the latter has held a post in Somaliland's National Election Commission.
So far Kenya has not issued a statement or responded to Somalia's severing of diplomatic ties but Presidents Bihi and Kenyatta are scheduled to hold a second round of talks, and a communique on the talks and areas of cooperation between the two countries is expected.
This article first appeared in the Somaliland Chronicle and is republished with permission.