Mogadishu (PP News Desk) — The Somalia Federal Minister for Information Osman Dubbe has accused the Puntland and Jubaland Presidents of derailing the electoral talks aimed at finalising the 17 September 2020 and Baidoa Recommendations.
The Federal Information Minister Osman Dubbe said (the) "Puntland and Jubaland Presidents are not committed to elections," continuing (the) "They demanded that the Federal Parliament should cease functioning as a legislative body and that the President of Somalia should transfer his constitutional powers" said Dubbe.
Puntland's Information Minister for his part said "The electoral talks have broken down" when he, Abdullahi Ali Hersi, held a press conference in Mogadishu earlier in the afternoon and rejected the claim that "the talks have failed".
"Puntland and Jubaland (both) believe the talks have not failed" said Hersi.
President Deni of Puntland responded to the course of events saying "Talks have broken down over the conference agenda" and he also told the VOA Somali Service that "the talks broke down over the agenda of the conference".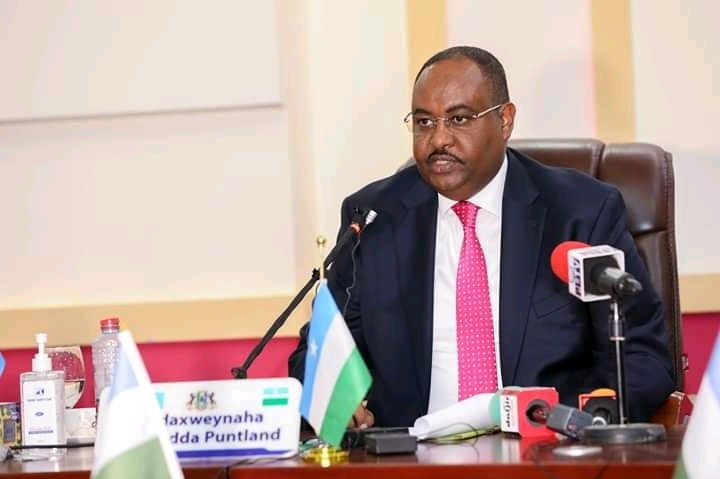 Puntland and Jubaland are seeking an unprecedented wider participation in the talks for politicians who are not classed as stakeholders and were not party to the electoral agreement.
The Hirshabelle, Galmudug, and South West presidents in addition to the Banadir governor insisted on the obligation to honour the 17 September Agreement to finalise an agreement on the electoral model in line with the Baidoa Recommendations.
The International Crisis Group called for third party mediation despite the Federal Government of Somalia making concessions to both Puntland and Jubaland after the two Federal Member States demanded abrogation of the Electoral Law to return to indirect elections in place of one person, one vote elections.
This article first appeared in the © Puntland Post, 2021 and is republished with permission