The Japanese government early on Thursday deployed its Self Defense Forces across many parts of the north and west of the country to help citizens worst affected by what is being called a record snowfall for this time of year.
Some reports coming in now indicate that over 10,000 homes, some claiming as many as double that number, have lost power in the Gunma and Niigata areas to the north west of the capital Tokyo.
Prime Minister Yoshihide Suga along with public leaders across the regions worst affected have advised caution.
Over the previous 72 hours, over two metres of snow is understood to have fallen in the Minakami area of Gunma Prefecture with nearby Yuzawa across the prefectural border in Niigata receiving over 1.8 metres of snow in the same period.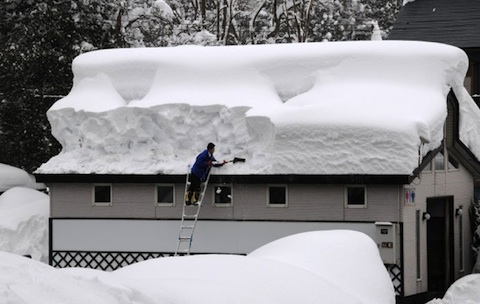 Niigata disaster management official, Mr. Tsuyoshi Watanabe has told AFP that he had requested the help of soldiers to rescue over 450 motor vehicles stranded on a highway. "We are trying our best to rescue drivers and passengers… we are ready to continue our operation through the night," Mr. Watanabe said.
Local news in Niigata indicates that in excess of 1000 automobiles have been stranded on a major highway leading out of Tokyo to the northwest.
Snow was also reported as falling as far to the south west as the ancient capital of Kyoto, albeit in much lower quantities.
While snowfall will continue across much of the north of Japan over the next 24 hours or so, it will not be as heavy as earlier in the week. The nation's Meteorological Agency did, however, warn that more snow is expected for to fall in the region over the coming weekend.