The government of Somaliland and the Head of the United Nations Assistance Mission in Somalia and the Special Representative of the United Nations Secretary-General to Somalia Mr. James Swan have not reached an agreement on the cooperation framework between Somaliland and the United Nations.
This is according to a brief statement released by the Somaliland Presidency following a meeting between the President of the Republic of Somaliland H.E. Muse Bihi Abdi and the delegation led by Mr. James Swan, the two sides have agreed to continue the discussions on Somaliland and the UN cooperation framework.
Somaliland government have set forth stringent conditions on cooperation between the United Nations and international organizations that essentially demanded that Somaliland be treated as a separate entity from Somalia and as a result has halted all preparatory work related to the UN Sustainable Development Cooperation Framework (UNCF) agreement signed by the United Nations and the Federal Government of Somalia.
"The Republic of Somaliland has never been part of the federal system and has not had formal communications for three decades with Somalia. The UN is expected to engage with the Government of Somaliland as a separate entity while respecting its territorial integrity and right for self-determination." said the 7-page document sent to the United Nations.
Prior to his visit to Somaliland, Mr. Swan had been to Somalia's regional capitals of Kismayo, Jawhar, and Garowe where he met Somali Federal Member State presidents regarding the disputed elections in Somalia.
The statement from the Somaliland Presidency also stated that Mr. Swan has congratulated the government of Somaliland, the political parties, and the public on their concerted effort to hold parliamentary and local elections. Mr. Swan has in the past discussed Somaliland's elections in the context of Somalia, an action that the Somaliland government has strongly condemned.
SRSG Swan's glowing commendation of Somaliland's election effort is a rigid dichotomy to his support of Villa Somalia and few Somaliland natives to hold a selection in Mogadishu and claim to represent the entire population of Somaliland.
It is unclear if any of these points were raised with Mr. Swan by President Bihi during their meeting.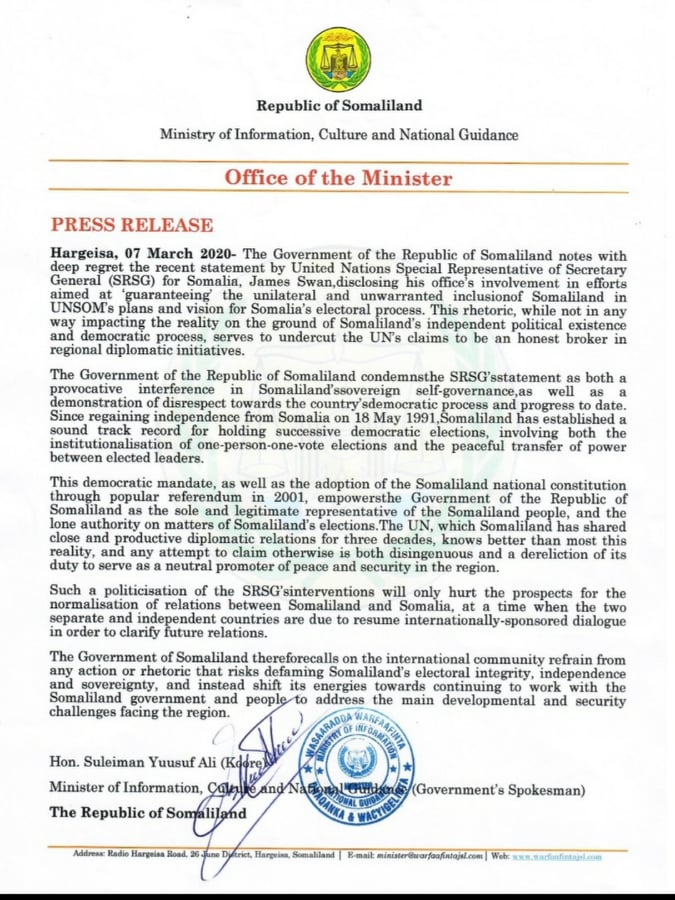 This article first appeared in the Somaliland Chronicle and is republished with permission.