On January 28th, the Hargeisa Water Agency sent its customers a notice informing them that it will be deploying new smart meters and that the customers are responsible for the US$50 cost.
In addition, the notice urged the public to replace their current meters within the next three months.
According to Mr. Ahmed Daud, a businessman with direct knowledge of the matter, the contract to supply the new water meter recently mandated by Hargeisa Water Meter was awarded to a group connected to President Muse Bihi Abdi's eldest son, Mr. Mohamed Muse Bihi.
He added that the meter itself would cost the supplier US$18, and the proposed resale price was agreed to be around US$20.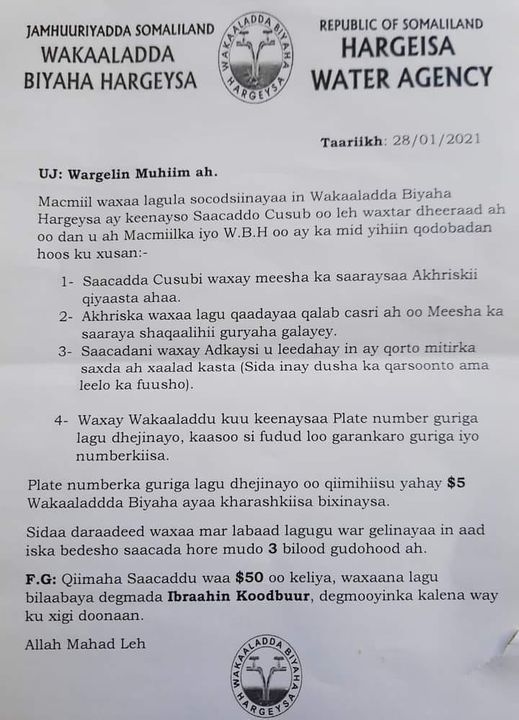 Mr. Daud stated that he initially proposed the idea of smart meter usage by Hargeisa Water Agency to the President's son, who he described as a close friend, in early 2019, and had a falling out with him after Mr. Bihi suggested the price of the water meter should be much higher than the initially agreed-upon $20.
The increase of 150%, an amount is much more than initially agreed upon and far exceeds what the public can afford.
According to a statement from the opposition party of Waddani, the new water meter could net 1.5 million US dollars from the current estimated 30,000 customers of Hargeisa Water Agency.
Despite its exorbitant price tag, there are major issues that need to be solved before the smart meter could be deployed due to the lack of basic filtration at the water reservoirs that sends silt and other debris downrange that may affect its operation and that water pressure is needed to make the small electromagnetic motor function to allow the water meter to send billing and other data to a central management system that is part of the contract, other sources add.
Smart meters for utilities are becoming a norm in many developed countries where the meters are owned by utility companies.
Currently, if a water meter malfunctions the customer is responsible for purchasing a replacement.
It is unclear if customers will be required to purchase a new water meter or if the Hargeisa Water Agency will provide a warranty to replace or repair the delicate new meters.
The President's eldest son Mr. Mohamed Muse Bihi is a physician by trade who studied in China and is said to be fluent in Mandarin.
Unconfirmed reports indicate that he is involved in many projects with Chinese businesses including Singapore New Silk Somaliland Energy CO LTD, the oil refinery project that was unveiled in February 2019.
The project included a training component where 400 National Service graduates would be sent to China to prepare them for running the refinery, but sources indicate that it was in fact an advanced payment scam that has cost him and his partners millions of dollars.
Although there have been many unconfirmed reports that the President's son may be involved in such projects, the Somaliland Constitution does not prohibit him from engaging in private business or bidding on government contracts, but in the case of Somaliland where many government officials will instinctively award a contract to someone with a close connection to the Presidency to ingratiate themselves to the man in power is a normal practice, and other forms of corruption have proven prevalent, Bihi junior's involvement in the new water meter raises the specter of corruption to a new level.
Sources from the National Tender Board who spoke on the condition of anonymity stated that they have no recollection of a bid for new water meters for Hargeisa Water Agency and only found out about the new meter via social media.
Repeated efforts to reach Mr. Mohamed Muse Bihi, the Hargeisa Water Agency Manager Mr. Mohamed Darod, the Minister of Water Development Hon. Diriye have been unsuccessful.
This article first appeared in the Somaliland Chronicle and is republished with permission