Taiwan's bid for participation at the World Health Assembly (WHA) took another boost over the weekend when the U.S. State Department tweeted its backing of the bid.
Saying that Taiwan should be able to join an upcoming WHA gathering to share how it has dealt with fighting the COVID-19 pandemic, the U.S. permanent mission to the United Nations also stated that the U.N. should not rule out Taiwanese participation.
In an official response from Taiwan's Ministry of Foreign Affairs in Taipei, the government thanked the U.S. Department of State, and Taiwan's many friends in America for their support to participation on the global stage.
Tweeting "Shutting Taiwan out of the world body & its specialized agencies is self- defeating & only weakens the international family of nations" Taiwan upped the ante, stating "It's high time for #TweetForTaiwan & (to) recognize #TaiwanCanHelp."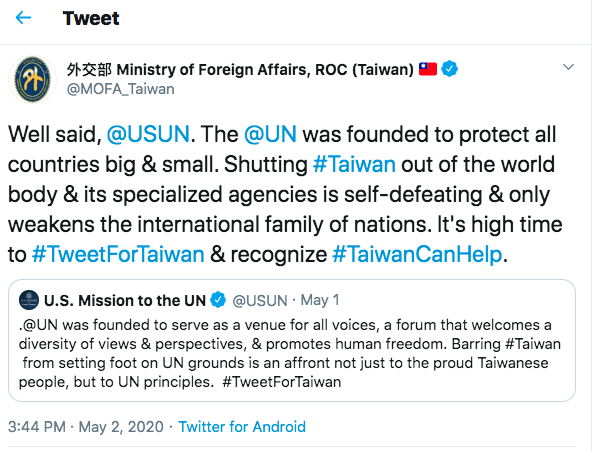 Following the tweets, as has become the norm in recent months the response from across the strait was a now routine claim that the U.S. tweets "hurts the feelings of the 1.4 billion Chinese people."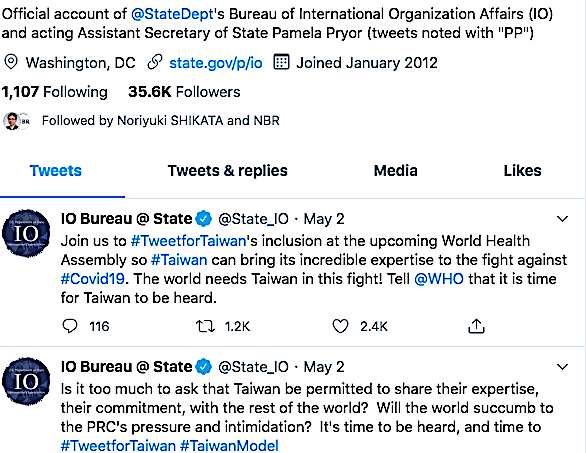 The Ministry of Foreign Affairs went on to say Taiwan is eager for Taiwan to attend the WHA as an observer this year, and to share the experience of the "Taiwan Model" epidemic prevention at the meeting.
To date COVID-19 has infected more than 3.5 million people worldwide with almost 250,000 deaths.