Editor's note: the image below may be deemed distressing.
TTT New Delhi: China's President Xi Jinping's clay image has been crafted as the beheaded buffalo-demon at one of the tableaux vivant in the Indian city of Kolkata, as part of celebrations surrounding a Hindu festival 'Durga puja' symbolizing the victory of the revered goddess 'Durga' in her battle against evil.
The Hindi language word 'puja' means a series of rituals that bond deities and votaries with each other, and the Hindu festival in question runs for nine days and nights before culminating in the immersion of the tableau on the banks of the river Hooghly in the city.
The tableau attracted lot of attention as it reflects the sentiments of most Indians towards the Chinese President.
From the mainstream print media to broadcast media, it was covered across India, with pictures of the tableau splashed all over social media platforms.
And although official guidelines on maintaining social distancing meant the crowd was smaller than usual, the Xi Jinping head created a buzz that sparked fresh interest in the festival.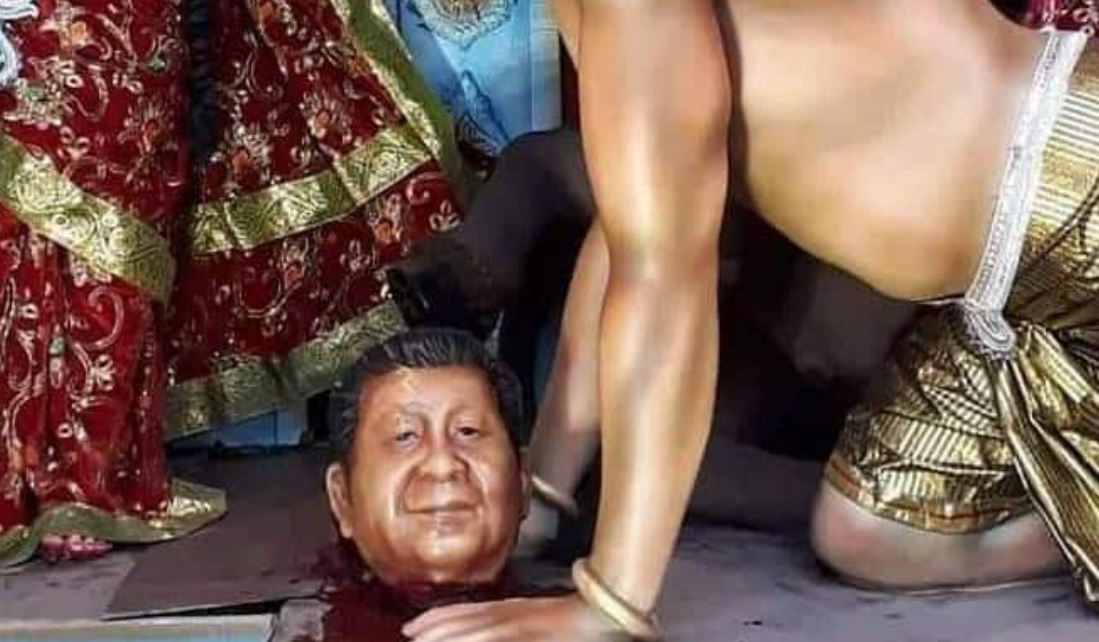 The city of Kolkata has always been a centre of sculpted tableaux highlighting the prevailing news of the day, or the flavor of domineering national issues.
This year also, the plight of migrants during the COVID-19 shutdown was displayed.
Ashim Pal, the sculptor, told the media that his tableau was inspired by the contemporary news narrative leaning against the way the Chinese president had been antagonizing India of late, with incidents in the Galvan Valley the final nail in the coffin.
Talking to The Taiwan Times from Kolkata, Ankita Banerjee, a banker, said that the tableau in question presented the sentiments of the people of India  who were totally disillusioned by China and its president.
Ashima Chaudhary, a science student alleged that Xi Jinping was full of deceit and cunningness, and he fits the bill of the demon depicted as evil.
Meanwhile, a top management marketing official from a leading international company, Parna, said that it was crude and could have been avoided. "Not that I am for the Chinese president, though" she added.