Hugo Chen was born and grew up in Japan to Taiwanese parents.
After university he decided to go back to the land his parents came from and to complete then-compulsory military service.
Now based in Germany where he is the VfB Speldorf top team goalkeeping coach, he has been making a name for himself on the football front and will – post pandemic – be moving back to Taiwan to take up a post with a team in Taiwan's Premier League.
He is already serving as an advisor to the team.
We sat down with him to learn more about his life and views on a sport and league making great strides in Taiwan.
Tell us a little about how you got into football?
I was a little bit late getting into football. When I was in elementary school I played badminton and swam, and played rugby in junior high.
But in high school my friend invited me to play football but we always lost so I didn't like it.
But when I was 17 years old, I entered a youth team in Urayasu, Chiba, to the east of Tokyo, and I played there for 18 months but spent most of that time on the bench.
After joining Tokyo International University I went to the football club, but there were almost 500 players in one university football team so I had no chance to be a first team member,  – my personal feeling then was that I always wanted to be a top player, but it was too difficult,
In the end I joined the tennis club where my goal was to be a top tennis player.
What is your earliest football memory?
I think, my earliest football memory was when I played the first match in my footballing life. I was 15 years old.
I didn't know the rules, so I was a goalkeeper, but I didn't know I could use my hands. Then, when we were 2-1 up, my defender passed me the ball, and I gave away a foul.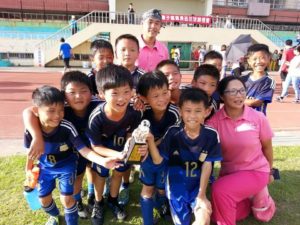 The opposition scored from the free kick as I was in the wrong position – not knowing where to stand.
I cannot forget this memory. It is my earliest memory of the sport.
How did you get into coaching the sport?
When I learnt Mandarin in Taiwan before I did my military service, my classmate was from Germany, and he was planning to go back to Germany, so I took over a team he coached – an elementary school located in the mountains of Taichung,.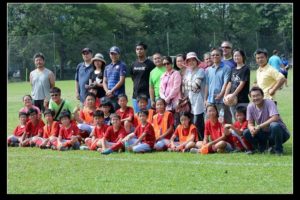 Originally, I had no interest in being a football coach, but Taiwan's kids gave me a great passion and dreams because they always showed me beautiful smiles, and they were always hungry to play football.
So, I knew I needed to be a great coach for them.
What do you see as your coaching career highlight to date?
I think, by myself, my football career is similar to Jose Mourinho at Tottenham so far …. smiles.
My professional football career started when I was a translator, and I became a coach very slowly, step by step,
I experienced different roles in teams such as team manager, kit manager, translator, assistant coach and goalkeeping coach.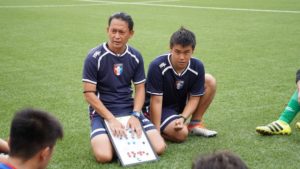 And I will always remember being part of (my) first win with in men's national team under Japanese manager Mr, Kuroda, and Mr. Hirata.
I was thinking about winning with them so much. and we did secure a come from behind victory against Singapore,
It was a beautiful night.
Another great memory was created against Vietnam as a member of the women's national team staff when we secured another great victory by way of a penalty, and our players were always so humble in achieving our target.
This is an awesome memory, as we were then in the top four in Asia.
You are now based in Germany. How is life over there?
My life in Germany is fantastic as I train the Bambini, U12s, and U15s field players, and the U18s and top team goalkeepers.
Actually, I have no time to rest, because we have league games on Saturday and Sunday.
But every morning I can relax, watch games, drink a coffee, do some exercise, and plan my day.
Now though we have time off because of the coronavirus.
Why did you make the decision to return to Taiwan?
Because I am Taiwanese!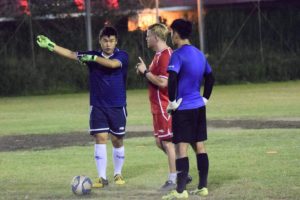 Although I am "made in Japan" I was "produced by Taiwan."
I love Taiwan a lot, although we have a lot of problems with China, but I want to prove our potential.
As one, united, as we have a lot of aboriginal tribes on the east coast, we are very special.
In the future, I want to prove Taiwan's status in the world using football,
Football can bring the world together and carries a lot of influence.
And why did you choose to work for Hang Yuen FC?
When I worked for the CTFA, I always kept an eye on Hang Yuen because they competed in the AFC Cup twice, and were the first club to get a club license in Taiwan,
I think they have big potential.
Right now, although I am only an adviser, I want to support their overseas possibilities and future relationships between Hang Yuen and clubs elsewhere to best help increase the sense of professionalism at the club.
HYFC wasn't really in the running for the Premier League title in Taiwan last year, and they lost some important players. What do you predict for 2020?
2020 will be a good year for Hang Yuen FC, and some of our younger players.
Although we lost a lot of important foreign players, instead of them, we can reinforce our domestic playing staff.
And at the national level, what is your take on the past few years of managerial changes?
We have had quite a few!
I think when Gary White came to the national team our managerial methods changed a lot.
We soon had 2 trainers, a pro-level team manager, an equipment manager, and more assistant coaches.
Last one. Any future dreams for Taiwanese football?
In the future, I want to be a manager in Taiwan.
Right now I am a goalkeeping coach in Germany, but I want to be a part of developing footballing systems in Taiwan.