In 1985, when Queen, led by Freddie Mercury, performed at Live Aid, renowned radio and TV presenter Paul Gambaccini described their 22 minute set as 'stealing the show'.
35 years later, on a warm night in Taichung, Taiwan, the CTBC Brothers offered up their first English language broadcast covering a home game against the Uni-Lions.
And in their own right, they did the same.
Straight to the top of the class
Notwithstanding the excellent broadcasts laid on by Taiwanese cable stations and even Twitter trying to get in on the act with live streams, in particular the fact filled insights from World Baseball Softball Confederation's Asia correspondent Richard Wang alongside the entertaining Wayne McNeil, the Brothers have now upped the ante.
They have moved straight to the top of the class.
In the booth at the Intercontinental Baseball Stadium in Taichung last night were professional broadcaster Phil Wu, match commentator Papa from the Brothers, and special guest Mitch Lively.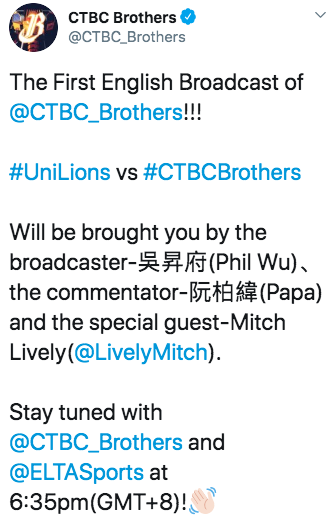 But to include an active pitcher, albeit one recuperating from injury, offered an insight into the game very few other play-by-play men and color commentators can offer – especially in Taiwan.
The move was an open secret for some time, and will be followed up later in the season by a similar in-house appointment when former Brothers pitcher Nick Additon returns from the U.S. to sit in the box for games.
Additon is currently working stateside as the CTBC Brothers foreign scout.
Throughout the broadcast last night the three fed off each other, chewed the proverbial fat, and took the fans on a broadcasting journey not yet seen in coverage of the game in Taiwan.
They even had a visit from 'Sean' – the Brother's elephant mascot – who came with supplies as they game went on.
First blood in match day commentating to the CTBC Brothers.
Not a first
It is not the first 'first' for the Brothers this season, however.
On Saturday the Brothers were the first team to offer merchandise purchases to overseas fans – a move welcomed as far away as the US, and Europe.
Sales are currently limited to nations with functioning postal systems – listed in the above link – but the Brothers are hoping to increase the scope of their oversea shipping soon.
Staying in Taichung
In related Brothers news, long time fan-favorite Mitch Lively, a pitcher from California in the U.S. – the guest last night – took to the mound earlier in the day as part of his rehab programme as he looks to return to the first team later in the season.
Pitching in a minor league game against the Rakuten Monkeys Lively threw one full inning, later stating "It was ok. (It) felt good, and (I was) pain free."
Lively will pitch again on the 9th of May, in another minor league game against the Uni-Lions in Tainan.
Follow the Brothers online via their Twitter account at – Brothers Twitter