Andrew, Debbie, Rhys, Liam & Nolan recently visited Taiwan from Canada.
Intent on seeing the island, whilst also visiting a nephew who lives and works in Taiwan, their trip did not go to plan.
Here's what happened – a few of our questions thrown in for good measure…
Why did your family choose Taiwan as a vacation destination?
We had a few  reasons for choosing Taiwan….  First, we were looking for a new and unique cultural and learning experience for our three teenage boys, and ourselves.
Second, my nephew (the tall guy in the pic) has lived and worked in Taiwan for the past 10 years, and we wanted to visit with him.
Third,  since its March break here in Canada, we wanted a destination that was warmer than Ottawa, so Taiwan checked all  of those boxes for us.
What was the highlight of your visit?
I polled our family for their "highlight" of the trip.  They boys were unanimous that it was our day trip to Taroko Gorge with our tour guide Tonny.
Debbie enjoyed the walk through Old Jiufen Street on what was a beautiful day – our experience here was very unusual though as there was practically nobody there, so we  probably did not  get the real  experience of Old Jiufen Street.
Personally, I enjoyed that and Taroko Gorge, but my favourite was wandering through the monument to Chiang Kai Shek, and learning a little about about the historical context of how Taiwan came to be.
Did you feel any sense of panic when here?
There was never any sense of "panic" about the COVID-19 situation. In the weeks leading up to our March 13 arrival in Taiwan I followed (on a daily basis) the reporting of COVID-19 cases on the Taiwan
CDC's
website.
Around the end of February Taiwan had about 19 cases, while Canada had 2.
Over the two weeks leading up to our trip, the number of cases grew in both countries, but surprisingly the number of confirmed cases in Canada grew disproportionally higher in real terms VS Taiwan, especially when you consider the total population, and the density.
This gave me some comfort that Taiwan was doing something right. In addition, Taiwan's CDC was very transparent in how they did their reporting…..not just reporting the number of confirmed cases….but how many people they tested, and then number of people they cleared.
That detailed level of reporting was not happening in Canada ….and to my knowledge still is not happening.
Hats off to Taiwan's CDC….the rest of the world has something to learn from you. There is an argument to be made we might have been safer in Taiwan than here in Canada!
What response, if any did you see to the virus that surprised you?
On our arrival at Taipei International we noticed the temperature monitoring – which added to our sense of comfort that they have a plan to deal with the situation.
When we arrived at the Grand Hotel, our temperatures were checked again each time we entered the hotel.
Hand sanitizer stations where made available at the entrance to the hotel.  None of this surprised us, but it added to our sense of comfort that we can enjoy our time there and be protected. We had brought our own small bottles of hand sanitizer and we filled up at the hotel as needed.
Hard not to notice the number of people wearing masks. It is understood that many people in Taipei wear masks on a regular basis ….so that didn't really surprise us. We didn't bring any masks with us….though we bumped into another Canadian couple at Jiufen Street who gave us five masks….just so we could fit in!
We used them only on the train ride from Haulien back to Taipei on the Wednesday of our trip.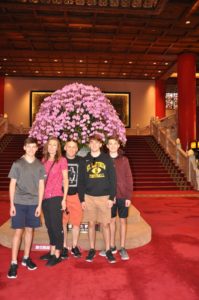 Did your airline make the right decision in bringing your flight forward?
We hired a driver to take us to Haulien on Monday March 16.  We toured Taroko Gorge on March 17.   Our plan was to stay in Haulien till Thursday, however at 2am Wednesday morning  we received an email from United Airlines that the first leg of our return flight (Taipei to San Francisco) was cancelled.
United Airlines did not change  our flight ….they cancelled it outright..no explanation.
Our travel agent here in Canada was fortunate enough to find us five seats on another airline for Thursday morning – but it meant we had to shorten our trip.  (We were) disappointed,  but at that same time we were reading news reports online from Canada that indicated increasing concerns in Canada about the virus spreading and talk of closing the entry points, so it was probably the right thing to do.
We (took the train) back to Taipei on Wednesday morning, and caught our flight Thursday morning. A bit of a whirl-wind but it all worked out.
Would you like to come back to Taiwan post-COVID-19?
Our plan was to stay in Taipei from Thursday March 19 to Monday March 23.  We wanted to go to Taipei 101, and see more of the city.  We would like to come back some time post COVID-19, but the return flight alone cost as much as the original round trip tickets so a return trip will have to wait and see.
How is life in Canada at this time of global worry?
When we arrived back in Canada late Thursday night nobody at the airport checked our temperature.
In addition, we were asked whether we were experiencing any health issues, and given a leaflet about symptoms, but other than that, nothing. Canada seems a little unprepared with the equipment/tools compared to Taiwan.
Life here is Canada is a little nutty right now.
People now are hoarding toilet paper, grocery shelves are mostly bare. All non-essential businesses are now being ordered to close their doors.
Upon arrival we are bound to self-isolate now for 14 days – which we understand and accept. Fortunately we have a relative nearby willing to help get whatever groceries he can find for us.
Our kids never displayed any angst while visiting  Taiwan.  We were being careful to wash our hands often, using sanitizer when needed and generally the places we visited were not crowded.
As a final word, from the outset of our trip I felt that our biggest risk was, not contracting the virus, but having our flight  changed or cancelled …which turned out to be the case.