Indonesia is to increase its maritime security patrols in islands in the north of the country after a Chinese coastguard vessel was spotted loitering far from home reports from Jakarta said Tuesday.
The Chinese vessel was recently seen inside Indonesia's 200 mile exclusive economic zone (EEZ) near the Natuna islands, east of the Malaysian peninsula, and remained in Indonesian waters for around 72 hours before departing on Monday according to Aan Kurnia, chief of Indonesia's maritime security agency
It is understood the Chinese vessel only departed after being challenged by Indonesian authorities.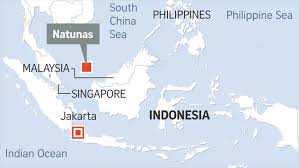 "Because this one floated, then went circling, we became suspicious, we approached it and learned that it was a Chinese coastguard vessel," the official said, before adding that the Indonesian naval forces and coastguard would now increase patrols in the region.
It is not China's first foray into Indonesian waters far from home with Beijing having recent run-ins with Vietnam, Malaysia and other nations in the region.
It is also the second time Beijing and Indonesia have been involved in a staredown in the Natuna Sea in recent months after a flotilla of Chinese fishing boats accompanied a coastguard vessel to the region from December, 2019, into early 2020.
The Chinese intruders that time left only when Indonesian fighter jets and local fishermen drove them out of an area claimed by Beijing under a Chinese concept called the 'nine-dash line' that includes waters off the Natuna islands.
Speaking on behalf of the Indonesian Foreign ministry, spokesman Teuku Faizasyah said Indonesia does not recognise the line and has no overlapping claims.
China has thus far made no public statement on the issue.