For allegedly trying to use a fake twenty-dollar bill, a forty-six-year-old black man, George Floyd was suffocated by police in the U.S. city of Minneapolis.
Despite continually indicating that he could not breathe after being detained and restrained by police, the Minneapolis police officer pinning Floyd to the ground using his knee, Derek Chauvin, did so for over five minutes, in the end suffocating Floyd, and once again triggering the resurgence of a longstanding issue that just will not go away in the U.S. – racism against black people across the nation.
Those involved were dismissed whilst FBI investigations are carried out, but this was not enough to curb public outrage.
"Why is the man who killed George Floyd not in jail?" said Jacob Frey, Mayor of Minneapolis.
Several large-scale protests in cities around America – some now turning violent – have followed Floyd's death to call for the arrest and harsher punishments of the police officers involved.
Thousands have been forcibly dispersed by the police using tear-gas and rubber bullets at demonstrations that have started to evolved into massive riots with participants using indiscriminate violence.
Some protesters even set ablaze the Minneapolis police 3rd precinct building, and looted a nearby hypermarket with the unrest then extending to include area grocery stores with no relation to the original events.
"Anger and sadness have been ingrained in our black community, not just because of five minutes of harm, but for four hundred years" said Mayor Frey whilst also calling for peace along with security at a press conference.
Uprisings have not been limited to Minneapolis. They have spread to many other cities, including Saint Paul, and further afield to Los Angeles.
Demonstrators have smashed squad cars, burned the national flag, and committed arson in many places.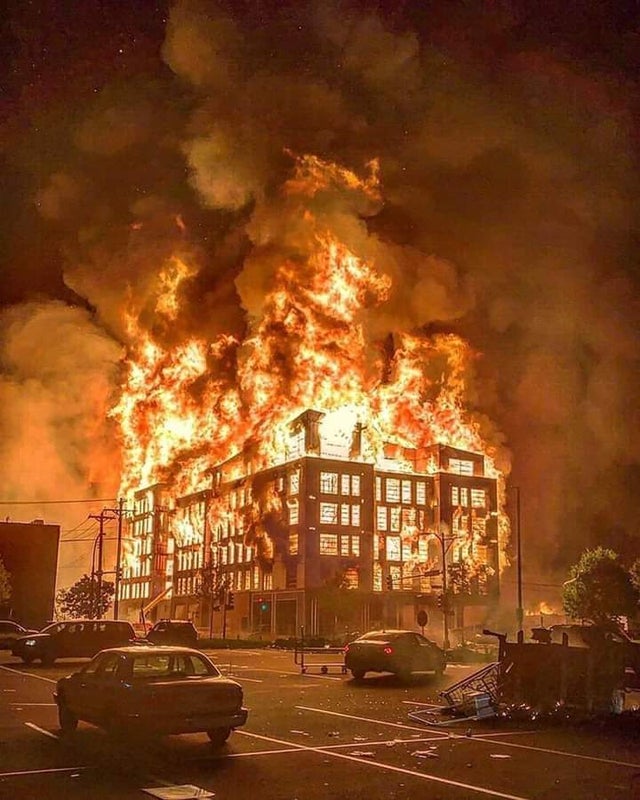 The Minnesota governor has declared a state of emergency and has activated the National Guard to help cope with the situation after days of violent protests across the Twin Cities.
And now President Trump is involved.
George Floyd's death is a tragedy reminiscent of that of Eric Garner, another unarmed black man who was essentially strangled by New York Police Department officers on a public street six years ago.
And as a result, American is burning again – from the inside out.