Unlike Chinatown or Little Tokyo in LA, which emphasize their presence using red oriental pillars and huge billboards, Little Manila in Taipei does not demonstrate any clear indications of where it begins and where it ends.
It is there one moment, gone the next, blending with its surrounds in unobtrusive fashion.
But, if you walk out of MRT Yuanshan Station on Taipei's Red Line, and follow groups of young people taking selfies and chatting in Tagalog along the street on any given Sunday, you will soon arrive in Taipei's Little Manila without the help of Google Maps. 
Similar to how many night markets and towns in Taiwan developed around temples, Taipei's Little Manila also flourishes around its religious center – St. Christopher's Church.
The church was originally built in 1957, for the US military assistance advisors living in the area when it was less prominent, and far less upscale than it is now.
As the Vietnam War came to an end in the 1970s though, and as U.S. military personnel withdrew from Taiwan, migrant workers from the Philippines and elsewhere took up the mantle as the largest resident population to visit the church.
As a result, in addition to the English and Tagalog masses on offer, the church also provides the same service in Chinese and Vietnamese. 
At the heart of Little Manila is a department store widely being referred to as the "Won Won Building". The white font on organized red billboards indicate that there are various barber shops, fast food outlets, consulting agencies, sim-card shops, and more to attract Filipinos from all age groups to come here when they can for a taste of home.
It is in this lively place that I was fascinated by never before seen – for myself at least – Philippine dishes whilst also being amazed at the hospitality shown to a complete stranger by local Filipinos.  
Food starts conversations
Wandering past an area with little stores selling Filipino food, a table full of colorful sweets instantly attracted my attention.
I asked the young man (later I found out his name was Ryan) who was selling these Filipino treats if he could introduce them to me, and he first pointed to a dessert that reminded me of a huge pudding that one would see at a dinner party. 
While Ryan patiently explained  Leche flan along with other signature Filipino desserts, his employer, Mrs. Wang, who was initially leaning on the doorframe approached us, asking me to sit inside to enjoy my slice.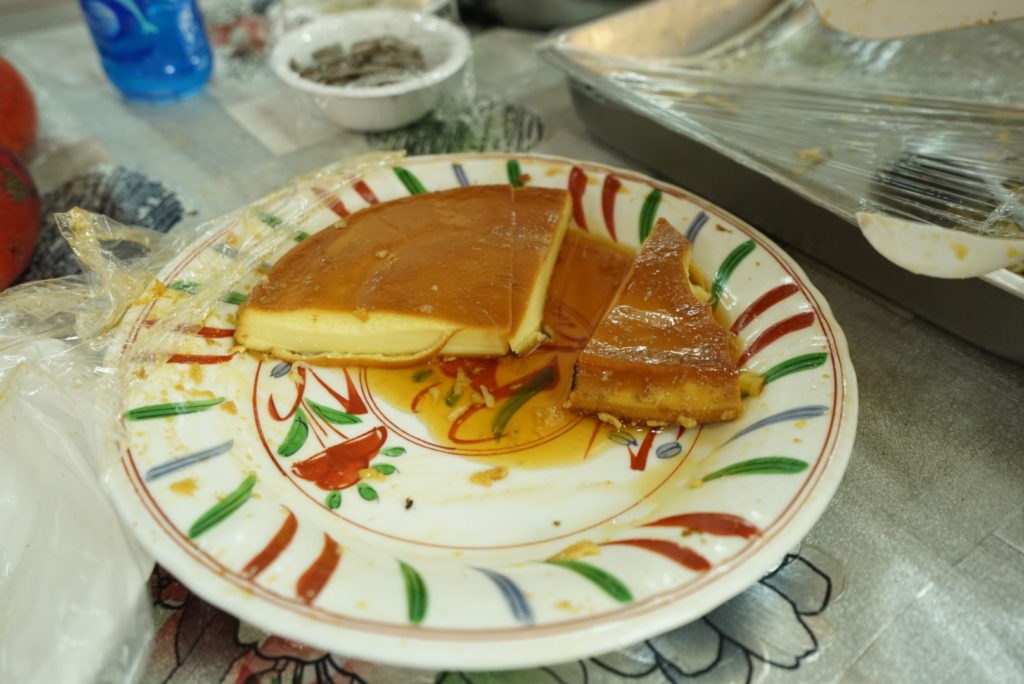 "I will give you a larger one", Mrs. Wang said, cutting a bigger slice for me, and when I took money from my wallet, Ryan stopped me saying it was his treat. I refused his kind offer, but he just smiled and gave me my slice of leche flan along with a bottle of iced water. 
Seeing a new face in the store, a table with three women in their fifties speaking in Tagalog paused and welcomed me with polite smiles.
One of the women, indistinguishable from any Taiwanese on the street asked about my ethnicity.
They were quite surprised to learn that I am Taiwanese, as it is quite rare for Taiwanese to visit the store.
The fact that I was speaking in English also saw them speculate if I was an American born Chinese, or an overseas Chinese from the Philippines as they were. 
Rating Chinese and Taiwanese food 
The woman who initiated the conversation, Lisa, had a Chinese father and so was used to Chinese food before coming to Taiwan.
According to Lisa, "Most of the people in Manila prefer eating meat like beef or eating seafood, so vegetables are not frequently consumed. Taiwanese like to eat vegetables, many kinds of vegetables, but I didn't enjoy eating them before. But after living in Taiwan for more than 30 years, I now think that vegetables are delicious."
Amy, the other overseas Chinese at the table, agreed and attributed this acceptance to their Chinese background, saying that "most Filipinos wouldn't like Taiwanese food." 
Indeed, to the others who either referred to themselves, or were referred to as "pure Filipino", it was a different story.
My new friend Ryan hesitated to express his views on Taiwanese food at first, but eventually confessed, "I think Taiwanese food is healthy, and it's balanced. But I don't like Taiwanese food, it lacks flavors and is not so delicious to me." 
Mrs. Wang laughed, saying that she also refused to eat Chinese food before. "But my husband is a cook specializing in Chinese cuisine, and he's a good cook. So I gradually came to like it." 
As we were talking about food, Lisa ordered a bowl of halo-halo and shared it with me.
Halo-halo is Filipino's equivalent of shaved ice, meaning "mix-mix" in Tagalog.
Various ingredients can be added as toppings, and corn, milk, purple yam (ube), sweetened beans, and gulaman (a kind of jelly) are just a few things I could identify in the bowl.
I was expecting halo-halo to be even sweeter than Taiwanese brown sugar shaved ice, but it turned out that most of the sweetness came from the milk.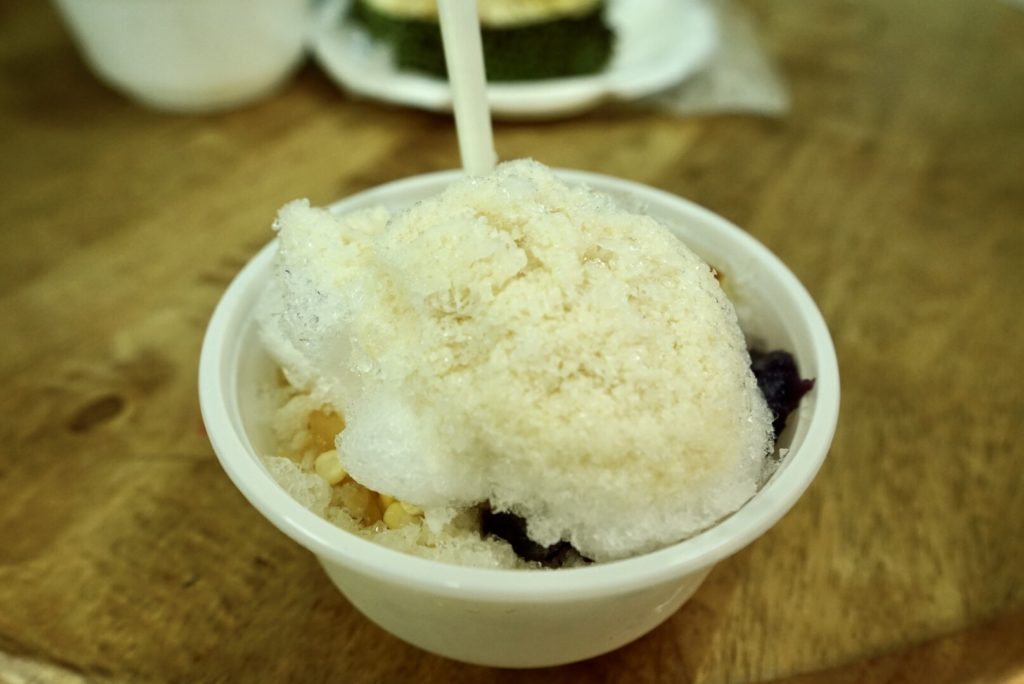 Stories of coming to Taiwan 
Many of Mrs. Wang's relatives live in the US; her two half-sisters work in the US as nurses, and her dad lived in the US until he passed away.
She was offered the opportunity to move there, but she rejected. "I love Manila. I want to live there."
When recalling these memories, she added that "If I moved to America, I wouldn't (have met) my husband and (have) come to Taiwan. It was my destiny." 
"I was 20 at that time, and I met a Taiwanese whom my mother liked for his personality. I knew that he was a nice guy, very gentle, and that he loved me; but I also knew that he was poor and was much older than me. For a young girl like me, why would I want to marry such a man?" 
When Mrs. Wang first visited Taiwan, she thought of it as less developed than Manila.
"Do you know McDonalds? It was everywhere in Manila decades ago. But there were only three the first time I visited here, and that I couldn't stand it. Things have obviously changed as time has passed, and Taiwanese now live an abundant life." 
For Ryan, working in Taiwan is a means to obtain money he needs to fulfill his dream. "I have been working in Taiwan as a factory worker for five and a half years, and I will return to my hometown next year. I like programming and I want to study again to get a bachelor's degree in information technology and business marketing. My dream is to become an entrepreneur." 
Sitting across from me at the table, Mrs. Wang gently smiled and said, "Ryan is a nice man. He is not like other people who like to spend their leisure time playing around. He is willing to devote himself to his work. I don't have any children, so I treat Ryan like my son. But if I have a daughter, I want her to marry him." 
Mrs. Wang then suddenly turned around and grabbed an egg that had been sitting on the counter since I came in.
"Do you know what this is? Let me show you. This is called balut. Eww, did you see that juice dripping? I don't even dare to eat this myself."
She laughed while peeling the egg.
"I could eat the yolk, but not the little duck. Hey Nora!"
As she finished peeling, Mrs. Wang handed the bowl with the dissected balut to her friend who had just stepped into the store. 
Nora took over the bowl and poured some brownish liquid in her water bottle into the bowl. I asked her if it was some kind of tea as I also saw some leaves floating inside but she answered "This is vinegar. It goes well with the balut. And you wouldn't want to eat the egg white because it is too hard." 
When talking about her stories of moving to Taiwan, Nora emphasized that she's Filipino.
"It was originally illegal for me to live in Taiwan. I first came to Taiwan as a tourist when I was 22, just to travel. Afterwards, as I was married to an overseas Chinese who had an ID and under which I could get legal documents to work here, so I became an OFW (oversea Filipino worker). We settled down in Taipei when I was 28, and now it has been 37 years."
Nora said that she used to go to discos, sing, and drink a lot when she was younger, even before the Filipino community formed in this area.
"But now I don't do that anymore. That is for young people like you", she said. 
I asked the table if they came here every week, and they nodded.
"We all have to work from Monday to Saturday. On Sunday, we will come here to eat, to chat, and sometimes to visit the church. The other reason for coming here is because we are members in the ROSCA (rotating savings and credit association) of which Mrs. Wang is in charge. This allows people to borrow and lend money, and we can also receive interest through joining." 
Families and Homesickness 
While showing me photos of her family, Amy told me that her homesickness mainly resulted from missing her family. "I came to Taiwan to work right after my kids were born. I have a two-week vacation each year, and I go back to visit them every year. I work so they can be educated and have a better life. But throughout their life, that few weeks is the only time in which I physically participate."
Amy said that she feels fortunate that she did visit them last December, and that her family did travel to Taiwan for two weeks too. "I know that Taiwan handles the (COVID-19) pandemic well, but that isn't the case in the Philippines. Things are very serious there, and now I am not only missing them, but also feel worried."
On the other side, Nora talked about homesickness too. "No work, no food. I am still homesick after 37 years, and I want to go back. I could not afford being quarantined and not working for weeks, and the tough situation in the Philippines is also concerning."
In spite of the safety they feel amidst Taiwan's anti-pandemic efforts, this global pandemic has led to thoughts of home for everyone.
But the table soon recovered its mood, with Amy bringing back several cups of MACU's popular mango smoothies for everyone, including me.
Just as Mrs. Wang said – "Filipinos are generous, hospitable, friendly, and always smiling. We don't feel sad for too long, and this positive attitude is a good thing."