The 2020 CPBL Season – baseball's top flight in Taiwan – was due to get underway next Friday, March 14th. 'Was'….
As is, baseball here in Taiwan has fallen foul of the ongoing COVID-19 outbreak and opening day has been pushed back two weeks to the 28th. Annoying, perhaps but all the more time to enjoy our pre-season look at the teams in this often overlooked, but hugely popular league in East Asia.
It is also baseball writer, Tom Daley's first piece for The Taiwan Times, and will form part of successive Friday releases on all competing teams from now until 24 hours before the opening day.
Uni Lions
The 2019 season was not kind to the Uni Lions who won just 48 games, in part due to a terrible injury crisis that continued season long.
With injuries having cleared now, what can this relatively young team do in 2020?
Can they go back the form seen in 2018, and return to the play-offs or will it be another year of misery in Tainan?
There are changes off the field with a new manager and changes in the coaching setup. Former Lions pitcher Lin Yueh-Ping has been promoted from his job as farm team pitching coach to manager, whilst Jamie Navarro has been appointed first team pitching coach. Last season's temporary manager Liu Yu-Chen returns to his former job as first team hitting coach.
In 2019, the Lions struggled with the bat due to a mix of injuries and poor form. A total of 34 players made plate appearances last year, but only two Lions players who played more than 60 games hit over 0.300 and they were veterans Pan Wu-Hsiung and Chen Yung-Chi.
There is hope though, Chen Chieh-Hsien and Wu Chieh-Rui both only played around 20 games and when healthy have career averages over 0.350.
Su Chih Chieh hit 0.282 last season and served as the offensive anchor for much of the campaign.
Other questions remain though, can Kuo Fu-Lin get back to how he played in 2018, after a below par 2019? Will Cheng Wei-Sheng have a break out year? And most importantly can the Lions show some consistency with the bat instead of mere flash in the pan examples of promise?
Talking of consistency, Josh Roenicke is the only one of the three Uni Lions foreign pitchers to return from 2019. He pitched solidly over the season despite going 5-6 over 19 games, but his numbers were often down to a lack of offensive support. He will be joined by Donn Roach and Ryan Feierabend on the mound; both former MLB pitchers.
The Uni Lions local hurlers will still have a large say in what the team does in 2020 of course. Two stars from the 2018 Taiwan Series Shih Tzu Chien, and Jiang Chen-Yen regressed in 2019, mustering just 9 wins over 37 starts between them compared to 19 over the same period in 2018.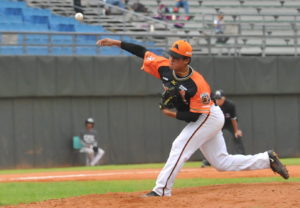 The Lions cannot keep relying on the aging Pan Wei Lun, and developing local starters is key. The bullpen will need to improve in 2020 as well. Only Chen Yun-Wen and Liu Hsuan-Ta pitched with an ERA under 5 last season with some of the pitching stats quite unpleasant to look at.
The 2020 Lions should reach at least 55 wins come October, but consistency in both hitting and pitching form is important.
There is a lot of talent, particularly young talent, and if certain players get back to form there is no reason why this team won't be making a push for the play offs again.